Square Enix has revealed more information on Tactics Ogre: Reborn, this time detailing more on the battle system, the classes as well as the characters in the story.
New Equipment Requirements
Back in Tactics Ogre: Let Us Cling Together, equipment, consumables and magics had requirements before they can be used, from level restrictions to separate specialty skills.
However, in Tactics Ogre: Reborn, you can equip and use anything from the moment you obtain them, a. Although class restrictions still remain for equipment and magic.
You can combine gears and abilities to each of your units all depending on your playstyle as each unit in the game comes with the following:
     

Seven equipment slots for weapons and armours

     

Four slots for consumables

     

Four slots for magic
Revamped Skill Rules
New skills have been added and effects of skills from past series have been tuned to give a broader range of possible tactics when in battle.
For example, the new Pincer Attack skill triggers when you attack an enemy standing between your own unit and will make the ally behind the enemy to make another additional attack to it.
Updated Finishing Moves, Ninjutsu and War Dances
Finishing Moves, Ninjutsu and War Dances are special powerful moves that units learn after meeting certain requirements.
Previously in Tactics Ogre: Let Us Cling Together, finishing moves, ninjutsu and war dances all require the accumulation of Technical Points (TP) before you can execute them.
Things have been made easier for you to execute in Tactics Ogre: Reborn as those moves now simply require Magic Points (MP) to use them, much like magic.
Develop Unit's Stats with Charm
Charms are new items in the game that can be found during battle or after battle as a reward.
You can use this charm from the party formation skills to improve and alter your units' stats with its effects such as:
Raise a unit's level by 1

Grants Experience Point

Permanently increase stats

Change a unit's element to another element
New Battle Party Screen
Two new features have been added into the battle party screen in the game featuring:
Scout command allows you to gain insight into the terrain and enemy forces from their locations, levels, class, equipment and more before you start the battle.

More slots to battle parties as Tactics

Ogre

: Reborn gives you 5 slots for you to prepare for various situations the game throws at you.
Major Battle Updates
Buff Cards
Buff cards are items that appear on the battlefield during battle that rewards bonuses lasting throughout the entire battle to the unit that grabs it.
Each unit can grab a maximum of four buff cards and cards with the same buff effect will stack additively.
Both you and your enemies can pick up those cards so you would need to plan out your movements while keeping the buff cards in mind.
Adapting Enemy AI
Enemy will take into consideration the terrain of battle and player's movement to decide its course of action. They will also respond to the buff cards that appear on the field and will race against you to pick it up.
Bonus Objectives and Additional Rewards
Additional missions will be presented to the players during battle aside from the normal battle victory conditions such as:
Win with a knight in the battle party

Obtain a buff card
Completing these bonus objectives will reward you with useful items such as Charms and equipment.
Upgraded Ally AI
Four different AI settings are available for you to choose from if you want to let the compute controls your units such as:
     

Fierce Attacker

     

Stalwart Defender

     

Distant Striker

     

Ardent Mender
You can toggle between manual or AI control at any moment from the battle party screen or during battle.
Trajectory Predictions
Range weapons and projectile magics now comes with a trajectory prediction so that you can make sure your attack lands on the enemies and would not cause a friendly fire
Revive Units
A countdown timer will appear on top of a unit that has their HP hit 0 and you can revive the unit with consumables or magic so long as the countdown has not reached 0.
These revived units can also immediately take action from taking cover to recovering HP.
If the timer does hit 0, that unit will die permanently and cannot be revived again.
Training Battle
Random Encounters have been removed and are instead replaced with training battles that you can engage in specific locations to level up your units without worrying of them dying in battle.
Other Adjustments
Enemy Forces
Each enemy unit has been adjusted to their stats, equipment, skills as well as their positions in the battlefield.
Party Level
Party level serves as a level cap to your individual units and will increase the further you progress into the story.
Classes, Equipment, Consumables, Magic, Skills, Finishing Moves and Debuffs
These features have been adjusted to make the flow of battle simpler and easier to understand with stats and ability activation requirements also adjusted. The rogue class is now reserved to enemy units.
Improved Shops
Shops in Valeria have all been improved to provide a smoother experience in buying and selling equipment, consumable, magic and other items along with recruiting new allies. The updates include:
Improved UI that keeps useful information such as showing the number of items in your inventory and who has it equipped when buying or selling equipment.

The success rate for crafting is now 100% with no chance of failure and comes with the option to craft multiple items at once.
Class Introductions
A class is a unit's profession with a classmark, obtained through shops or from battles, needed to change the class of a unit.
Warrior
A melee fighter adept with a wide range of weapons and armour, playing an active role on the front lines in the early games
Archer
A ranged attacker that mainly uses bows and crossbows to take down enemies from the high ground and from a distance.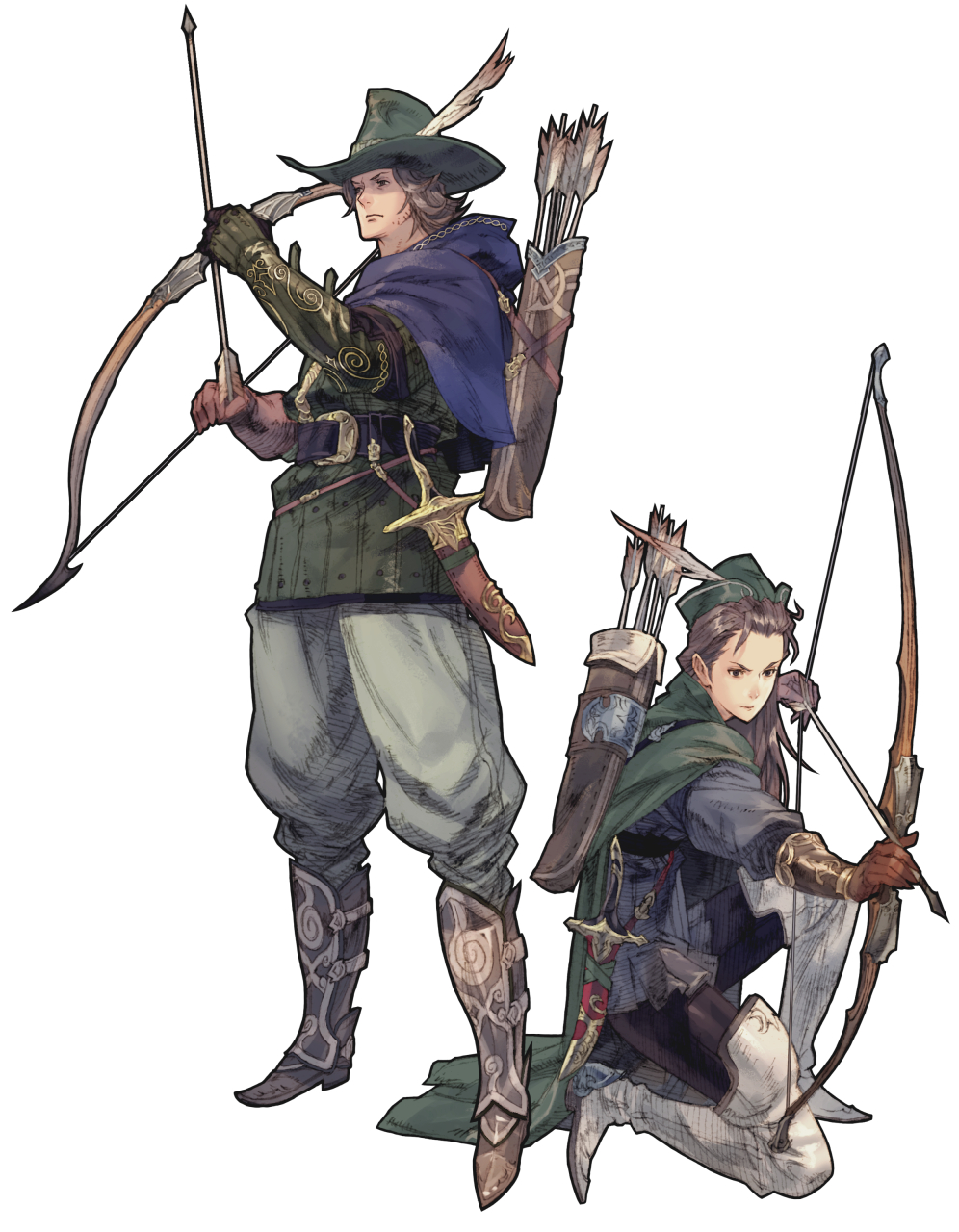 Wizard
A back-line support class wielding magics from offensive damaging spells to debuffs spells
Cleric
A back-line support mainly casting healing spells to restore HP and cure status ailments and are indispensable to the party even in late game
Rune Fencer / Valkyrie
A class balanced in melee attacks with a sword and spear-play as well as adept in casting attack and healing spells. This class can both attack aggressively or provide rear support.
Knight
A frontline class with high defence and having healing spells at their disposal to protect the battle party. The knights are valuable units to tank through enemy's advances.
Berserker
The class that charges headfirst into the front lines to assault enemies with their weapons. Berserkers flaunt massive offensive capabilities but are extremely fragile.
Terror Knight
This class excels in weakening enemies' attacks and defense. Much like the knights, this class boasts high defense and can tank for the party while engaging the enemies in the front lines.
Ninja/Kunoichi
A mobile class that can be quickly deployed wherever in the battlefield either be it the frontlines or from the rear. The class uses ninjutsu spells to wield various spirits to attack even on distant enemies.
Character Introductions
Lanselot Hamilton (VO: Ben Prendergast)
From the city of Valna in Charlom, he was formerly the captain of the Holy Knights of the Kingdom of New Xenobia but was stripped from his status and banished for his misconduct as a Knights.
Warren Omon (VO: Alastair Duncan)
The former leader of Mages Regiment of the Kingdom and more of a prophet but he was banished from Xenobia for his misconduct.
Canopus Wolph (VO: Chris Cox)
A winged folk from the city of Peshaval in Charlom. He was once captain to the Beast Legion of the Kingdom of New Xenobia but was banished for his misconduct much like the rest.
Mirdyn Walhorn (VO: Andre Sogliuzzo)
From the Dalmuhd city of Konsh, he is a man of few words and once served the Holy Knights of the Kingdom of New Xenobia.
Glidas W. Byrne (VO: Adam Croadsell)
Born in Hyland City of Xandu, he is lover of drinks and women and also used to serve the Holy Knights of the Kingdom of New Xenobia before leaving together with Mirdyn to follow Lanselot.
Iuria Wolph (VO: Erin Yvette)
From the city of Peshaval in Charlom, she is a songstress and the sister to Canopus. She is fond of attention.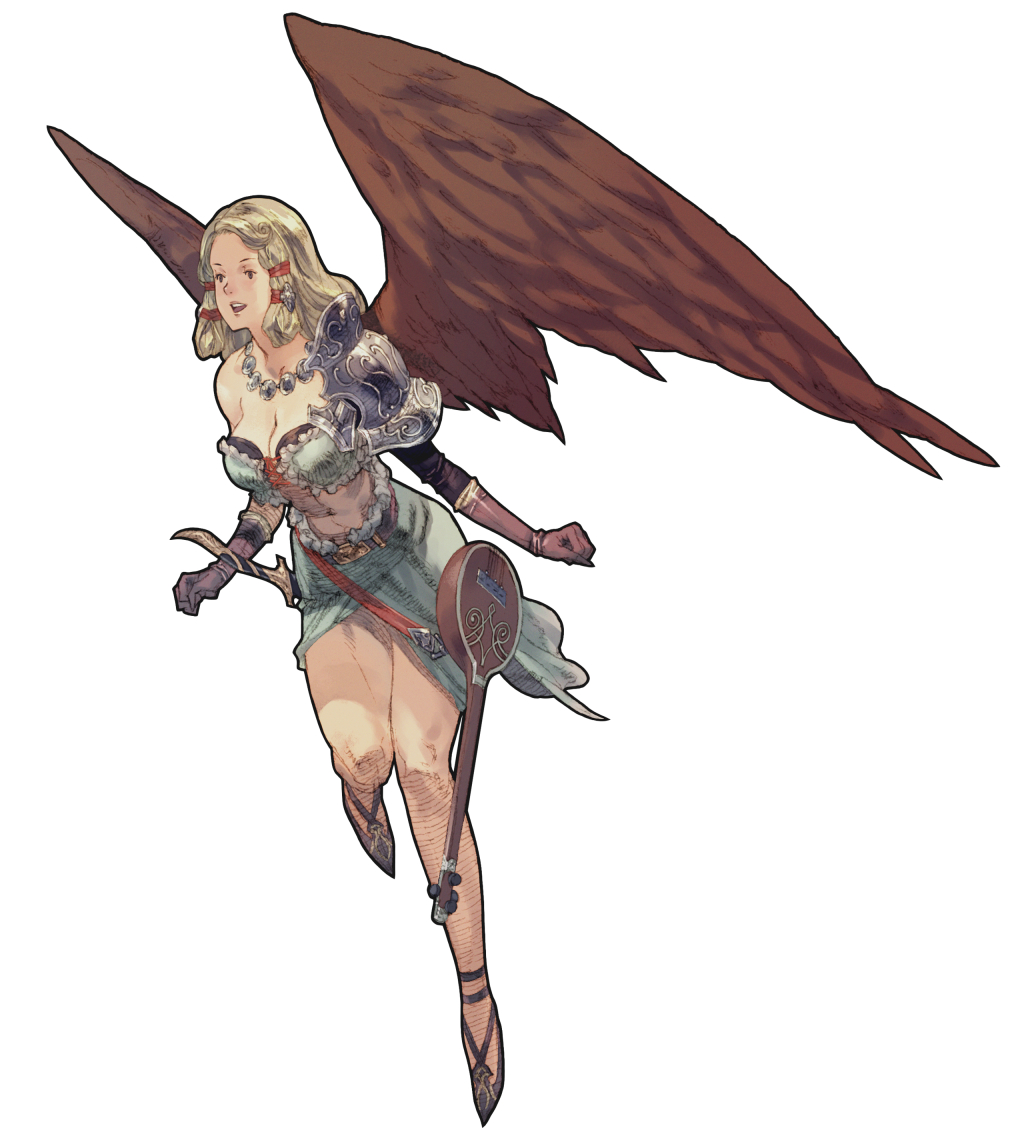 Deneb Rove (VO: Cat Taber)
A woman of unknown origin and once served the Mages Regiment of the Kingdom of New Xenobia. She was a principal architect of the kingdom's establishment and has come to Valeria to gather funds for her studies.
Lanselot Tartaros (VO: Jason Kennet)
The High champion of the Dark Knights of Loslorien, he was sent to Valeria when a secret treaty was forged between the Holy Lodissian Empire and the Bakram Leader Brantyn Morne.
Balxephon V.Rahms (VO: Keythe Farley)
The second-in-command of the Dark Knights of Loslorien. Loslorien enjoys independence from the Senate thanks to the influence of his father, Stratarchis Vorgas.
Volaq Windsalf (VO: Chris Cox)
A Loslorien commander and member of the most elite strike force. While little is known of his past, his loyalty to Lodis is unquestionable and he has earned a great deal of respect from thoser under him.
Martym Noumous (VO: Sean Kenin)
A Loslorien commander from Galius, seat of the Holy Lodissian Empire, and member of the most elite strike force. Known for his cunning swordplay, he will stop at nothing to achieve victory.
Barbas Dahd Geuse (VO: Jason Charles Miller)
A Loslorien commander and member of the most elite strike force. He is the most bloodthirsty of the seven Loslorien commander was put to a trial for beating a superior to death before being saved by Lanselot Tartaros.
Oz Moh Glacius (VO: Nicolas Roye)
A Loslorien commander and member of the most elite strike force as well as twin brother to Dame Ozma. He is an expert swordsman with a sadistic nature, evident in his actions on the field.
Ozma Moh Glacius (VO: Elle Newlands)
A Loslorien commander and member of the most elite strike force as well as twin sister to Dark Knight Oz. She wields both spell and blade with equal skills.
Andoras Gaffryn (VO: Darin De Paul)
A Loslorien commander and the last born of the former Nildahme royal house. He favours hand-to-hand combat compared to swordplay and is a masterful strategist.
Tactics Ogre: Reborn is a strategy RPG game by Square Enix set to release on PS4, PS5 and Switch on November 11th 2022 with a digital version available for PC on November 12th 2022 
---
Check This Out Next
---