The Star Wars Jedi: Fallen Order OST can now be listened to on all your favourite platforms, including Spotify, Amazon, and Apple Music. The release was done in collaboration with Lucasfilm Ltd., Disney, Respawn Entertainment and Electronic Arts. You can also digitally purchase the Star Wars Jedi: Fallen Order OST.
Composed by Gordy Haab and Stephen Barton, recorded with a world-renowned orchestra at Abbey Road Studios, this critically acclaimed soundtrack includes 44 iconic pieces from the game, including Cal Kestis's theme, music heard while exploring faraway worlds, and epic scores from the most intense confrontations.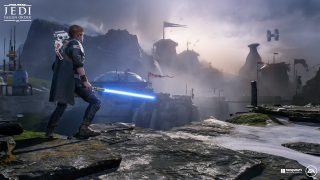 The soundtrack was created by Gordy and Stephen in the pursuit of reprising the classic themes of Star Wars™ while marrying it to the new melodies of Jedi: Fallen Order to strike a balance between the new and the familiar. In doing so, you can reexperience the emotional arc Cal takes on his journey to become a Jedi from a fallen Padawan to a heroic Knight of the Order.
Since the game's release in November 2019, the soundtrack has won the SCL award for Outstanding Original Score for Interactive Media, "Music of the Year" and "Best Original Choral Composition" at the G.A.N.G. awards, "Video Game Score of the Year" at the 2019 ASCAP Composer's Choice Awards, and was nominated for "Best Music Supervision" in a Video Game by the Guild of Music Supervisors.
This compilation of music from the game includes planetary tracks that compliment environmental storytelling and emotional pieces that resonate with Cal's story, from him finding the Jedi Starfighter to meeting BD-1 on Bogano, or reforging his Master's lightsaber and his final confrontation with the Second Sister. The soundtrack captures the musical journey of the game in a way we hope players will really enjoy!
FULL SOUNDTRACK
01: Cal Kestis
02: Jedi Starfighter
03: An Unscheduled Stop
04: The Inquisition
05: Fight And Flight
06: Bogano
07: BD-1 And The Boglings
08: Oggdo Bogdo
09: The Path Of The Three Sages
10: To Dathomir
11: Nightsister
12: The Wanderer
13: Kashyyyk
14: AT-AT Hijacked
15: The Mantis Lands
16: Saw's Plan
17: Infiltration
18: Flora And Fauna
19: Wookiee Liberation
20: Saw's Speech
21: Zeffo
22: Project Auger
23: Trilla
24: Crashed Venator
25: Exploring Ancient Tombs
26: The Origin Tree
27: Chieftain Tarfful
28: Flight Of The Shyyyo Bird
29: The Ninth Sister
30: Tomb Of Kujet
31: Gorgara, The Chyrodactyl
32: Memories Of Days Past
33: Broken Saber
34: Ilum
35: Failure Is Not The End
36: A New Saber
37: Confronting The Past
38: Peacekeepers
39: Taron Malicos
40: Merrin
41: Opening The Vault
42: Fortress Inquisitorius
43: The Will Of The Force
44: Eno Cordova's Theme
---
Check This Out Next
---