When I heard Spider-Man: Into The Spider-Verse was getting a sequel in the form of Across The Spider-Verse, I wasn't quite sure what to expect. I'd assumed it'd be a bit more of the same, Miles traveling and meeting a few more Spider-Man from the character's various different comic runs but it was so much more than that.
Spider-man: Across The Spider-Verse is for Spider-Verse what Empire Strikes Back was for Star Wars, a sequel that takes everything that was good about the original and somehow makes it even better. It has some of the most stunning animation I've seen in a cinema, it's a love letter to the pantheon of different Spider-Man and at the heart of it all, like most good Spider-Man stories, it's a coming-of-age story about a kid grappling with the weight of responsibility that's been placed on his shoulders.
Friendly Neighbourhood Spider-Man
Miles Morales (Shameik Moore) has been the one and only Spider-Man for just over a year but things haven't been easy, balancing his home and hero life is difficult, his parents don't trust him and he misses the many other Spider-Men he met in that first adventure, especially Gwen (Hailee Steinfeld) who he's developed a not so subtle crush on.
Thankfully she soon comes to pay a visit as a member of an elite group of Spideys that patrol the multiverse and take out any anomalies including The Spot, a Villain of The Week from Miles' world that just found out how to travel to alternate worlds so the Spider-Men must stop him. Miles will soon out however there are strict rules to being Spider-Man, things that need to be sacrificed and those sacrifices are being enforced by Spider-Man 2099, aka Miguel O'Hara (Oscar Isaac). Now Miles is running along a truly tangled web as he tries to escape the Spider-Verse.
Traveling The Spider-Verse
That's about as much as I can say without spoiling anything but if there's one way I can describe the movie is that it's big. At 2 hours and 20 minutes, it's the longest animated feature film made in Hollywood and it uses that time to tell a fast-paced yet heartfelt movie that plays with the classic Spider-Man mythos.
It starts with a slower pace with Miles having to deal with the same work/life balance as Peters of the past. This may sound slow but it makes for powerful scenes about the toll of having a secret identity and how it can alienate you from even your closest family. The movie truly steps into high gear however when Miles and Gwen begin to chase Spot through different worlds before landing in the Spider-Man central base. From here it's a rollercoaster of drama, references, and action, a true rush which is exactly what the characters are feeling.
Like the first movie, the central theme of Across The Spider-Verse is asking what it means to be Spider-Man, with a tinge of well-written meta-commentary. The film acknowledges that different interpretations of Spidey undergo similar story beats and whether these characters' defining tragedies are what makes them heroes. It also makes a strong point of how different Miles is from past Spideys, doing things his own way that way go against the grain and if he has the right to take on the mantle.
The Many Faces of Spider-Man
This is all amplified by some of the highest-quality animations I've seen put on the silver screen. This film is truly beautiful. It maintains the comic book aesthetic from the first movie but mixes it in with a number of other styles to better suit the mood of each scene, from rebellious pop art for Spider-Punk to darker watercolors to show Gwen's troubled home life. Every frame could be put on display at an art gallery and they would look excellent, especially with how well choreographed the action scenes are, talking full advantage of the medium to make each websling pop of the screen.
Not to mention if you're a Spidey-Fan, there's a whole multiverse of references to the web crawlers' past appearances. I was giddy seeing the Spectacular Spider-Man 2000s Cartoon get a cameo alongside much older tv series, obscure comics, and references as you meet the many different Spideys and even a few of their villains.
The only real complaint I can see for the movie is that some people may find all the references a bit distracting and perhaps a bit too pandering but thankfully the movie uses these memes and cameos tastefully. It's a film all about exploring the many different versions of Spider-Man and the references are used to exemplify and give meaning to the themes of the movie refer than for cheap publicity. When you see certain supervillains or even an old video game appear it feels like a natural consequence of peering into Spideys' history.
Miles Morales
At the center of all this however is Miles Morales, now 15 years old but still figuring out what he wants to do with his life as he grows from kid to adult. A large part of the movie is focused on his connection to his parents who he loves and relies on yet also feels he needs more independence especially now that he's hiding the truth from them that he's Spider-Man. The three have some truly fierce arguments that feel very real for anyone who's gotten in a fight with relatives, a good balance of scathing criticism but also genuine concern. Miles has changed a lot and all three of them don't know quite how to deal with that.
Shameik Moore swings in once again as Mile's voice actor and he delivers at making the kid a fully 3-dimensional character. He's able to touch the perfect range of emotions from fear to sadness, to betrayal, yet still with the quick-witted jabs you'd expect from Spider-Man.
The Sinister Supporting Cast
It's not just Miles however as much of the cast is just as developed and likable. Spider-Gwen is just as much of a protagonist and the budding romance between Gwen and Miles is cute to watch. You get much more of Gwen's backstory in the film, why she's afraid to make friends, and her learning that most romances between Gwens and Spider-Mans tend not to work out so well, something that's clearly on her mind as Miles starts to distance himself from her due to trust issues as the film goes on.
The other major characters I enjoyed include Spider-Man 2099, who makes for an intimidating rival with understandable motives, Spider-Punk a British Spider-Man whose anti-authoritarian remarks are both hilarious yet very poignant, and finally our main villain, The Spot.
I've always been a man of villains who starts off as C-list crooks but slowly evolve into major threats and that's exactly what Spot is. He's very cute at the beginning as a bumbling bank robber that Miles initially writes off yet turns into a nightmare as representing all of the hero's past mistakes. I should also mention that his power of making spots to teleport items is used in a number of creative ways when it comes to the fight scenes.
Across The Spider-Verse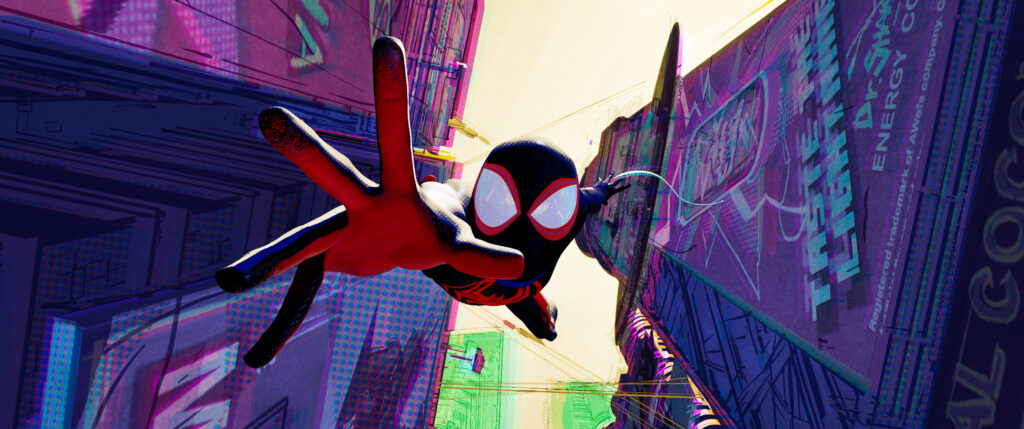 For me, Across The Spider-Verse rivals Spider-Man 2 for films that truly understand the character of Spider-Man. Whether it's Peter Parker or Miles Morales, the character embodies a confident, useful freedom that has been loved for decades while also grappling with the weight of growing up and being a superhero. The film takes this dynamic by the fangs and examines what this hero means to so many different people across many different worlds
This is enhanced by the beautiful visuals displaying the tone of each scene, bringing the comic book feel to life as multiple art pieces in motion. I may be making the film sound grander than it actually is but that is honestly how it feels big. It has infinite Spider-Men, family drama, relationship drama, and balancing multiple characters is a tangled web of connections that each brings consequence to the other. It's a lot to take in, yet Across The Spider-Verse weaves through each one with literal flying colors.
---
Check This Out Next
---
The Review
PROS
A love letter to the different versions of Spider-Man
The visuals are among the most beautiful in animation
Writing is a perfect mix of coming of age drama, comedy and action
CONS
Maybe there's too many nostalgia cameos (but I'd argue they're used appropriately)