At Ubisoft's recent Skull and Bones Livestream it was revealed that the game will raise the back flag and release on the 8th of November.
Despite being originally announced for PS4 and Xbox One, it has now been revealed that the game will only be available for PS5, Xbox Series X|S, PC, and Stadia. The game is also confirmed to have cross-play and cross-progression.
Created by Ubisoft Singapore, the game was originally meant to be a multiplayer expansion for Assassin's Creed IV: Black Flag only to end up growing into its own game. Here's everything that's been revealed about Skull and Bones so far:
The Setting
The game is a "multiplayer first" game set in 1721, near the end of The Golden Age of Piracy. You play as a young pirate sailing through the Indian Ocean, hoping to make it big as an infamous warrior of the seas. You'll start by visiting Sainte-Anne, a pirate den that acts as an in-game hub.
From there, there isn't really a story. The game is meant to be an online experience with smaller quests and mission chains instead of a larger overarching plot. The main goal doesn't extend much beyond being a pirate, pillaging ships, burying treasure, and building up your name.
Getting Started
As previously mentioned you'll start in a hub area called Sainte-Anne where you can shop, craft, and accept quests as well as interact with other players. From there you make preparations, select a mission, and set sail. 
When you start the game, your character is pretty much a "nobody" and only able to build a raft, which can then be able to upgrade to a small fishing boat (called the dhow). According to the developers, players will then need to collect resources and pirate rep by completing missions in order to build their first actual pirate ship.
During the game, you'll be spending a minimal amount of time on dry land with the majority of it being prep work for your next quest and chatting with NPCs. This involves charting a course for your voyage, and ensuring that you have enough supplies to make it.
This part is particularly important as there's quite a bit to prepare before you head out. For example, there may be ships to plunder and steal along the way and if your crew isn't well taken care of, there's a good chance they will mutiny and attempt to kill you. 
Naval Warfare 
The combat of the game bears a lot of similarities to the naval battles of Assassin's Creed IV. As the captain of the ship, you'll be targeting your weapons using colored indicators, showing where your cannon, mortar, fire-barrels, and other weapons will be shooting. There will also be health bars for you and the opposing ship to indicate if the battle is going in your favor. 
In order to win these battles (or escape with your life), there are numerous different types of ships that you can build and customize. Different ships will serve different purposes like cargo, combat, or exploration so picking the right ship for the job is paramount to victory. 
Each ship will offer different tactical advantages. Large ships can absorb a lot of damage, while smaller, lighter ships are more maneuverable. The game does however let you switch between all these ships to take advantage of their abilities and strengths.
You unlock new ships by purchasing their blueprints at settlements. Each ship can also be upgraded and customized at any time with different weapons, armor, colors, flags, and more.
Infamy System
It's not just about building ships though, it's also about building reputation, which is where The Infamy System comes in.
Infamy can be increased by taking on quests from NPCs, exploring, and completing events around the open sea. The higher your infamy, the more options open up to the player, including new ships and crafting upgrades.
You can measure the amount of infamy you have by the amount of money you earn by completing jobs. The more money you have the more powerful you will be. It's kind of like how it works nowadays I suppose. 
That being said, being more infamous also attracts more danger, I mean, you are a big-time criminal now. Other ships may track you down and attack if you pillage enough. This is where the multiplayer component is shown off as you can request help in bringing down or just surviving these massive ships attacking you. Of course, these pirate alliances can also be broken off quite easily and friends can soon become foes. 
Multiplayer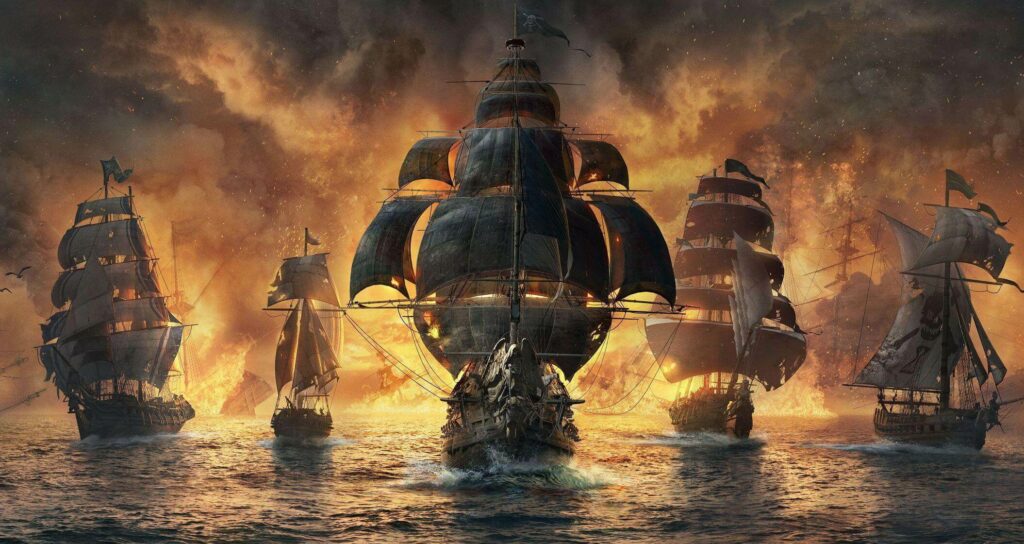 While Skull and Bones does feature single-player content, it's primarily supposed to be a multiplayer game.
The game has a lot of MMO, elements as you will encounter other players' ships around the world and must decide whether to team up or battle each other. Like I said above, you or your ally can betray each other at any time adding another layer of strategy and psychology to an alliance.
Thie game also features several missions that encourage players to make alliances. Mission descriptions will offer a recommendation for how many players you should have if you want to successfully take it on. You can still take these on alone but it'll be a far greater challenge. Will you risk a betrayal to complete a quest?
It's been quite a journey since Skull and Bones was first announced in 2017 but it sounds like it's finally ready for the cruise ahead.
Skull and Bones will release for PS5, Xbox Series X, Stadia, and PC via The Epic Games Store and The Ubisoft Store on November 8th, 2022.
If you'd like further insight on the upcoming release of Skull and Bones, check out our interview with the game's senior director Ryan Barnard.
---
Check This Out Next
---