The Final Fantasy Brave Exvius collaboration event with SINoALICE Global has arrived, bringing with it tonnes of new content. The collab will run until November 10th at 5:59 (UTC).
As with all the previous collabs, new characters will be joining the game, such as Rain/Breaker and Fina & Dark Fina/Gunner from Final Fantasy Brave Exvius. Check out our previous article on this to learn more about them.
All the event characters will be obtainable in the STEP Grimoire, Phantasmic Gallant. Here are the featured SR weapons, as well as who they unlock:
Reincarnation (projectile): Fina & Dark Fina/Gunner
Voracious White Mage Staff (staff): Three Little Pigs/White Mage
Dragoon Spear of Misery (polearm): Little Mermaid/Dragoon
As a STEP Grimoire, you'll be guaranteed one of the featured SR weapons on your 5th pull. There is also a chance to obtain the SR Nightmare Odin from this banner. The Final Fantasy Brave Exvius collab also comes with its own Vanguard and Rearguard Grimoires, letting SINoALICE players pull weapons targeted for their roles.
Besides weapons and characters, there will also be the Co-op Guild Event, Phantasmic Rift. Collecting Shooting Gallery Tickets lets you redeem rewards. In addition, the Conquest Event, Phantasm Residue, gives players the chance to obtain the Nightmare, Bahamut. The third event Nightmare, Shiva, is only purchasable via her Twilight Crystal set.
The event also comes with a giveaway. Simply clear Chapter 1, Verse 1 of Phantasmic Rift and tap 'Entry' in the in-game notice to complete your entry. 20 lucky winners will win either an FFBE Moogle Plush, or an FFBE Chocobo plush which isn't for sale anywhere else.
For more information, follow the game on Twitter.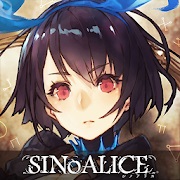 SINoALICE
Android, iOS
Fairy tale characters fight to "revive their author". Enter the dark world of SINoALICE as imagined by Yoko Taro (Drakengard, NieR).