In commemoration of the 10th Gran Colosseum event in SINoALICE, even more rewards and Half-Nightmare Arcana will be obtainable. While there are no new Half-Nightmare jobs this time around, the upcoming Gran Co10sseum campaign brings extra goodies for participating guilds.
Guild masters and sub-guild masters can register their guilds to take part from 12th May, 5.00 am to 15th May, 4.59 am UTC+0. The 10th Gran Colosseum officially begins on 16th May 2021.
Once it is 16th May, participating guilds will fight in the preliminary rounds. The top-scoring guilds can then duke it out in the finals while will be on 23rd and 24th May.
However, the rewards SINoALICE players get from participating in this instalment of the Gran Colosseum are even more lucrative thanks to the Gran Co10sseum campaign. As part of this campaign, participating guilds that score victories will receive an additional 50 Twilight Crystals per win.
Furthermore, there will also be a Colosseum combatant bonus. Each player will get additional Gran Medals depending on the number of guild members who join a Gran Colosseum fight. If 1 to 9 guild members are present, then players will get 1 extra Gran Medal. However, if there are 10 to 15 guild members who are fighting, then players will receive 2 extra Gran Medals.
Finally, the biggest reward is definitely the addition of Half-Nightmare Arcana to the total win rewards. Winning 1 Gran Colosseum match rewards players with Alice/Half-Nightmare Arcana Lv. 2. Winning 3 matches will grant players Red Riding Hood/Half-Nightmare Arcana Lv. 2. Guilds should definitely aim to win as the only other way to get them is to spend 2,500 charm medals.
To stay updated with the happenings in SINoALICE, follow the game on Twitter.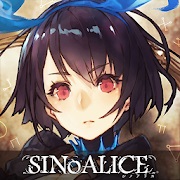 SINoALICE
Android, iOS
Fairy tale characters fight to "revive their author". Enter the dark world of SINoALICE as imagined by Yoko Taro (Drakengard, NieR).
---
Check This Out Next
---