As reported yesterday, Netmarble released an online showcase for Seven Knights 2, which revealed game details, pre-registration commencement as well as the November 2021 launch window. As the name suggests, the game is a sequel to the original Seven Knights, itself a long running, mobile RPG. If you haven't seen the showcase video yet, you can check it out below:
With how character showcases are released on the Korean Seven Knights 2 Youtube channel, you should be able to expect similar global reveals from the associated global Youtube account, available here.
Seven Knights 2 is dubbed a cinematic mobile RPG that allows players to collect and develop charismatic heroes of all shapes and sizes while engaging in a deep and immersive cinematic story thanks to real-time controls and in-game loadouts with heroic stat combinations, formations, and pets. Starring an array of characters depicted with stunning high-quality graphics powered by Unreal Engine 4, Seven Knights 2 will immerse players in a true sequel featuring the fun and innovative gameplay of Seven Knights enjoyed by players around the world.
Pre-registrations for Seven Knights 2 can be done via the official website or the associated store pages, which will reward players with a limited edition premium "Poori" pet, among other items. Other features to come at launch include:
Collectible Charismatic Heroes: There are a total of 46 characters available at launch to collect, including familiar characters from the original Seven Knights that are joined by new Seven Knights 2 characters
Battle Bosses

Players can look forward to strategizing with different decks using heroic stat combinations, formations and pets
In addition, players will be able to play real-time group battles and use spectacular skills while controlling 4 heroes at once (up to 8 players)

Deep, Immersive Cinematic Story: Seven Knights 2 features a deep and immersive cinematic story with two hours of high-quality cinematic cutscenes for role-playing fans to enjoy
The game will be supporting up to 12 languages, including English, Japanese, Chinese Simplified, Chinese Traditional, Thai, Portuguese, Spanish, German, Italian, French, Russian, and Indonesian.
Minimum requirements are listed as follows:
Android: OS 7.0 or later, 3GB RAM or more
iOS: OS 10.0 or later, 3GB RAM or more
More information can be found at Seven Knights 2's official Facebook page, YouTube and forums or by visiting Netmarble's Global YouTube channel.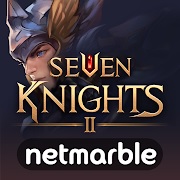 Seven Knights 2
Android, iOS
The official sequel to Seven Knights, a game enjoyed by 60 million players worldwide! Rudy's story continues in Seven Knights 2!
---
Check This Out Next
---