In this time of physical distancing, when you want to see someone's face, you'd do video conferencing, and that needs a camera or webcam. Laptops often come with one, but they aren't necessarily going to show your prettiest face. That preamble is to sell you the Razer Kiyo Pro, of course (mostly joking). This fancy new camera is a simple plug-in-and-play add on, with most of the customization to be done in Razer Synapse, available in Malaysia at RM1,149. Without further ado, let's get into the review.
---
THE BUILD
Out of the box, the webcam is noticeably solid and quite heavy. Despite being made of hard plastic, it still looks premium, and it's void of especially awkward logo placements. You'll connect the Kiyo Pro to a monitor mount using a screw, so it's easy for you to unscrew it and move it around on other mounts to suit your needs.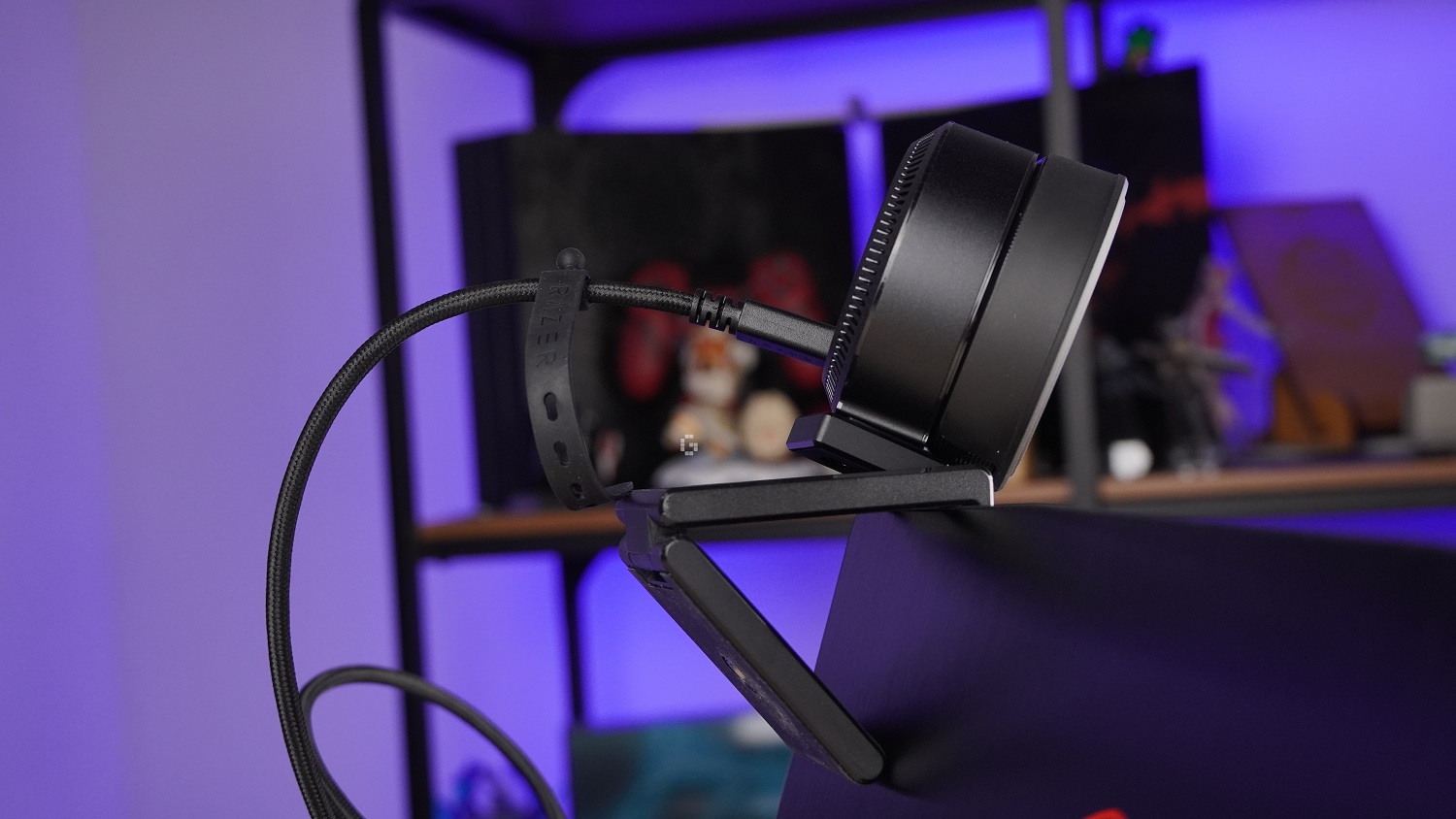 There's little issue to position the camera as well, as the included 59-inch braided USB-C cable is generous to snake around things. To keep it relatively dust free, the webcam also comes with a cover you can place over it once it's not in use. When it is being used, the LED on the top of the camera will turn on. If you're wondering if you need to tack on a microphone as well, the webcam has a built-in omnidirectional microphone. It works roughly as well as regular gaming headsets, but if you don't mind that, that will be an option open to you.
PICTURE PERFECT
When it comes to camera, naturally the first thing you'll be looking for is clarity of images. Compared to many webcams out there, you can expect to get some of the most true to life shots of yourself, with plenty of details, warts and all (quite literally). With its wide-angle capture, you'll be able to see half of your background. In a perfectly lit room, your pictures will not have grain, and in a dark room with hardly any light sources, it'll still be able to capture your face, though as expected, it'll be grainy.
In the case of webcams, you might have found your images overexposed. As befitting its name, the Razer Kiyo Pro is able to smartly optimize the colours and saturation of your image. For use in darkened situations, the webcam will still be able to perform, but regardless, it should work better still with a ring light. Despite its good work, the auto focus can still fall short on occasion, so get some extra shots in to be safe.
SETTINGS
As with all Razer products, the Kiyo Pro is fully compatible with Razer Synapse. With the software, you'll be able to fiddle with a whole bunch of settings, from brightness to contrast, saturation and white balance. There's also swapping between HDR and SDR capture, or from autofocus to digital manual focus, and can even select from 3 different fields of view: (80 degrees (Linear), 90 degrees (Medium) and 103 degrees (Wide).
If you're not one to fiddle too much over settings, it does come with four built in presets ranging from Default, Cool, Vibrant and Warm. Otherwise, you can dive into the custom mode and the advanced settings tab to play around with the array of settings they've given you. The Vibrant present looks to give some of the best results with a good balance of colours, but of course, it's down to personal preference.
The camera's maximum output is 1080p at 60FPS, and you'll need to activate the feature in your recording software. You'd think with the price, a higher resolution – 4K to start – would have been the baseline. Speaking of software, the Kiyo Pro is only customizable through Razer Synapse, forcing you to download the program. This can potentially be a turn off for some people. It would have been nice to switch between HDR and cycle through FOVs without the add on.
VERDICT
The Razer Kiyo Pro is definitely an advanced webcam, and its complexity can be too much for casual users. It's also pretty expensive, but can only has HDR and 1080P / 60FPS. While the light sensor technology it comes with is very impressive and will be able to function in dimmer environments, you'd definitely prefer to still put the footage through some post-processing for the best possible results.
The biggest improvement the Pro version has over its non-Pro counterpart is the light sensor tech and the 1080P / 60 FPS recording, which on its own, isn't worth the asking price to really recommend this over the non-Pro version that still can provide good image quality.
SPECIFICATIONS
Camera

Connection type: USB3.0
Image resolution: 2.1 Megapixels
Video Resolution: 1080p @ 60/30/24FPS / 720p @ 60FPS / 480p @ 30FPS / 360p @30FPS
Video encoding: H.264 codec
Still Image Resolution: 1920×1080
Image Quality Settings Customization: Yes
Diagonal Field of View (FOV): 103°, 90°, 80°
Focus Type: Auto
Mounting Options: L-shape joint and Tripod (Not included)
Cable Length: 1.5 meters braided cable

Microphone

Channels: Stereo
Audio Codec: 16bit 48KHz
Polar patterns: Omni-directional
Sensitivity: -38dB

System Requirements

PC with a free USB port
Windows® 8 (or higher)
Internet connection