With how big superheroes and cinematic universes are nowadays, Satria Dewa Gatotkaca is Indonesia's first attempt in joining said trend—here's our review. Thanks to Horizon Filem Entertainment and TGV Cinemas for inviting us to the early screening!
If you aren't aware Gatotkaca is the first film in the Satria Dewa Universe, the equivalent of the Marvel Cinematic Universe, but based on Nusantara legends. While it released in its home country of Indonesia in June earlier this year, the movie will release in Malaysia cinemas on August 18, 2022.
Story
Realising that he's the lineal descendant of Gatotkaca from Pandawa family, Satrio must fight his way to unlock the powers that lie inside him and face Aswatama, the remaining Kurawa warrior who lives on to destroy the world by changing the history of Bharatayudha.
Based on the film's synopsis on TGV's website, you'll probably be left scratching your head at all the foreign-sounding names and terminology. Thankfully, the film is pretty easy to follow in the beginning, as it portrays how protagonist Yuda goes from ordinary guy who lost his job to someone who discovered that their actually genetically superhero-material.
Inspired by the famous Mahabrata epic, Gatotkaca is a superhero born from myth with a modern twist. The main conflict of the film is centred between the warriors of Pandawa dan Kurawa. With Kurawa hell-bent on eliminating the Pandawas and resurrecting Aswahama to unleash chaos on the world, Yuda must master his powers as Gatotkaca to protect his loved ones.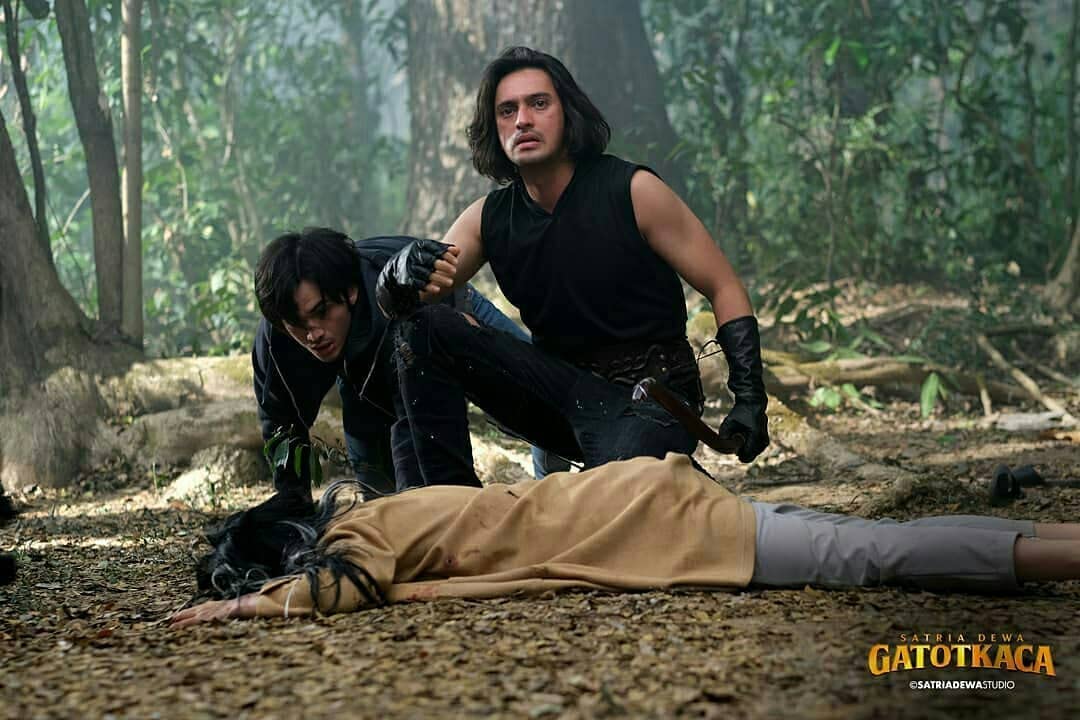 While it's a pretty cookie cutter superhero film plotline, there is so much exposition and other plot points crammed into this 130-minute film, it's a pain trying to understand everything. From the genetics of Pandawa and Kurawa to an underground project known as Satria Dewa Project that had to be scrapped, the film can get pretty exposition-heavy at times to justify its lore.
Overall, due to the fast-paced nature of the movie and how quickly it presents information, it was difficult for me to form an emotional connection with the characters. Some of the relationships between them just develop out of nowhere, which can get confusing. While it's great that we're getting more SEA representation on the big screen and that the movie proudly embraces its cultural roots, I wished it would've been written to be more accessible to unfamiliar audiences.
Presentation
If there's one thing that didn't surprise me from watching Satria Dewa Gatotkaca for this review, it's the action. While there are the typical superheroic flying and attacks that send people flying, what really stood out is the choreography. When you have martial arts superstars like Yayan Ruhian and Cecep Arif Rahman of John Wick 3 and The Raid acclaim, the martial arts segments were a treat to watch. I just wished that more of the fights would take place in brighter areas, since they can be hard to watch as they occur in dimly lit locations.
While the CGI doesn't hold up to Western superhero movies, it's decent enough that it doesn't detract from my immersion. For an Indonesian production, it's definitely one of the better ones. Hopefully, Satria Dewa Studio will get better at the CGI aspect for their next movie, Satria Dewa Arjuna.
Intermission
There is a segment that takes place somewhere in the middle of the movie's runtime which took whatever immersion of the movie I had and threw it into the bin. In it, the characters start to make cringey jokes, some of which are poorly written and sexual in nature. For me, it was unbearable to watch.
To make this "intermission" of sorts even more jarring, it's the build-up before that really feels completely uncalled for. It takes place right after a rather serious moment, causing the film's tone to be extremely inconsistent. I'm not joking when I say that this is a good part to leave the cinema for a toilet break.
Closing Thoughts
Although the story is hectic and inconsistent, Satria Dewa Gatotkaca is still able to deliver on the action front. It succeeds in being a superhero blockbuster, and while it may not be pushing the boundaries of filmmaking, it's still a good attempt by Satria Dewa Studio, considering it's their first movie. Hopefully, the next film, Arjuna, won't have the obnoxious intermission once it's out.
For more details, visit the movie's page on the TGV website.
Pros
Cons
Amazing fight choreography
Utterly atrocious intermission
Good ol' superhero action
Story can be pretty all over the place
A step forward for Indonesian cinema
---
Check This Out Next
---