After a few hurdles, Riders Republic from Ubisoft Annecy launched 28 October 2021 to extreme sports enthusiasts on Xbox One, Xbox Series X | S, Playstation 4, Playstation 5, and PC. We've given it a try in an earlier closed beta, as well as having had an interview with Manfred Neber, the game's lead designer. Well, let's not keep the trails untouched, and get right into the open world that awaits.
STARTING OUT
Strictly speaking, Riders Republic does not have a "story" that you might expect from most games. You do have a few recurring characters, like Suki who welcomes you to the Republic, Brett being one of the "OG"s, being one of the founders, and the like, but for the most part, you embark on a career path of the sport of your choice, and hit the ground running.
The options in the game is basically the same as the closed beta session, except with all of the settings available to tweak where relevant. There's a handy bar showing your VRAM capacity depending on the graphics settings you're using. There's also benchmarking available when you actually load up the game world. Unfortunately, benchmarking isn't available from the main menu or while you're in a race or activity.
You're recommended to play with a controller, but I didn't have a compatible one on me for PC. The keybinds are at least highly customizable and auto-landing takes off some complications. However, there remains a learning curve.
PRESENTATION
The blend of these national parks is honestly stunning, the effects remaining still quite good despite needing to play on Low / Medium settings so as not to blow up the PC I was playing on. Of course, the various issues like "popping" will be more obvious, besides the less detailed textures, with this lower preset. With features fully loaded, my elderly PC is waving its surrender.
I'd say what's more importance is the sense of scale, and no amount of blockiness can detract from the feeling of challenging and conquering nature itself.
Thanks to the contrast provided by the snow, the smaller touches are more obvious in that terrain: the tracks your skis or body make as you move around, the snow sticking to your pants, and such. The world map suffers the most from the lack of graphical fidelity: 3D mode tries to render the terrain, and it just doesn't look great. That aside, the basically seamless loading between areas impresses me as much as ever, letting you quickly get on the next race.
As an always-online multiplayer game, you will come across other players in the overworld. If another game would let me meet some guy in his boxers, wearing nothing else but a floppy giraffe head towering above me, and his rocket wings / wing suit that look like cardboard thanks to his equipped cosmetics, please direct me to it. What a wonderful world. As for me, it's the return of Bread Pitt, with optional stylish glasses and / or hoodies. Yes, I ignored all the customization just to repeat the joke.
There's some measure of collision with other players in Mass Races. When it comes to playing with AI, I couldn't quite tell, at least for Standard difficulty.
GAMEPLAY
The core gameplay has not changed from the closed beta, wherein you participate in races, level up, further your career in a sport and unlock a whole bunch of equipment and other events along the way. Stars will be obtainable from participating and / or completing events, with side objectives offering even more stars. For whatever event you've unlocked, you'll be able to fast travel to a nearby spot and make your way over. You can run the events solo against AI whose difficulty you can set, or in multiplayer, where you can also inspect a fellow rider's gear at the end.
You'll be able to unlock "weirder" challenges, such as the Shackdaddy Bandits Events, where you might have to traverse a course with some delivery bike, among other things. Sponsorship stuff offers you exclusive items when you complete challenges from a certain brand. Or simply head over to some activity areas, where you might be tasked to perform some stunts, for one.
If you need a break from high octane racing, make your way over to some Landmarks instead. These will initially appear as question marks on your map, so it's up to you to ride on over. Once there, you'll watch a brief cinematic of said landmark, with an informative paragraph. This also lets you earn stars for more progression. I tried to climb up a hill as though I were playing Skyrim, only to see my hopes dashed when I unceremoniously slid down a cliff face with a loud thud. If you want more instant travel, some in-game cash can get you a helicopter to drop you off.
Of course, I had to try out the Mass Races for myself. You'll be thrown into a round with players of ALL levels, so don't be surprised to see some 300++ star player in the same area as your poor 17 star self. There were 3 rounds to one that I tried, with both ground and air segments. I massively struggle with any in-air sections, and basically gave up after slamming into the same tree 10 times and did not want to fight the auto-backtracking. Fortunately, a round will end when someone reaches the finish, leaving another 30-40 seconds for you to make it. Even if you don't complete any of the rounds, you will still earn some stars and EXP.
Due to my ineptitude, I did not choose to try co-op for myself. There isn't any spectate option that I noticed which left me feeling a little disappointed. I intended to watch someone else's matches while in-game and perhaps learn something from there, you know? I'll get to it once I get better.
That aside, you have tools to make your own track pretty easily. Through the scroll-wheel menu, your movements can be recorded for you to share and upload to the community. There's an in-game radio, as well as a Photo Mode. Photo Mode doesn't have that many customizable options, though. Your snaps will be available for others to see when they hover over the camera icon on the map, and likewise you can see what others have taken. Other statistics are available for viewing from the Ubisoft Connect client, from collectibles, to crashes.
Riders Republic offers an offline Zen Mode, where the map is fully unlocked, and you have all the tools available to you. Drop yourself anywhere you like and walk around, maybe just fly around aimlessly and take in the sights. There'll be no other players or NPCs, just you. What I do find strange is that Photo Mode is not available here. Isn't it just to take photos? Not having it in a free exploration mode just seems strange.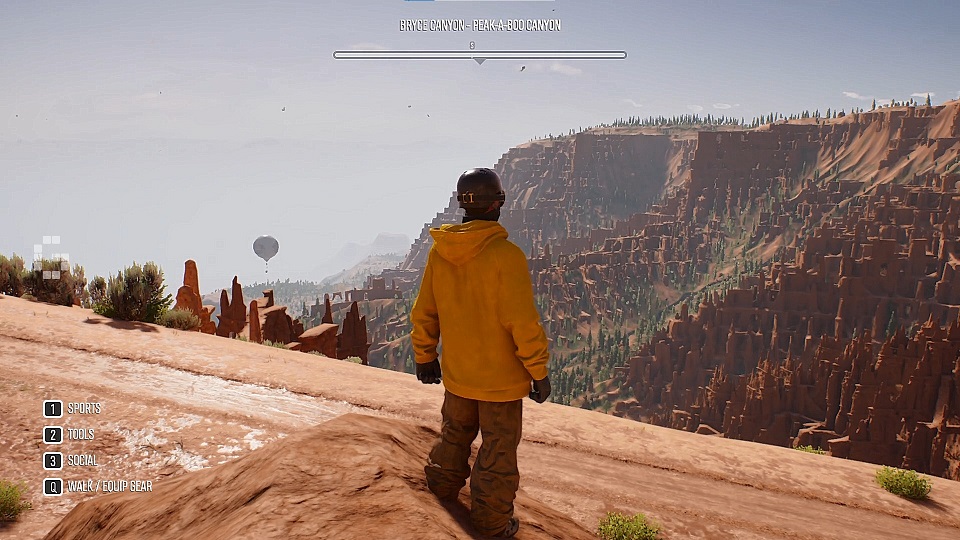 Last but not least, I'll briefly touch on the in-game shop, where you can get your array of fashion items for both in-game and real money. Nothing too unusual here.
CLOSING THOUGHTS
Should you want to try out Riders Republic even as a complete newbie to extreme sports, there will be some learning curve to the basic controls. This is not a bad thing: the "weight" to the maneuvering and movement is satisfying, and challenging to manage. Take your time to get used to it, and you might just make yourself into a star yet.
The uber casual in me sees the game as akin to a nature tour with extreme sports attached to it. Don't get me wrong: the sports is definitely enjoyable. I'll simply get to it in my own time.
Riders Republic does what it sets out to do well, so whichever way you'd like to play it, I hope you enjoy the parks as much as I did.
Riders Republic
Microsoft Windows, PlayStation 4, PlayStation 5, Xbox One, Xbox Series X|S
Jump into the Riders Republic™ massive multiplayer playground! Grab your bike, skis, snowboard, or wingsuit and explore an open world sports paradise where the rules are yours to make—or break.
---
Check This Out Next
---
The Review
Riders Republic
Gotta go fast, hurtling out of control down the hill we go!
PROS
Satisfying, weighty, challenging controls to master
Well realized setting that is both fun to explore and race through
CONS
Newbies must still go through a learning curve
Would like spectate mode for multiplayer
Photo mode not available in Zen Mode?
Review Breakdown
Don't scale the hills like Skyrim, own it with your bike instead

0