Though previously on the JP server, the Revue Starlight X BanG Dream Collaboration is now coming to Worldwide servers. To celebrate, the game is giving free 5x pulls every day leading up to the event on September 17th.
The event features a crossover between the two Bushiroad franchises, as the band girls from Poppin' Party meet the stage girls from Seisho Music Academy. Due to the fact that many voice actors from BanG Dream are also in Revue Starlight, the event also features a lot of meta humor.
Logging in every day from now until the 17th will earn you a daily 5x pull from the game's Brilliance Fest pool. This pool includes several valuable 4-star cards, so players will want to try their luck with this.
The event will add several new cards, all featuring the star girls of each of Revue Starlight's schools playing an instrument from Poppin Party. In addition, several crossover-themed Revue Songs will be added to the game, including a cover of Poppin' Party's Initial.
While this is the first Revue Starlight X BanG Dream collaboration, it's far from the first crossover. Earlier this year, Revue Starlight ReLIVE had a crossover with vocaloid singer Hatsune Miku.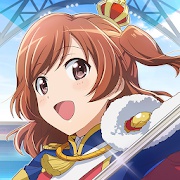 Revue Starlight ReLIVE
Android, Epic Games Store
The Adventure Begins on Stage in RPG Revue Starlight Re LIVE! A direct continuation of hit anime Revue Starlight, the story of the game picks up right where the anime leaves off, but you don't need to be a fan to enjoy all the excitement and drama that await in this RPG!