Revue Starlight ReLIVE EN is currently celebrating its 2.5 Anniversary, with free pulls for fans looking to complete their collection of stage girls.
The event will be held in conjunction with the Japanese version's 3rd anniversary, and you'll be able to log in every day to do a free 10 pull.
Assuming you logged in every day until the event ends, Bushiroad says you'll be able to do a total of 150 free pulls from the Brilliance Fest banner.
Like previous versions of this banner, you won't be able to spend gems on it, so make sure to get your daily pulls in if you don't want to miss drawing from the huge pool of cards.
Brilliance Fest Gacha
Of course, the biggest appeal for this is that they'll be coming from the game's Brilliance Fest banner, which features units much stronger than standard banners. A lot of them will be available in the Revue Starlight 2.5 Anniversary gacha- so if you're a collector or looking for a meta unit to fill out your roster for PvP, this sounds like a good chance to try for it.
Stage Girl variants are also in the pool, though not all of them. These include Stage Girl Aijo Karen and Stage Girl Kagura Hikari, though many of the more recent additions like the non-Seisho Stage Girls are absent from the banner.
Similarly, several Arcana cards are in the pool as well, such as Lovers Claudine Saijo and Emperor Mei Fan. The banner also includes birthday cards, such as Cheshire Cat Tsukasa Ebisu, so definitely consider the free pulls if you want to fill out your collection.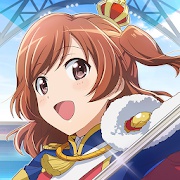 Revue Starlight ReLIVE
Android, Epic Games Store
The Adventure Begins on Stage in RPG Revue Starlight Re LIVE! A direct continuation of hit anime Revue Starlight, the story of the game picks up right where the anime leaves off, but you don't need to be a fan to enjoy all the excitement and drama that await in this RPG!