Rent-a-Girlfriend: Heroine All Stars is THE definitive waifu gacha game. Part dating sim, part puzzle game, here's my impressions of the game! 
The game released a week ago in Japan. Not only does it have the characters from Kanojo, Okarishimasu which it is based on, it also has girls from other anime such as Fairy Tail, Seven Deadly Sins and Fire Force.
While I may be biased towards some girls over others, I'll remain as objective as possible in my thoughts of it as a video game.
Premise
Story-wise, the game is basically an adaptation of the Kanojo, Okarishimasu/Rent-a-Girlfriend anime. The game literally names you Kazuya Kinoshita, the protagonist, by default, but you can change your name at the start. You'll see many of the same images from the anime being used again in the game. 
At the start of the game, you get to choose your waifu. You have four options, namely—Chizuru, Mami, Ruka and Sumi, the kanojo from the anime. Thankfully, the starter waifu does not lock us out of any content, so I was free to choose my personal favourite without feeling hampered gameplay-wise.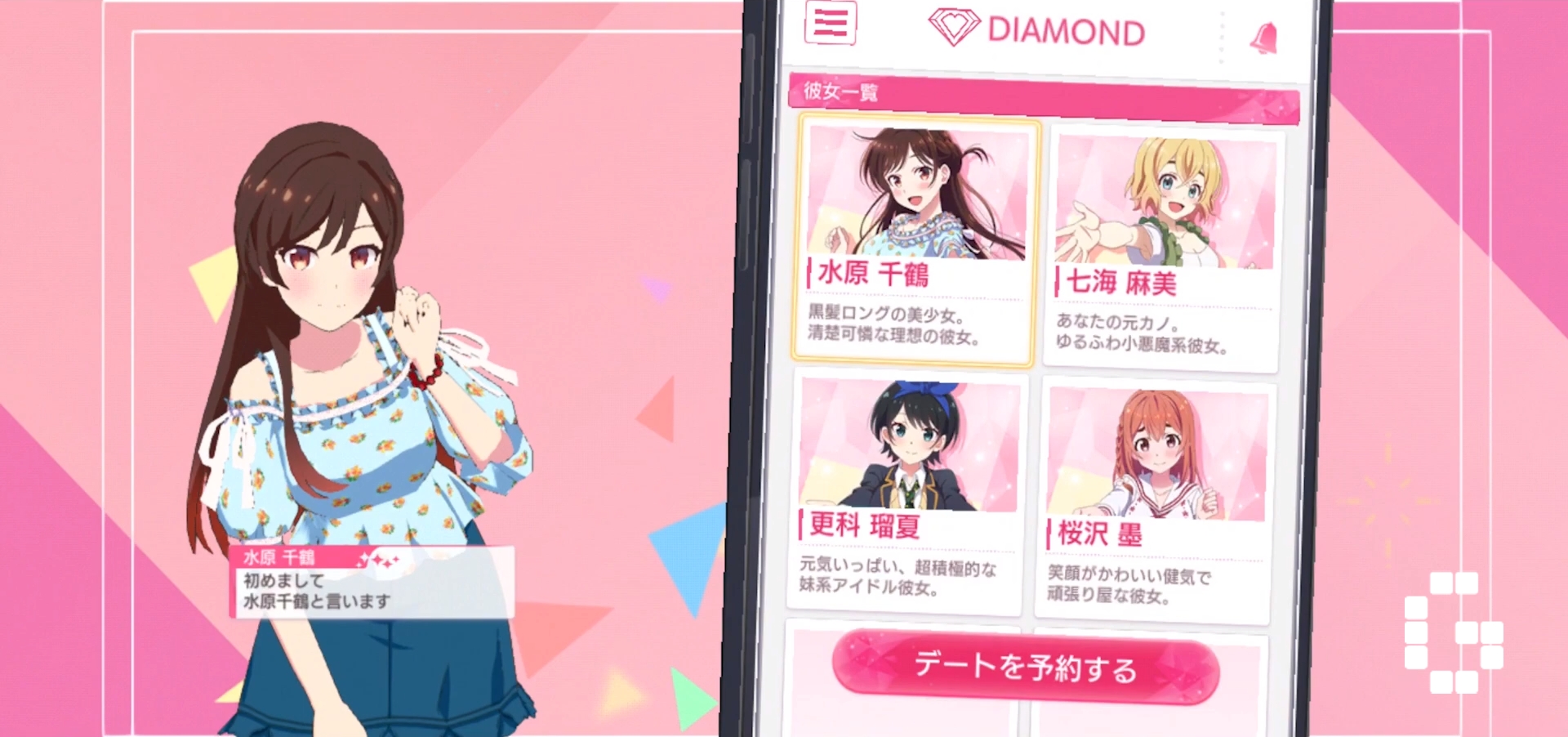 The game's campaign, or missions, is basically either cutscenes or dates. In this game, dates are the puzzle sections of the game. There is an energy system, and just like dating in real life, going on a date in the game costs energy. Without energy, you cannot go on dates. As a consolation, we get to see the selected waifu reacting as we attempt the puzzle. It's like Huniepop, but instead of them "feeling good", the waifu cheers us on in 3D.
Gameplay
Rent-a-Girlfriend Heroine All Stars is a tile-matching puzzle game with a surprising amount of depth. You can connect any tile of the same colour to each other as long as they are adjacent to one another, horizontally, vertically and even diagonally. Matching enough tiles of a specific colour will activate certain skills.
As a result, it is inevitable that there will be a meta of sorts. While I cannot speculate how hard, easy or meta-reliant the endgame is (as I have not gone that far), I'm thankful that the game isn't forcing you to use certain waifus just to beat certain content for the most part. I was able to beat every single level I attempted with the starter Ruka, so that's good. However, if you plan to S-rank some stages, you will definitely need to synergise your support slots and have a team of waifus at the ready.
But anyway, back to the "in-depth" part of the gameplay. I admit, I am not the most avid gamer when it comes to tile-matching games, so apologies in advance if this aspect of gameplay is the norm nowadays. I like that whenever you match tiles, the adjacent tiles that weren't matched would grow in size. These larger tiles provide a bigger score. Thus, it isn't just mindless matching of the most abundant tiles. Sometimes, it is better to match tiles that give a smaller combo just to increase the size of other colours. It's pretty satisfying to play.
Gacha
As someone who's very familiar with gacha games, I was pleasantly surprised to find out that 5-star character (the highest rarity) drop rate is 3% across all banners, even in the event banners. 
As you may expect in a game like this, Rent-a-Girlfriend Heroine All Stars recycles the same kanojo but with different costumes. For example, there are like 5 different versions of 5-star Chizuru. Thankfully, the addition of the waifus from other anime helps to expand the roster a bit. If you want to assemble your team of Lucy (Fairy Tail), Tamaki (Fire Force), Diane (Seven Deadly Sins), Hina (Domestic Girlfriend) and Urara (Yamada and the Seven Witches), the only thing stopping you is luck (and probably your wallet).
Thankfully, for whales, you can have the option of becoming Silver, Gold or Platinum members of the in-game Diamond app. Becoming a member gives you free pulls and increases your stamina limit. For those willing to spend a bit of cash to collect the waifus, you now have that option.
Visuals
The game looks pretty good. Character models are pretty expressive. This is apparent when the game literally sends one of the waifus to personally hand you the log-in rewards. 
Design-wise, colours are vibrant, which is pretty important considering that colours play a part in the puzzle gameplay. However, even the way the loading screen comes on is pretty flashy.
In addition, even though there are lots of icons all around the main menu, the UI is organised neatly enough that it doesn't feel overwhelming like in other mobile games. Overall, the game does a pretty good job for its visuals.
Closing Thoughts
Even though I haven't gone far into the game, I thoroughly enjoyed my experience playing Rent-a-Girlfriend Heroine All Stars. Even if you did not watch the anime or read the manga, as long as you like puzzle games and waifus, this is the game for you. 
Note that while this game is fully in Japanese, the gameplay is easy enough to understand with a bit of Google Lens and looking up for some translations. For more information about the game, follow it on Twitter.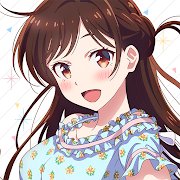 Rent-A-Girlfriend: Heroine All-Stars
Android, iOS
The first game app for the anime "Kanojo, Okarii" is here! The main character is you! Even in games, we will deliver the ideal girlfriend who is love ✕ Doki MAX! The story is full voice! You can also enjoy an AR date with that child you care about! Not to mention the character "She will borrow" Popular romantic comedy characters also appear as "rental girlfriends", It's a romantic comedy puzzle that makes that heroine her !?