Like any Razer Kraken review that we did in the past, the Razer Kraken V3 HyperSense is the newest headest to join the Kraken lineup. Unlike the others, the Kraken V3 HyperSense boasts haptic technology that according to Razer, will enable you to "feel what you hear in-game".
I decided to put that and other aspects of the Razer Kraken V3 HyperSense to the test in this review.
Technical Specs
| | |
| --- | --- |
| Frequency Response | 20 Hz – 20 kHz |
| Impedance | 32 Ω (1 kHz) |
| Sensitivity | 96dBSPL/ mW@1KHz by HATS |
| Driver Size-Diameters (mm) | 50 mm |
| Driver Type | Razer™ TriForce Titanium |
| Earcups | Oval Ear Cushions |
| Inner Earcup Diameter | 62 mm x 42 mm |
| Earpads Material | Heat-Transfer Fabric / Leatherette / Memory Foam |
| Noise Cancelling | Passive noise cancellation |
| Connection Type | USB-A |
| Cable Length | 2.0 m |
| Weight | 344 g |
| Microphone Style | Detachable HyperClear Cardioid |
| Pick-up Pattern | Unidirectional |
| Microphone Frequency Response | 100 Hz – 10 kHz |
| Microphone Sensitivity (@1kHz) | -42 ± 3 dB |
| Virtual Surround Encoding | THX Spatial Audio |
| Volume Control | Volume up and down |
| Other Controls | Mic mute on / off toggle, Haptics Adjuster – Off, Low, Medium (Default), High |
| Lighting | Razer Chroma RGB |
| Compatibility | PC, PlayStation, Nintendo Switch (docked mode) |
Signature Kraken Design
The Razer Kraken V3 HyperSense isn't much different from the other Krakens appearance-wise, which is a good thing, because they're sleek and look great. Its matte black body makes it hard to leave fingerprints while the Razer logo on the ear muffs will shine according to whatever colour you set it to via Razer Chroma RGB. Similar to the Kraken V3 X and almost any other Razer Kraken review that we did in the past, the Kraken V3 HyperSense is extremely comfortable on the ears. I can have a Razer headset on the whole day and still feel comfortable.
This is thanks to the practical (and cool) design of the Kraken V3 HyperSense. The foam cushions used for the ear muffs are extremely breathable. It never feels hot or humid even after wearing them for extended periods of time. As someone with a big head and big ears, the muffs could cover the entirety of my ears—something that many other headsets fail to do. Also, the steel band could be adjusted to 8 different sizes, with size 8 being just right for me.
Note that at a weight of 339g, this headset is on the heavier side. I can feel a slight pressure on the top of my head while wearing it, but it doesn't step into the realm of discomfort. Also, don't expect the headset to completely block out all sound when you put them on. They're still fantastic at reducing the surrounding noise.
Audio Performance
The Kraken V3 HyperSense's 50mm TriForce Titanium drivers are excellent. It's been used in other Razer headsets and just like its predecessors, the audio experience it provides is crisp, clear and well-balanced. When listening to songs, the mids are just perfect—it's easy to catch the details in the vocals and instruments. The bass is also just nice and not too overpowering. Note that this is my experience from using it without tweaking the settings on Razer Synapse 3.
As for gaming, the Kraken V3 HyperSense is easily one of the most immersive headsets that I have ever worn. The surround sound experience that it provides is godly. While playing Counter-Strike: Global Offensive with the Razer Kraken V3 HyperSense for this review, I was able to distinguish the direction of footsteps and gunfire a lot more accurately. I typically have a hard time determining these important audio cues in CS:GO but the headset actually helped me solve that problem. I'm not joking when I say that the Kraken V3 HyperSense literally made a better CS:GO player.
The headset's microphone also gets its job done with flying colours. It delivers my voice clearly without picking up background sound. During my testing, I had the washing machine on behind me while gaming and my friend failed to notice it. Note that I haven't even activated any of the notice cancellation features in Razer Synapse 3, and it was already that good.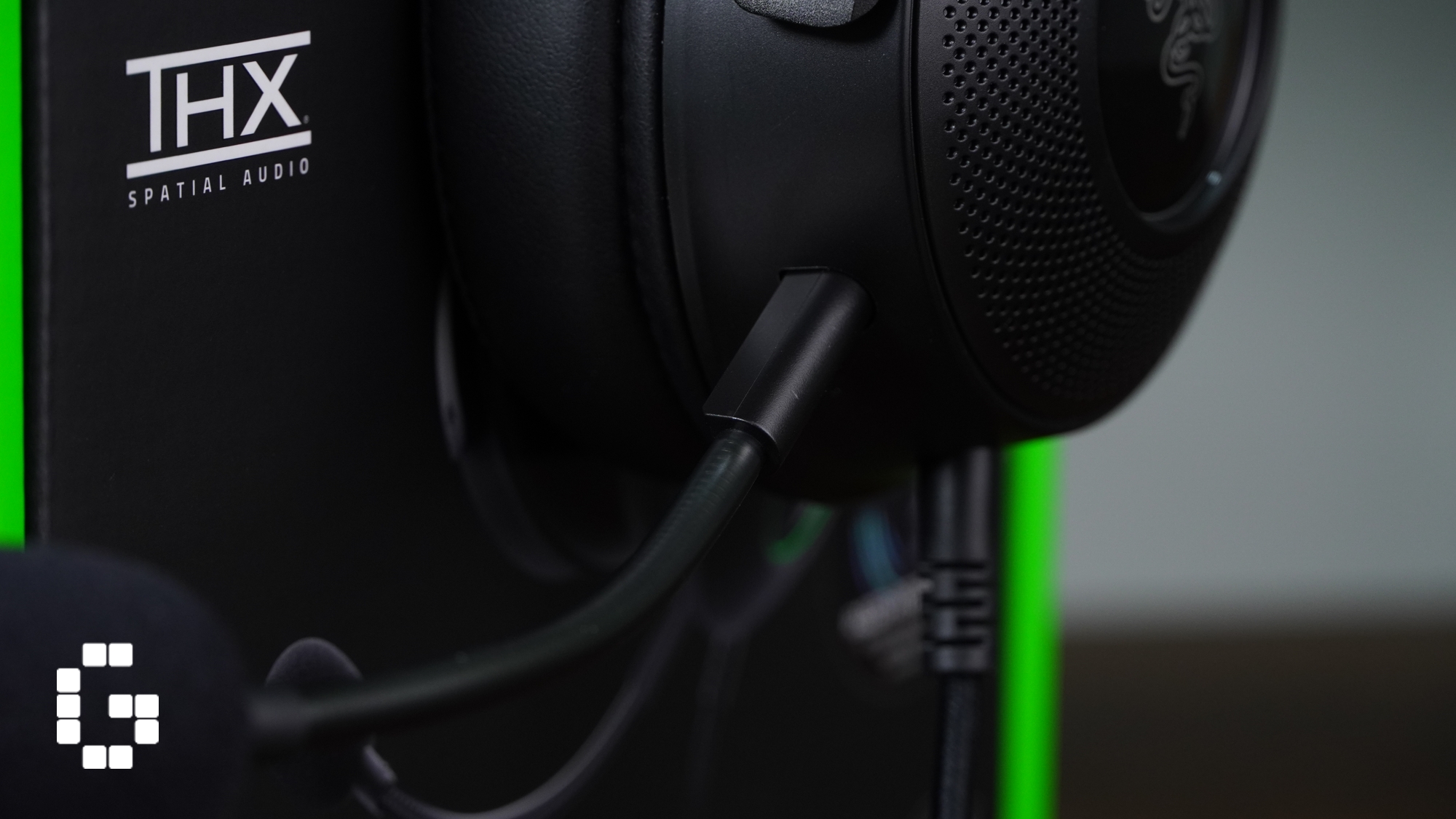 My HyperSense is Tingling
The big thing about the Kraken V3 HyperSense is well, the HyperSense, as the name implies. According to Razer:
Razer HyperSense is a haptic technology that's been integrated with the audio drivers in each earcup. Able to transform audio into touch-sensory feedback (i.e. vibrations), this technology effectively allows you to feel what you hear in-game.
In practice, what it really does is it takes the sound that you hear and changes it into vibrations. As someone who has never used haptic headsets before, the experience is very eye-opening (ear-opening, perhaps?). While listening to music, it feels like being in a concert. The vibrations change depending on how intense the sound is being played. When the loud part of a song's chorus drops, it's the hypest thing ever. Long story short, it's incredibly fun while listening to music.
As for gaming, I have mixed feelings about it. The headset vibrates even when characters are talking to each other softly during a cutscene, which can get distracting. In FPS games like CS:GO where I could discern audio cues perfectly without it, the extra vibrations is sensory overload for me. Having the headset vibrate for every little footstep was a bit too much. However, in louder games with a lot of explosions or music, the vibration does help increase the immersion.
Note that you can set the haptic intensity to low, medium or high. Even on low, the headset will vibrate very often, just not as intensely as the other settings. Thankfully, you can always set it off if you find it distracting.
Closing Thoughts
The Razer Kraken V3 HyperSense is an amazing headset, easily one of the best in terms of comfort and audio quality. As for the HyperSense technology—I imagine that it may not be to everyone's liking. It's not that it's bad—it does exactly what it was advertised to do. For me, it enhances my experience listening to music, but not so much for gaming. Thus, your mileage may vary with the haptic features.
Nevertheless, it's an optional feature on an absolutely incredible headset. If you're interested in getting one yourself, you can purchase it for RM 699. To learn more about the Razer Kraken V3 HyperSense, visit its product page on the Razer website.
---
Check This Out Next
---