SINoALICE's poster girl for masochism, Princess Kaguya, turns it up a notch in her Minstrel class, complete with a blindfold. She will make her debut in the global version of the game later today, 13th April at 7.00 am UTC+0 after the maintenance.
The new job for Princess Kaguya will be obtainable via the Echoing Chants grimoire. To obtain the blindfolded musician, players will need to pull her SR weapon, Lute of Masochism. Besides this instrument, other featured SR weapons with rate up include Sickle of Counter Conquest (polearm), Rallying hammer (heavy) and Sprit Book (tome).
However, players may want to hold on to their Twilight Crystals as the Re:Zero collab will also happen later this week. Odds are, the event characters will have a much lower chance of returning than Princess Kaguya/Minstrel. Thus, it is recommended that you do not pull from the Echoing Chants banner, unless you are a Minstrel main or if you are a huge fan of the character.
Thankfully, like most major events, players can expect to get some Twilight Crystals from the ongoing social media campaign.
Even though the amount of social media engagement has been reached, those interested in winning a SINoALICE Snow White plushie should still take part.
For more news on the game, follow its official Twitter account.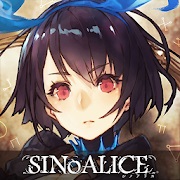 SINoALICE
Android, iOS
Fairy tale characters fight to "revive their author". Enter the dark world of SINoALICE as imagined by Yoko Taro (Drakengard, NieR).