Everyone say welcome back to the Predator Helios 300! This model of laptop has been refreshed year on year, and with good reason. The old reliable workhorse will not be losing out to its fancier brethren just yet. That said, it still needs to prove itself, so let's see what the new year, new me brings.
LOOKING IT OVER: THE FAMILIAR STYLE
Aesthetically speaking, it's the ever familiar and recognizable Predator line design. It's still the sleek, mostly understated black aluminum colour and stylized, illuminated Predator logo on the lid. The 2022 model has forgone the stripes of the 2021 version on either side of the laptop, making for a much cleaner look. 
As mentioned, the logo is illuminated with a fetching blue backlight when the laptop is turned on. It's a chunky beauty, really, seeing that it weighs in at 2.6kg at 25.9mm thickness. Pack in the charger, and it goes up to a whopping 3.5kg.
Granted, the laptop does make it worth your time, as the sheer array of I/O ports can put most other laptops to shame. Two USB Type-A ports grace the right side, one supporting USB3.2 Gen1 and the other, USB3.2 Gen2. On the left, we get a USB3.2 Gen2 USB-A, RJ-45 Ethernet, as well as a two-in-one 3.5mm Audio Jack. Last but not least, the back has more ports too, packing a Thunderbolt™ 4 USB-C, an HDMI 2.1and a Mini DisplayPort 1.4.
Any data transfer demands, or better support for an external ultra-HD display you have should be pretty comfortably put to rest with this line-up. The only thing lacking would be only having the one Thunderbolt 4 port.
The laptop's cooling has been incorporated into the design with symmetrical air vents placed on the left, right and rear. The dual cooling fans can be seen at the bottom. One last detailing is the RGB light strip, sharing the same settings as the keyboard.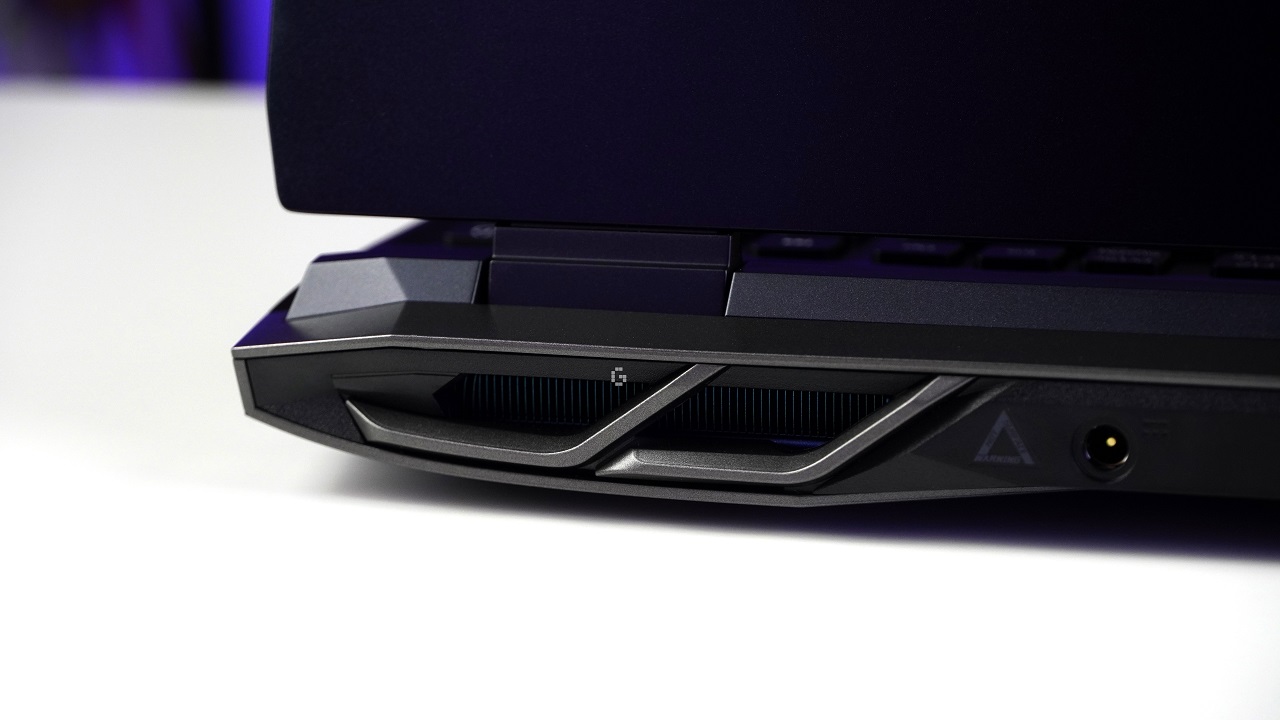 KEYBOARD: INPUT IS A-GO
As with the laptop itself, the keyboard is also aluminum alloy. It provides some great key feedback with relatively quick and strong rebound, while making minimal sound. Now, I personally would prefer some click but that's from being used to a full-sized mechanical keyboard. Whether for work and play, the responsiveness is great and makes for an excellent experience. Like, gaming wise, the Turbo mode shortcut is right at the top so hit that once you're ready to start going hard to get the laptop whirring at peak performance and cooling.
The power button is placed on the top right, with more shortcuts in three additional media control buttons. The Predator Logo button graces the numpad, this one opening the Predator Control Center for the typical laptop functionality customization – performance, fans, lighting, for example – for quick access to your tweaks.
One would be remiss not to have RGB lighting for the Gamers, and the Predator Helios 300 offers four areas for you to fiddle the backlight for. I can't imagine having four zones of clashing colours, but that will be an option. Each keycap has individual mini LEDs so each key can afford to be lit independently while remaining energy efficient and uniformly lit. You really can try changing the colours of each individual key if you so wish.
As a whole, the keyboard has gotten an overhaul to offer more form and function.
DISPLAY: WINDOW TO THE WORLD
It's time to look up, to the panel you're going to be spending most of your time looking at. The 15.6-inch QHD (2560×1440) resolution panel has narrow bezels all round (except the bottom), with the top housing a 1080P camera which should be well suited for every day use.
Rest assured the laptop does have the display features for your gaming needs: 165Hz refresh rate, 3ms of low latency response, and NVIDIA® Advance Optimus® support just to name what I'd consider the key points. With this tech assisting you, you can only improve in your own response times when you start getting in the zone for competition.
That's not all the features you would hope in a panel, of course. I'm sure you'd expect nice colours, comfort where you can find it, high resolution… and yes, you can find it here: 100% DCI-P3 wide color gamut display, Acer's proprietary ComfyView LED-backlit TFT LCD and up to 2K resolution support. So long something you play or watch has support for it, you can just throw it on and see the beauty.
COOLING: STAYING FROSTY
While the Predator Helios 300 chugs away, it avoids becoming a toaster with the use of 5th Gen AeroBlade™ 3D Fan Technology as well as Liquid Metal Thermal Grease for a nicely cooled machine. You won't be feeling any of that heat as you use the keyboard though a word of caution regardless. The cooling system is located at the upper left corner of the keyboard, so that might get too hot for your taste.
The 5th Gen AeroBlade™ 3D Fans are thinner and feature 89 blades of serrated design to improve heat transfer by up to 55% when compared to regular fans. Depending on your personal tolerance for fan cooling sounds, you might opt for headphones once the fans really get going.
BATTERY LIFE: LIGHTS ON
A 90Whr battery can last you about 4 hours in a normal use test. The laptop makes up for it in charging speed, capable of getting from 17% to 83% in roughly an hour thanks to the 230W AC Adapter.
AUDIO: SOUND OF MUSIC
After much detail being lavished on the display, having that backed up with some quality sound will only elevate the viewing experience. Now, you might think having the speakers on the bottom might warp the sound quality. That's not the case here, wonderfully enough! DTS: X® Ultra Audio makes sound much louder and clearer, with a great stereo surround sound effect for increased precision even without a headset plugged in.
PREDATORSENSE: STALWART SOFTWARE
The companion application's functions are as familiar as ever with easy access through the keyboard shortcut button, or launching it from the laptop. Tweak a variety of settings as you like in performance modes, fan speed, or a simple software search, all easily accessible from here. The RGB lighting can also be customized via Pulsar Lighting. For reference, here are the modes available:
Quiet: Keep the PC as quiet as possible. For light use, such as meetings, E-learning or browsing.

Default: Recommended for standard, everyday use. Word processing, office work, etc.

Extreme: For Gaming. Overclock CPU & GPU for additional performance. Limits fan speed.

Turbo: For unleashed gaming. Max overclock and fan speed.
THE NUMBERS GAME: PERFORMANCE TESTS
With all that said and done, it's time for the actual benchmarks. First off, the basic Predator Helios 300 specs:
12th generation Intel® Core™ i7-12700H processor

NVIDIA® GeForce® RTX™ 3070 Ti

16GB DDR5 SDRAM

1TB PCIe Gen4 NVMe SSD
Et voila, and here are are the numbers for operational efficiency across different benchmarking software:
3DMARK: 10,315
PCMARK 10: 6,504
VRMARK: 10,299
As for games, all of these were tested with the highest graphics settings possible. If DLSS support is available alongside ray tracing, both will also be enabled.
DAYS GONE
The game can play at a stable 100 FPS, while Turbo Mode can further boost that to a cool 135 FPS, so surviving the zombie apocalypse will be no problem.
GHOSTWIRE: TOKYO
The streets of Tokyo are rendered gorgeously with DLSS and ray tracing enabled. With these settings, the game runs at 75FPS, while Turbo Mode bumps this to 85 FPS.
DYING LIGHT 2
Much like the game's name, Dying Light 2 can make a lot of machines buckle. The Predator Helios 300 manages a very respectable 40 FPS, hitting 50 FPS when on Turbo Mode.
APEX LEGENDS
You definitely want every frame for a competitive game like this. At 120 FPS, I don't think you'd have any complaint.
CLOSING THOUGHTS
As a whole, I like the more streamlined design of the Predator Helios 300, incorporating an impressive array of I/O ports to meet just about every external device you'd like. Packing hardware such as a 12th generation Intel processor and 3070 Ti graphics card, performance is essentially assured. To keep the high powered innards going, the sound of the cooling system going at it will be a compromise you'll have to make.
Nonetheless, the Predator Helios 300 is keeping up with the times for this 2022 refresh, so by all means, stick with the old reliable for another year!
Review model provided by Acer.