More details regarding the Pokemon Sword and Pokemon Shield DLC Expansion Pass has been revealed today. The Galarian form of Slowbro has been revealed, the evolution of the Galarian Slowpoke that will require an item from the Isle of Armor.
Besides the new locales already mentioned before, one of the legendaries confirmed to be appearing in dens will be Giratina! The Isle of Armor will be released on 17 June. Galarian forms for the various legendaries have also been revealed, along with the Dynamax forms of Venusaur and Blastoise.
One Regi is confirmed to be Dragon-type
One Regi is confirmed to be Electric-type
Galarian Articuno is Psychic/Flying
Galarian Zapdos is Fighting/Flying
Galarian Moltres is Dark/Flying
Galarian Slowbro is Poison/Psychic
The Crown Tundra DLC will unlock the Galarian Star tournament, where you can pick a friend and battle against all the people you've met on your Trainer's Adventure! Restricted Sparring from the Isle of Armor will challenge your teambuilding skills as you will be limited in types with set battle conditions.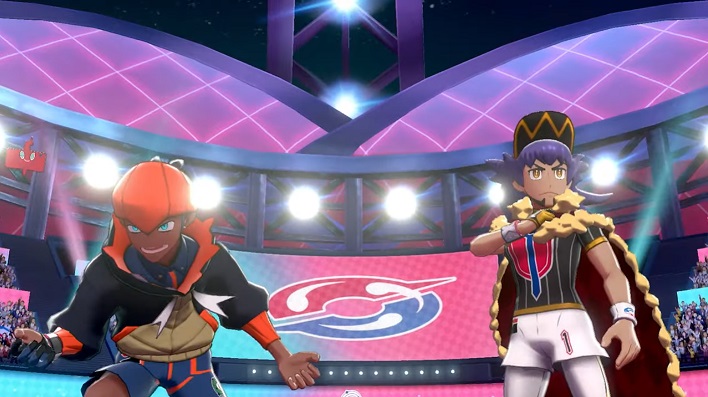 As mentioned, Isle of Armor will release 17 June, so not too long now. Crown Tundra's release date was previously mentioned to be Fall 2020, which seems to have some story revolving around the three Kanto-Galarian birds…
For Crown Tundra, Dynamax Adventure will see up to four Trainers (including yourself) venture into dens and possibly encounter Dynamax Pokemon. You'll be able to catch them as usual, but you'd also be blown out if you lose!
Watch the Japanese trailer below:
Features available in the DLC include:
| Additional Features | The Isle of Armor | The Crown Tundra |
| --- | --- | --- |
| New areas | ✓ | ✓ |
| Kubfu and Urshifu | ✓ | |
| Calyrex | | ✓ |
| Gigantamax forms for Rillaboom, Cinderace, and Inteleon | ✓ | |
| New regional forms | ✓ | ✓ |
| Pokémon that didn't appear in Pokémon Sword or Pokémon Shield | ✓ | ✓ |
| New Pokédexes | ✓ | ✓ |
| New clothing items | ✓ | ✓ |
| New Pokémon added to Max Raid Battles | ✓ | ✓ |
| New items | ✓ | |
| New tutor moves | ✓ | |
| Restricted Sparring battle feature | ✓ | |
| New co-op play mode | | ✓ |
Isle of Armor will have a new feature known as the Cram-o-matic, where you can feed four items to recycle and receive something new and possibly rare, depending on your combinations! There will also be the Max Soup, where a Pokemon with great hidden potential can drink and Gigantamax!
Did you already purchase the DLC for Pokemon Sword and Pokemon Shield?
Pokemon Sword / Pokemon Shield
Nintendo Switch
We're off to the all new Galar region! With plenty of Pokemon to see along the way, how will your road to becoming Champion be like here? Gigantamax your way to the top!