It's hard to be openly excited about Pokemon Brilliant Diamond & Shining Pearl nowadays even if it was for a review, since the Pokemon franchise has been in such hot water lately. The fans that caught em all in their youth have grown up, and anything that doesn't teleport them to their childhood like that scene from Rattatouille immediately gets blasted as an affront to gaming and a herald for the death of one of the most popular IPs of the 21st century.
When I had to review Pokemon Brilliant Diamond & Shining Pearl, I realized it's not like it's taking the game to any particularly new heights. Made by support studio ILCA, these games are a lot less loud in their presence, instead offering players another chance to replay a beloved generation, without the flashy lens of the newest one's features hanging over it.
How does this gambit pay off? Read on and find out.
Nostalgia In The Purest Sense
One major point of contention when doing a review for Pokemon Brilliant Diamond and Shining Pearl is that it's probably the closest to a 1:1 remake of its progenitor yet. Unlike the Gen 3 remakes which were bold reimaginings of their counterparts, Brilliant Diamond and Shining Pearl are closer to ports of their base games for a new crowd to try.
On one hand, I don't entirely hate this- while OrAs were great games for their innovations, there is still a market for just wanting a no frills remake of the original, save for some quality of life tweaks. Maybe you don't need Dialga to Dynamax in the third act to fight Gigantamax Palkia, the thought might go.
Especially considering the mountain of criticisms against Sword and Shield, it might be for the best that they kept this remake so much closer to the original. After all, Gen 4 has some great characters, be it the gruff Professor Rowan or the literally-a-Final-Fantasy-Villain Cyrus.
One thing I really like is also the return to the chibi art style. It feels incredibly nostalgic- You still get full-bodied characters in the battles, which you can even customize via a new fashion menu, but committing to the classic art style definitely helps sell this more as a nostalgia-centric remake rather than some bold new territory with familiar faces.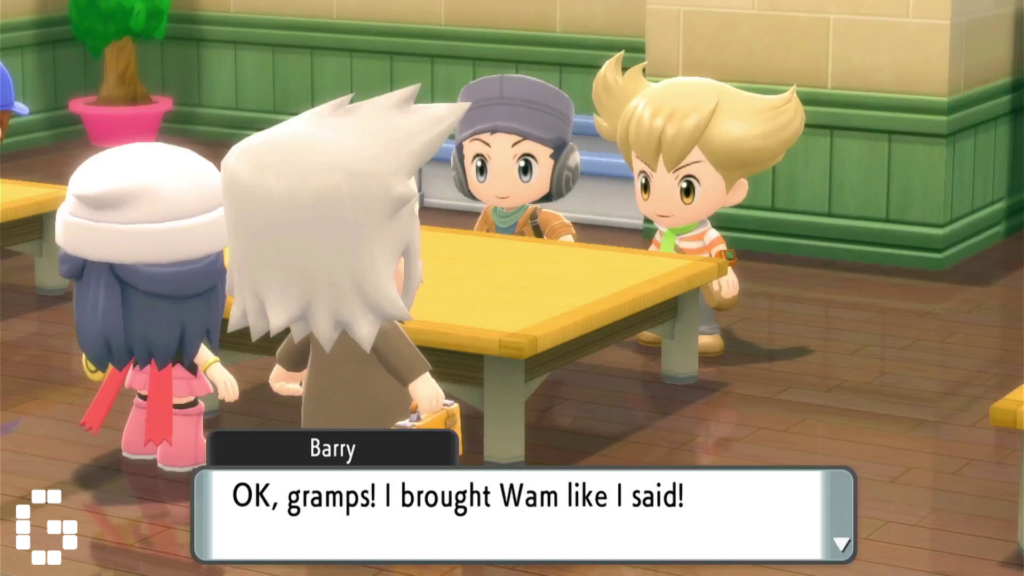 On one hand though, I do wish they'd done another pass over the art style. The game looks like its teetering on two art styles, having realistic lighting and a bokeh effect that almost remind me of Fantasian, all while maintaining the same Pokemon aesthetic. Considering how close it looks to the original's pixel sprites, it's obvious how washed out the models look in the more realistic lighting.
There is one advantage to the art style that can't be understated- unlike Pokemon Sword and Shield which had all manner of technical hiccups, Pokemon Brilliant Diamond and Shining Pearl actually run really well. The framerate is consistent, and you never have to worry about things like too many winged pokemon causing the game to start chugging.
They've also brought back something I didn't even know I missed- the posing trainers at the start of every battle. A lot of early Pokemon's appeal was just how much they could do with so little, and each trainer feels like they have way more personality as a result, even if the idea of them holding these poses at the start of the battle is a little silly.
Quality of Life
Stable framerate aside, Brilliant Diamond and Shining Pearl do also add a variety of quality of life features to help new players along. These include new series mainstays like the autosave and EXP share, which let you level up your whole team passively without having to send them into a fight. The autosave, however, isn't as well implemented- Pokemon is a game built around save-scumming failed Legendaries and the like, so if you want to maintain that you'll need to turn off the autosave.
They've also implemented Sword and Shield's open box, letting you transfer pokemon into your party as you catch them instead of going back to a Pokemon Center. As much as I love the option of it being there, I'll admit I turned it off almost immediately- I'm too much of a purist and I actually like the tension caused by having to fall back to a Pokemon Center, if I wanted to add my newest capture to my lineup.
One thing I really like about Pokemon Brilliant Diamond and Shining Pearl is that they've cleaned up the animations really well. Lots of mundane Pokemon moves have better animations, though without the cost of suddenly becoming hour-long cinematics a la the Z moves from Sun and Moon. More normal moves like Fly and Aerial Ace still have concise animations, but they do simple things like tilting the camera to make them feel more dynamic even if you only see them for a couple of seconds.
Hang Out In The Underground Where It's Just Better
Two big features in the game, the Grand Underground and Super Contests, also return in Pokemon Brilliant Diamond and Shining Pearl, letting you take a break from the story to just engage in light-hearted fun. As someone who didn't do the super contests in the original games, I have to say they're a lot different from their 3rd gen counterparts. In the remakes you're basically playing a rhythm game, but also dependent on your Pokemon's contest stats.
On one hand it's unfair to compare it to the Hoenn Contests, which were basically 4-way deathmatches where you threw the other contestants under the bus for points. The Gen 4 contests are fun and lighthearted, as they should be.
Meanwhile the Underground is an incredibly engaging dungeon, almost like Mementos in Persona 5. You can scan walls for treasure, which involves playing a minigame to mine out treasure, as well as decor for your Secret Bases, which also reside in the Underground.
The big new feature in the Underground however is the new Pokemon caves, which spawn rare Pokemon with egg moves, as well as some species you can't get on the surface.
On one hand, I like this feature- having easier access to things like Egg Moves and Hidden Abilities is great, and the fact that the Underground changes every time you get a gym badge means you have plenty of reason to keep checking back.
On the other hand, it also runs into the problem of being too good. The Pokemon of the Grand Underground are much higher in level than anything you'll fight on the surface, meaning that a good spelunking session can easily throw you over the game's expected level, turning the main story into a cakewalk as you just beat everything in one or two hits.
Closing Thoughts
Suffice to say, I liked my time having to review Pokemon Brilliant Diamond & Shining Pearl. While nowhere near as boundary-pushing as Omega Ruby and Alpha Sapphire, it's choice of breaking away from mainline Pokemon presentation definitely makes it a title that stands out. It's not entirely void of new things either- HMs are functionally gone, letting you just summon a wild Pokemon to clear them for you.
There's complaints to be had for sure- I kinda wish they'd integrate Pokemon Platinum's story, for example, much like how Omega Ruby and Alpha Sapphire did Pokemon Emerald with their Delta Episode story chapter. There's also the Poketch, a returning feature which just feels downright awkward integrating in a console without a second screen.
But the end result is a perfectly passable game- good, even. Just manage your expectations and don't expect any of the big leaps and bounds you might have gotten from other games.
---
Game reviewed was Pokemon Brilliant Diamond
Pokemon Brilliant Diamond and Shining Pearl
Nintendo Switch
Experience the nostalgia of Pokémon Diamond™ and Pokémon Pearl™ in an adventure reborn on Nintendo Switch™ systems.
The original story has been faithfully reproduced, and these remakes include easy-to-understand, player-friendly conveniences of the modern Pokémon series, plus up-close-and-personal Pokémon battle scenes.
---
Check This Out Next
---
The Review
PROS
The original Diamond and Pearl were great- as are these
No more HM Slaves!
It's a great looking game
CONS
Not enough new about it, especially when OrAs was so good
Review Breakdown
Pokemon Brilliant Diamond & Shining Pearl

0