Pinocchio will be featured in two banners in SINoALICE, one where he makes his debut as a Cleric and another which is his Minstrel job.
The Pinocchio/Cleric Grimoire, Student of Prayer, goes live after the scheduled maintenance today. To unlock this new class for Pinocchio, players will need to pull for his SR weapon, Staff of Dependence, which has a rate up. Other weapons with rate up in the banner includes Battle's Gospel (heavy), Exhaust's Bite (projectile) and Locksmith's Soliloquy (tome). In particular, Battle's Gospel is a great pick for Crusher mains as it is a combo weapon.
Besides that, Pinocchio/Cleric, Pinocchio/Minstrel will also appear in SINoALICE.
The June Featured Grimoire also includes Red Riding Hood/Paladin and Odio, Song of the Black Lily for players to get in the coming month.
In addition, there will also be a new Limit Break Grimoire.
This new banner lets players choose the rate ups for their SR weapons, excellent for limit breaking.
On top of that, Blood Colosseum will be returning once more with the Guild Box O' Grimoire.
As usual, players should get their guild members back for Colosseum fights as there will be more rewards depending on the number of participating guild members.
For more information on these events, refer to the SINoALICE Twitter account.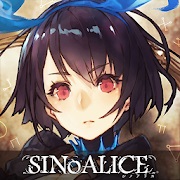 SINoALICE
Android, iOS
Fairy tale characters fight to "revive their author". Enter the dark world of SINoALICE as imagined by Yoko Taro (Drakengard, NieR).