With the upcoming season for Overwatch 2, Invasion, we got the chance to talk to the development team in a Summit Interview where we got to ask them about the newest season.
Joining us are:
Scott Lawlor (Audio Director and Technical Narrative Design)
Monika Lee (Game Producer Specializing in Story Missions)
Jorge Murillo (Senior Mission Designer)
Dylan Snyder (Senior Game Designer)
Ryan Smith (Lead Level Designer)
Daniel McGowan (Principal Environmental Artist/ Environment Art)
Piero Herrera (Senior Hero Designer)
Rakan Khamash (Senior Character Artist)
Joshi Zhang (Narrative Designer)
Jared Neuss (Executive Producer)
Aaron Keller (Game Director)
Dion Rogers (Art Director)
Story Missions 
During the development phase, were there any kind of concerns over performance issues? How has that kind of been overcoming those sorts of technical feeds?
Jorge: It's been a pretty big headache. It's pretty crazy how big these are. Like we had to develop new tools, the systems to do a lot of memory cleanup and to make sure that we're kind of like basically for the PvP maps, like things are always on all the time because players are like around the whole time. But we had to do a lot of different things like tricks and things like hiding it.
Basically what I've been doing recently for the missions is I'm making sure I'm closing up sections and unloading parts of the map and doing things like that, we traditionally don't have to worry about for PvP, but because these are so much larger, we had to do a lot of memory cleanup and just be really conscious and smart with our optimization, especially because what you said, we want to support Switch and that's like the biggest bottleneck that we have. And so, the nice thing is if it runs on Switch, it runs, it's going to run pretty well on everything else. So, it's almost like a nice bottleneck we have in a weird roundabout way.
Scott: We also put a lot of scaling technologies in there. I'm not a graphics engineer, so probably the last person to talk about when it comes to that, but a lot of features are added for additional platforms. And on the audio side, something I do talk about as we like to scale the number of voices that are allowed to happen. And if the Switch or some platforms are struggling, we'll actually lower the number of sound voices that are happening. So, lots of clever uses of optimization, as Jorge was talking about, just very careful precision in the way that we tried to make things fit. So, it worked out pretty well.
Dylan: On the AI side of things, what we opted to do anyway from a design perspective was as opposed to giving, throwing like a horde of units at you that have like 10 health each or something that you can easily mode down. We wanted to make each of our units even down to the grunt level. Units feel super meaningful and engaging to fight and dangerous really. Because of that philosophy, we were able to kind of, I think early on pull ourselves away from the trappings of, "oh, well, we need to have 50 of these guys on screen to make fighting them worth it" or even feel like anything so because we, were able to step away from that early on, it actually made optimizing for a range of hardware actually relatively easy, smooth sailing.
I want to say smooth sailing, a lot of people have put in a lot of work to make sure that this stuff runs well. Hats off to them and the incredible team doing that stuff but that was something we definitely surmounted early on.
Speaking of enemy types, how many unique enemy types can we expect?
Dylan: There's a whole bunch. I don't want to give an exact number per se. So that kind of keeps some of the mystery as you play through the missions. But what I will say is even on the first couple of missions, you won't have seen every single enemy type that you will be fighting. 
We are constantly kind of introducing new ones to sort of mix up the flavor of encounters and make sure that just as soon as you think you've mastered it and you know exactly what's coming your way, maybe throw a little twist in there. So, I think you can expect surprises throughout each of the missions you'll be playing.
Monika: I think it's really exciting, but the variety and the enemy types, it really keeps you on your toes and makes you think differently about how to engage. I think if you think about a payload map in PvP. Stay on the objective, you want to write it to the end and kind of accomplish it from there.
But thinking about how the different Null Sector units and enemies engage with you, you might want to be more behind cover. You might want to approach on a flank. And it's really clever and sometimes it really makes things really sweaty for sure.
Is the goal moving forward to eventually incorporate every hero in a playable sense into the story, or is it kind of centered on this one core group?
Jorge: So basically, like this particular story is going off the point where Winston hit the recall button and Overwatch is getting together again. And so, like, if you look at the timeline overall, we're going, we're hitting the ground running right from that point. And you're bringing in the old characters, you're meeting new characters. Like Lucio entering the team now and things like that.
Essentially, we're telling a very specific story and we'll actually have a lot of characters just because a lot of these people are associated with Overwatch one way or another. We won't have everybody for this particular survey we're telling, but we're having a lot of people going forward with these next missions that we're doing.
Scott: There's in total that you could play 20 different heroes throughout the mission. So, there's a lot of different ways you can experience it. We're telling the kind of the Good Guys story right now, for sure of Overwatch getting back and facing Null Sector. But the world of Overwatch has plenty of room to tell stories from all kinds of angles that we'd love to do at some point. 
But right now, we're really focusing on telling a specific story arc that's really beginning with this, which is exciting, because this is the first time that we'll be telling a story going forward in Overwatch. Up until this point, all the missions we've done have been flashbacks and we've told retrospective stories both in and out of the game with our origin pieces or our animated shorts. 
So right now, is like really the first time in Overwatch's history that we're moving past that recall moment. And the thing that's also really cool is this is also the first time that we're putting something in a game that's permanent. A lot of those missions in the past would come and go, but this is going to be here to stay, and you can come back to it, try it from different angles.
Whenever you need a little break from PvP or you want to try something new or learn something new about the universe, there's a chance to dive back in forever and we hope to keep expanding the story of Overwatch for many years to come.
How is the selection process to decide which hero would be playable in the story missions?
Monika: It's very much driven by the story and the narrative that we're wanting to tell for these first three story missions. I don't want to spoil too much about what happens in each of them, but the number of selectable heroes changes for each story mission, depending on the location and the story that's being told. 
For example, the second mission, Liberation, which is in Toronto, Sojourn's one of the playable characters. She's required to play since it's Sojourn and her city. It's very much about Overwatch and meeting up with her.
From the gameplay perspective, there is specific tuning for these heroes within PvE. For example, Winston, he has a secondary ability that actually kind of chains and lightnings to other enemies to the point where I enjoy playing him so much in play test at work that I try to right-click in PvP and I realize Winston does not do that PvE ability, but it required some work on the design side to make sure that these heroes really felt good in PvE and in story missions against Null Sector since the way you play against them is a little bit different than how you would play against real life humans.
Flashpoint
What's the thought process behind testing out not just new maps but an entirely new game mode?
Ryan: Throughout the process, we have a lot of internal testing with our team here at Blizzard. We also have a department called User Research. They gather a lot of players from the public and internally at different points in testing where they gather a lot of information.
There's like a lot of questions and they give us back all these stats and analytics from these play tests with all these data that we can use that kind of better the map as we're still creating it before it gets fully art and then we also work with a lot of content creators before the maps release where we have them play test it and give us feedback and tips and kind of approve the map before we get it out there to the public.
Is there a meta in mind for Flashpoint? Because it seems like it might be skewed towards higher mobility heroes.
Ryan: I think that we're always initially when we did the testing, we found out that a lot of people were going for more mobile heroes. The map is so large that you have to be able to navigate it fast. We saw that was kind of a strategy that a lot of people were going for.
But as play testing went on, that kind of slowed down a bit and we even saw a lot of people gravitate towards more defensive heroes to block paths and lines of sight that connect to the capture points. It's definitely going to be really interesting to kind of see what strategies, what other strategies players gravitate towards once the mode is out.
What was the inspiration behind the concept of Flashpoint? Was there inspiration from similar multiplayer experiences?
Ryan: I don't know if there was an exact inspiration out there of what prompted Flashpoint to be created. I think that our team, like we're always… the game is always evolving. Our team is always looking and experimenting with new modes. This one kind of just caught on and it kind of turned into what it is today.
Daniel: I think at least from our internal play test, it's one of, at least me personally, it's one of my favorite modes. The maps are huge. The conflict is more dynamic at least in my opinion. It's really exciting.
Obviously, it's similar and there's probably inspiration, but I think at least for me amongst our game modes, it's one of my favorites.
Part of the concern with push maps was that the game felt like they went on for too long and there was a lot of walking time from spawn between fights. How is Flashpoint being designed to avoid this?
Ryan: That's a good question. Flashpoint maps are definitely bigger than our other maps, but, you know, because it's a capture, a map based on capture points, we don't have a time limit. So that does mean that the matches can go on for a little while if you let them, right? If there's swapping back and forth and ownership of those points kind of never, kind of never ends, right?
But the cap times on Flashpoint are a lot shorter than they are in Control. On Control, the default cap time is 120 seconds. Once you get the point with Flashpoint, it's only 70 seconds. It's considerably faster, which means you're only going to get like one to two fights on each capture point, and you only need a total of recapture points to win the match. 
What we're seeing in terms of numbers, what we're looking at is like eight minutes for a shorter match, anywhere up to like 8 to 12 for the average match. 10 minutes is a good sweet spot. And then for some longer matches, it's about 15 minutes. But it doesn't feel like that time's passing by because new capture points on the map always feels like a really nice reset moment when you're playing, you know, versus push where we don't have that kind of reset moment necessarily. I feel like with Flashpoint it doesn't feel like you're playing it for that long and it's really engaging.
And these runback times to each point or also not super long because we have forward spawns for each team. You're always going to be about the same distance from the capture point that you were previously because we're adjusting that spawn as it moves. The capture point answer down here, your spawn isn't going to be like way up there. It's going to be adjusted so that each team has the same set distance.
Considering how Suravasa was originally developed as an Assault map that was turned Flashpoint, will we see other maps being made into Flashpoint as well?
Daniel: Well, so the original India map, so we didn't use that blockout or that layout. The Flashpoint map layout is significantly different to the point where we weren't able to repurpose that layout. We were, however, able to use a lot of those art kits, right, and a lot of theming and a lot of that narrative and inject them into the Suravasa map.
We didn't want to lose that. We think it's really important. The Suravasa map is next to Mondatta's teaching center, right, which has great significance for Zenyatta. And there's even an omnic temple in there, in that map. You're going to see all kinds of cool stuff. We were able to make sure that narrative and that art wasn't lost when we pivoted to a different layout.

Ryan: We know what maps, like what previous maps, especially like the 2CP maps, people love, like what themes they love, and we love them too so we're constantly thinking of ways to revisit some of that old stuff when it makes sense to put into the game and into something new and that's not specific, just a Flashpoint to other modes as well. We look at that stuff and it's always a constant conversation on the team.
Daniel: I think the second part of your question was if there were more maps coming. And so typically when we launch a new game mode, we like to have three maps that launch with it but because these are so big, we're launching with two and players are getting even more content. This is probably the equivalent to four maps, right, because of the size of these things.
We actually, we do have a third one on the way, which is really cool. You asked about Hanamura and stuff like that. I don't see why we wouldn't be able to take those places that we love already and expand on that, right? Give and bring more of that awesome Flashpoint gameplay.
New Hero – Illari
What was the motif behind the whole Solar Energy theme with Illari?
Piero: There were a couple of design goals that we're really firm early on and some of those were, oh, this is going to be an attack centric support and we really nailed that vision. But also, we wanted to have the second South American hero as this next hero coming out. First Peruvian Hero and in Peru, the sun and how it relates to the culture is really strong. Even the currency is called sol, right, which is sun for Spanish there. It was just a marry of all those gameplay thematic plus region plus narrative and then visual design that kind of got to where we are at right now.
Joshi: I was just gonna jump in and add on that we, there was a lot of, definitely a lot of cultural influence. I remember Piero and I were talking early on about the different kinds of things, like how do we take something that is so culturally relevant for so many years, like such a rich history and put this onto a hero, right? 
Like we saw when we were looking at research and things like that, we would see the sun being represented all the way back into Inca motifs. We wanted some of that to come through in the character design as well. I think maybe Rakan can speak to some shapes and stuff. Just the sun was one of the many cultural aspects we really wanted to promote. That's not the only one.
Like we also had things like, for example, for Peruvian women, their hair is very important. And so to marry the concept of the importance of hair to Peruvian women with the idea of the sun, like we had the real opportunity to do some really awesome tech things that I'll let Rakan talk about.
Rakan: For sure, we used a lot of elements and we wanted to capture that in the body armor. When it came to the hair, we actually started with one braid. And then looking into more references and getting to know the culture more, we switched it to the 2 braids, which was like something that they do capture in the culture, so we did the two braids. And then I was like, "wait, that's not enough." We're talking about the sun; we're talking about energy. I need something more. 
So, I talk to our engineers, and I throw this idea away. I was like, what do you guys think if we add a custom sun shader? I thought they're gonna say no, because we've never done that before. They're like, give us a couple days, let's see what we can do. For Illari, we actually made the first custom sun shader.
Well, you guys will notice that if she's standing in the sun, you will notice something. I don't want to say where. I want to see if you guys can see whenever you get to the hero and when she's standing in the shadow, the effect will be different. So that was it.
Piero: Something that just to complement the hair stuff that Rakan mentioned, I'm half Peruvian and half Brazilian. I was happy to know that when we switched to two ponytails, I at the same time got more curious about knowing about my grandmother at that case.
One of her pictures actually featured the same hairstyle that Illari has right now. That was really close to me, that we were able to represent those people really well as well.
Could you talk about any cool initial ideas you had for Illari that you ended up ditching for one reason or another, whether in character ability design and the ultimate reasons behind it?
Joshi: If I could talk about everything that we'd had to ditch on this hero or everything we tried. I can't detail everything, but I will say that earlier, I think on the concept sides, like concept art wise, right now her look, I touched a little bit on how there's a lot of Inca motifs and Kim motifs and stuff. I think I would say her design earlier was a lot more sort of based on these more traditional aspects of Incan culture. 
While we wanted to maintain that aspect of design, ultimately Overwatch is about creating a really bright and hopeful future. And we thought that maybe focusing, if we focus the design too much on the past, then we're not doing justice to the idea of marrying the rich heritage of one place to what it could look like in our franchise. We really wanted to elevate the best parts of all these roots of history that go way back and put them in the game. 
I'd say that's how we kind of ended up with this more high-tech design overalls. As you can see in the Origin cinematic, we're looking towards the bright future of a really incredible country with a very incredible culture, incredible people.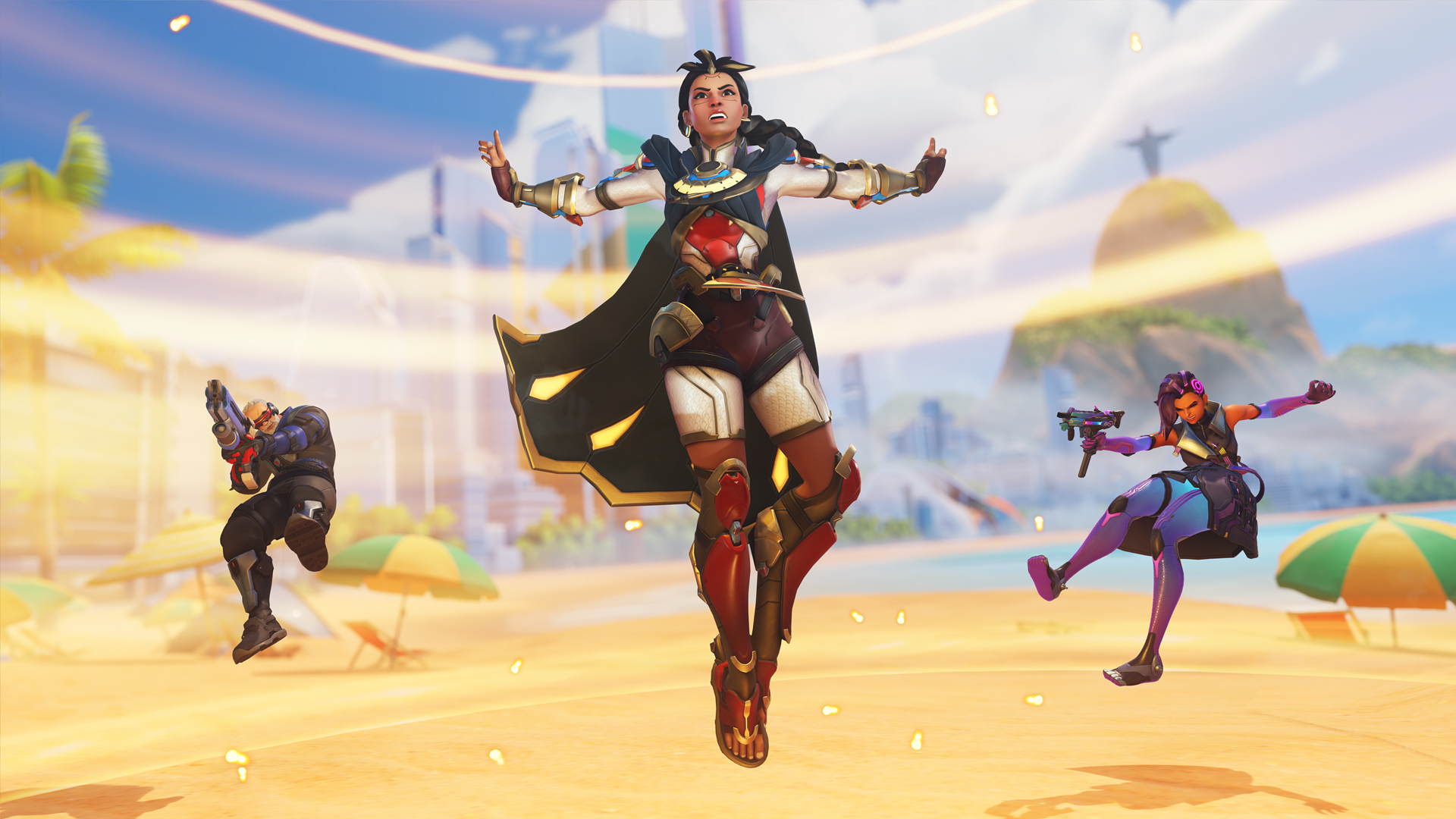 Rakan: The design, the 3D model and the concept. Initially we had the hair to be just one, but then in the concept we notice that she got two hairstyles. The fun fact about her is she got two hairstyles the first Overwatch here, they got two hairstyles and what I mean by that when she is in the Ult form, the hair will be something awesome. 
Again, I don't want to give too many details, but look at the hair and if you guys, if I say this like real simple, I said that one of the most complicated things in overall is the hair. We decided to do two of them, which was awesome but also, we in the initial concept had the body kind of the texture of it change with the Ult form, but we kind of ditch that idea because we notice when she's in the Ult form, she has a lot of cool effects. 
You'll see some insane effects work that our team did. It kind of covers the, let's say, the textures or the look of the body. We ask ourselves, was that worth the budget? Because we need to add a lot of new maps. We still need to make everything in the budget. adding those extra maps was a little bit risky. So, we decided not to change the body texture, but we kept the hair, which is awesome.
Joshi: You'll see that the body textures that we're going to talk about, I think you're talking about the solar threading that's like all over her body and stuff and that's still, even though that's not like a main feature of how she's presented in the game, it's very lore relevant and you'll definitely see a featured in the origin cinematic in really cool ways. I don't know, we're trying not to spoil anything because it's really awesome.
Rakan: I was told to ditch the whole idea, but I took some small elements and put him here and there without my supervisor noticing, but it all got approved so it's good to go.
Does Illari's mastery of the sun come from a technological method or is it something magical/spiritual?
Joshi: It's not in any way magical. Basically, the way that her kit works, her faction is called the Inti Warriors. They were responsible for protecting her hometown and her city in Peru during the Omnic crisis. 
Basically, the way that their technology works is the inventors who were in that city, they found a way based on their really intense research going all the way back to the Inca civilizations, and they found a way to harness power of the sun through technological means. 
You can think of its kind of like if you take a solar panel, but then you turn the solar panel into a thread and then you sew that threading into them and their bodies. And that was the power that the Inti Warriors had. It was completely technological. They gather solar energy the way you would from a solar panel, and it goes into their body, and they can store it almost like a solar battery kind of. And then they use that power, then they'll take the solar power and then they put it into their kit, they use it to power their weapons.
They use it to power the healing pylon for example lots of technology that they got within that faction that is powered by solar things. And I think we have some more developments on that coming soon. I don't want to say too much but that's basically the way that it works for Illari.
Leadership 
With the Overwatch League in the state it's in right now, are there any plans to introduce further methods for players who wish to go pro?
Jared: I guess one of the things we've been talking about is sort of what is the future of competitive Overwatch in general? And like we believe it's a big part of the game, a big part of the community. How do those programs evolve for next year isn't something that we're ready to talk about. It's something that Activision Blizzard Esports probably has more insight into than we do at the moment, given that a lot of those programs are run through them in collaboration with us.
But I will say it's extremely important to us that, one, we have a thriving competitive scene, and two, that there is a clear path to pro for players who love playing that way and have aspirations to grow. And programs like Calling All Heroes and our Collegiate programs are good examples of that. I don't have anything specific to share. I wish I did but it is something to stop in mind.
As Overwatch 2 continues to grow, w

ould it be easy for a new person or returning player to step right into something like Flashpoint, or how are you making it easy for people to try and pick up the game?
Aaron: I think you're right. There're obstacles to new players in our game and it's something that we've been talking about a lot lately. Overwatch, I think it's an amazing game that is built upon like this incredible roster of heroes and what they can do and how they all can work with each other as a team in order to accomplish their objective.
When you're playing on a team with everything going right, it feels pretty magical. It's a very very fluid and dynamic and tight style of gameplay, but that means that there's a really big learning curve there and it can make the game fairly unapproachable, and I think that there are some things that we would like to do.
We do have a first-time user experience in the game right now that kind of guides players through some of the easier game modes that we have. It unlocks some of the heroes over time. You no longer just start with every hero in the roster. As you play over the course of several hours, you start unlocking most of the heroes in the roster. So, we're trying to do what we can to lessen that feeling of being overwhelmed, but still also give you the opportunity to find the hero that you can click with fairly early on.
There's a few other things we do. We lock players out of competitive mode or our ranked system as well until they've put quite a bit of time into the game. But at the same time, I think that there's a lot more that we can be doing in the game to make it easier on players.
One of the things that we are going to be or like releasing in the mid season of Overwatch Invasion is a new type of content that we call Hero Mastery Mission. And Hero Mastery missions are single player missions against some of our AI. What we do is we score a player based on how well they do it in that mission? How quickly can they get through it? How many of the enemies do they kill? How many of the coins do they collect?
It's one of those things that if you're trying to get a higher score, you end up replaying it quite a few times and you start getting this muscle memory down for what a hero can do. And so, I think for a new player, it's a much lowkey way to jump into the game and learn how to play that hero. We also are introducing a new feature to our practice range, which oh, man, I think I already forgot the term we're using at the firing range, which is, it's a bit like a name trainer, but it has a lot of options in there.
A new player can go in and jump in, kind of set up the bots that they want to have in there. They can set up the distances and the ranges and sort of the skill level that they want to play at and jump in and start practicing the hero as well to get a real feel for their weapon.
I think that, well, yes, there's a lot to get over to get really good at Overwatch. We're continually introducing new features and we have a lot coming in Overwatch Invasion. And just one last thing here. I know it was open ended, so I'm going a little long.
This is also one of the great things about Overwatch is to get good at this game it takes a long time. And it's because there is a lot here. There's a lot of heroes. There's a lot of abilities. There's a lot of game sense and strategy to get over. But what it means is there's a very high ceiling for people in this game. You can see it with some of the esports that we have out there and some of the competitive Overwatch that people play.
The things that they can do are pretty unbelievable. And that's available to anyone no matter how much experience you have. If you get into the game, you've got a lot of hours and a lot of playtime and a lot of really cool experiences that you can go through to get there.
With the launch of Season 6 or Invasion, we know that Overwatch 2 will be coming to Steam.
I'm curious if to mark the occasion there may be anything in the pipeline in terms of cross-servers in the game, maybe some potential collab skins or maps or anything that you can tease on that front?
Dion: We definitely, you can see we've done more and more IP collabs with the game. We kind of open the "valve" for this. But generally, I've always wanted a game on Steam personally as a game developer. It's just such a cool platform to see your game there. So, it's exciting to see what we will do with Steam.
But it is definitely something we explore more is what IPs make sense to share with Overwatch universe and build from there. But nothing that we can say currently with Steam other than it's our first platform change outside of that Battle.net.
Jared: The only thing that I would add to that is, you know, just going to a new platform is super exciting for all of us, but like it's a lot of work for the team, for everybody else. So, our main focus right now is just getting the game, add it on Steam, bring a bunch of new players who are excited to check it out, who don't play on Battle.net today into the community. And then from there we have a bunch of cool ideas that we would like to explore, but as Dion said, nothing to announce.
As Overwatch 2 is now coming up on its one-year anniversary, how is the team reflecting on this first 12-month period of the game.
Aaron: I mean, these are the sorts of questions we ask ourselves because one of the things, like one of our values, is to continually improve the game and make sure it's serving the needs and desires of our players, right?
When we look back on the launch of the game and the launch of Overwatch 2 and where it's gone over the last, I guess, 10 months there's definitely some things that we wanted to address. Some of a lot of these are based off of player feedback. And early on, one of the biggest pieces of feedback we heard from players is that the game didn't feel like it was recognizing their playtime or their investment in the game.
It's funny because Overwatch 1 had a player leveling system. It was very simple. What it did is we just basically tracked how much time you played with small things you could do to modify that. And as you played more, you'd increase your player level.
It was something we took out for the release of Overwatch 2. We thought that this system was pretty simple, and it wasn't really giving players a lot of feedback on how well they were doing or how much time they put into the game. But players overwhelmingly kind of let us know that they missed the system and I think what happened was, it's not so much that they missed a particular system like that. I think they didn't think the game was doing a good enough job of sort of celebrating their playtime.
We took that feedback, kind of put our spin on it, and then designed a whole new hero progression system. And this is going, this system is going to launch as part of Overwatch Invasion, it's so much cooler than just player levels. It tracks the way you play each of the different heroes and gives you the sort of like different badges as you level the different categories up. It'll give each of your heroes a different level and a different icon for all of your heroes. And all of that then rolls up into a much larger player level.
Jared: I think there's there, like, what have we changed the game as a result of learning, which I think that's like, I think the primary example, one of the biggest things that we've added that we all feel the strongest about from player feedback and also our own experiences. Playing the game is just that progression, that feeling of being rewarded.
But I think another thing is like, we're human beings. It's a big team. And this is a very different way of working, releasing updates than the Overwatch team has done in the past. I think one of our big learnings has just been about how to do this. How do you find a rhythm? How do you balance creativity with the need to continually give players updates and new, cool stuff to be excited about? And some of that is just like changing the practices that the team has. Some of that is about evaluating the tools that we use and the way that we create, the content that we create.
It's like this never ending journey, and I think it's easy to say things like it's a marathon, not a sprint, but the reality is it's a marathon, not a sprint and I think once you when you start you're fueled by adrenaline and then as you get a little bit further in, you have to really take stock of how things are going and then figure out how to move forward comfortably. 
It's just a big adjustment for any team and it's been really encouraging and kind of exciting to see how the team has adapted and grown and changed perspectives and figured out how to do this. For me it's just been really rewarding to join the team and then to see it evolve right before my eyes over the course of about 10 months. So that's my answer.
For the team specifically,
has this been challenging to sort of find the balance of when's the right time to speak on an issue? And when's the right time to sort of engage with a particular discussion coming from the community? 
Aaron: I could talk about a little bit. It's definitely a learning process. It's something we're going through. And it's that we've changed our values over the way that we talk to the community over time, and I think before Overwatch 2 launched. We were a little bit more hands off with the community. We weren't as transparent as we are now.
To be honest, some of that was out of fear. Like we didn't want to give bad news to the community or or say something that they might interpret as a negative to the game. Like we always wanted to be hyping up the things that we were doing in and having players respond in a positive way and I think that when we launched Overwatch 2, we realized that that's not really transparent communication that's more just marketing.
What we want to do now is we'd rather just be upfront with where we're at and I think we have been very transparent this year even with things of like hey, here's where our matchmakings at and here's where we don't think it's working and what we want to do about it. To me, this feels like we've had a lot of times in the past where we've said, hey, we want to be more communicative with our players.
I think that over the course of the last 10 months since we've launched the game, I think that we've done enough of it to where players have realized that the consistency is here to stay, and it's something that we're going to continue to keep doing. I think they've really responded in a positive way to that. 
Even when they don't agree with our decisions, at least they know what they are and why we're doing them. And then they can express why they might think that it's not the best idea or at least have a total understanding of where we're at. And then we can have a dialogue based on it. I gave an example of earlier feedback we got from the community on the progression system.
We talked early on about how we didn't think that the player leveling system was interesting enough to keep in the game. And they pushed back on it, and we took that feedback and made changes to it. It was all because of a better back and forth that we had with everyone that enabled us to do it. 
Dion: I really prefer not going dark and work on the thing and I like to bring the community along rather. It's just being clearer of the risks and challenges we have as developers trying to make this big game. I think it's cool to bring our player base and fans along with us on that journey. Because it's a miracle that a game even comes together. But it's pretty awesome that I think we're much more open with where we are with the development of the game instead of going dark and hope the thing works and arrive at it. But I agree with what Aaron said.
Jared: I'll add one more thing. There's this magical thing that happens when people don't think you're listening. I see this on Twitter and stuff all the time. They don't think you're listening, so they'll try to hit you up with something kind of aggressive or snarky or a little bit rude and, like probing. And then you just respond like a person because you're a person. And then they immediately changed, telling them, like, oh, thanks for responding. 
I think when I saw this earlier in my career, what it just made me realize was like, and this is not surprising, but like, people just want to be heard. Like, they want you to listen. They want to know that someone's on the other end of the phone or whatever. And for us, I think it's just been a lot of realizing how much people want and value that communication and really care about believing that they are cared for by the people who make the things that they love. I have, for one, really enjoyed it, and I appreciate leaders like Aaron and Dion constantly jumping up and volunteering to, to chat with folks.
We would like to thank the development team for taking the time to answer our questions. Overwatch 2 Invasion releases on 10th August 2023.
Overwatch 2
Microsoft Windows, Nintendo Switch, PlayStation 4, PlayStation 5, Xbox One, Xbox Series X|S
Overwatch 2 is a 2022 first-person shooter game by Blizzard Entertainment. As a sequel and replacement to the 2016 hero shooter Overwatch, the game intends a shared environment for player-versus-player modes while introducing persistent cooperative modes
---
Check This Out Next
---