As is, we're just a month out from the release of OlliOlli World, the latest in Roll7's series of 2d skate games, making it ripe for a final preview before fans get to try the game for itself.
So what's new with OlliOlli World? Well, everything, really. While our last preview was more of a primer for how the game works, the final preview for the game was as close to the finished game as we could conceivably imagine. Story, world, even its new asynchronous multiplayer, all of these were on display for the adventurous skate game.
Strive For Gnarvana
One of the big reveals for OlliOlli World was its story- your character is set to be the next Skate Wizard, earning the favor of the four Skate Godz, all waiting at the end of OlliOlli World's various zones.
On the way you'll meet the other denizens of Radlandia- all equal parts surreal and charming. I'm a particularly big fan of your crew of skaters- such as Crazy Mike, Suze and her sentient camera Cammy as well as the being known only as "Dad". It's just the kind of silly fun that brings a smile to your face since you never have to worry about them trying too hard to be funny that it gets in the way of your skating.
A More Sadistic Sonic
One thing I have to give praise to OlliOlli World is its gameplay- I've no experience with the prior OlliOlli titles, so World was my jumping on point. The game feels like if Sonic the Hedgehog had a sadistic streak, with an extremely execution-focused approach to the game's level design. You'll want to make sure you have enough speed to hit ramps, as well as do tricks that give you airtime so you don't wipe out on hazards.
It's made even better by the fact the game doesn't have a jump button- instead you'll want to, well, Olli as your most basic jump. The timing for these is strict enough that you could make a whole game just about getting the jump timings right.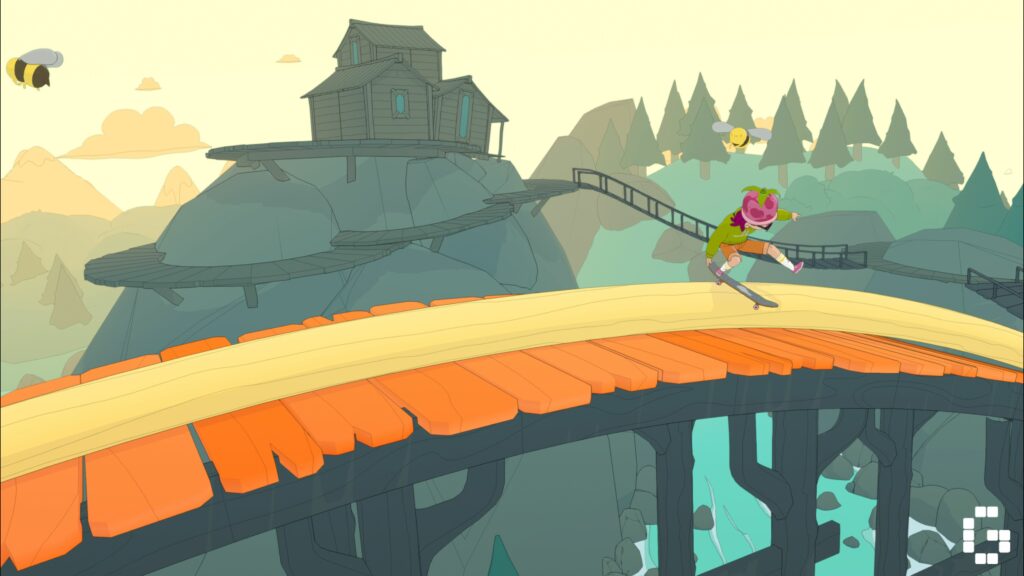 However, OlliOlli World is so much more than that. Like other skate games, it's also about styling and doing tricks- holding and releasing any of the four cardinal directions on your stick will perform a trick, as well as motion inputs like a quarter circle or even half circle to do advanced ones. Once you get the hang of the traversal requirements, you'll suddenly find yourself wanting to squeeze in tricks to maximise your score since the game clearly gives you windows where you can style properly.
These combine with the game's ability to switch lanes, letting you go on alternate routes that have different obstacles such as more rails. It just keeps you so focused on the game since you'll want to be quick about noticing these lane changes and the game just moves so damn fast. It's an incredibly consuming game in the best of ways, since it really does feel like a journey to improve yourself rather than the game having any ulterior motive to keep you distracted with things to manage.
Chalice Dungeons? In My Skate Game?
Aside from the game's story, the preview for OlliOlli World also showed off the game's Multiplayer aspects, which allow you to compete for high scores against each other. While there's no true real-time multiplayer experience, there is a part of the game's map called Gnarvana where you can basically compete in maps designed with the same mechanics as Bloodborne's Chalice Dungeons.
The idea is that you can type in a code, which acts as a seed to generate a level for you to skate through. These can be shared with your friends, and they can all compete on the same level as you so you can see who's the true Skate Wizard among your groups of friends. The game also features a Ghost system, letting you see recordings of your friends skating alongside you so you'll further be spurred to style like no skateboarder has styled before.
There's also the Gnarvana League- a single short level that you can compete in, where your score will be pitted against every other player in the game as well. It's great for bragging rights, since you'll be able to take lots of photos of your name sitting atop inferior skaters.
Closing Thoughts
Despite having never played a skate game, I can't stop praising OlliOlli World after this preview. It's challenging, rewarding and keeps you coming back for more- all what you'd want from a game like this. While there's plenty to grind for in the sense of collecting new clothes for your avatar, the game's starting custom options are so solid you never feel like there's a pressure to do so- you're replaying levels more often than not simply because they're fun to play, or you've got a new idea for how to squeeze in enough tricks to beat your friends scores.
On top of that, there's just how feel-good the game's world is. The character creator is open enough that you could really make your character anyone- and the game's own chill soundtrack makes it feel more like a celebration of how great skate culture is rather than some angsty story with a villain.