It's that time of year to be incredibly proud of Malaysian products. In that spirit we've pulled out the Milo Truck to deliver a nice, chilled No Straight Roads review. A huge thanks to Metronomik for the early access.
Character action games and rhythm games are probably two of the most niche single-player games. A lot of people say they're into them, but when you get into it the expectations of a casual player vs a veteran can be so far apart that making these types of games can be a huge risk for the studios making them. No Straight Roads decided "heck, let's be both", and credit to them: it worked.
---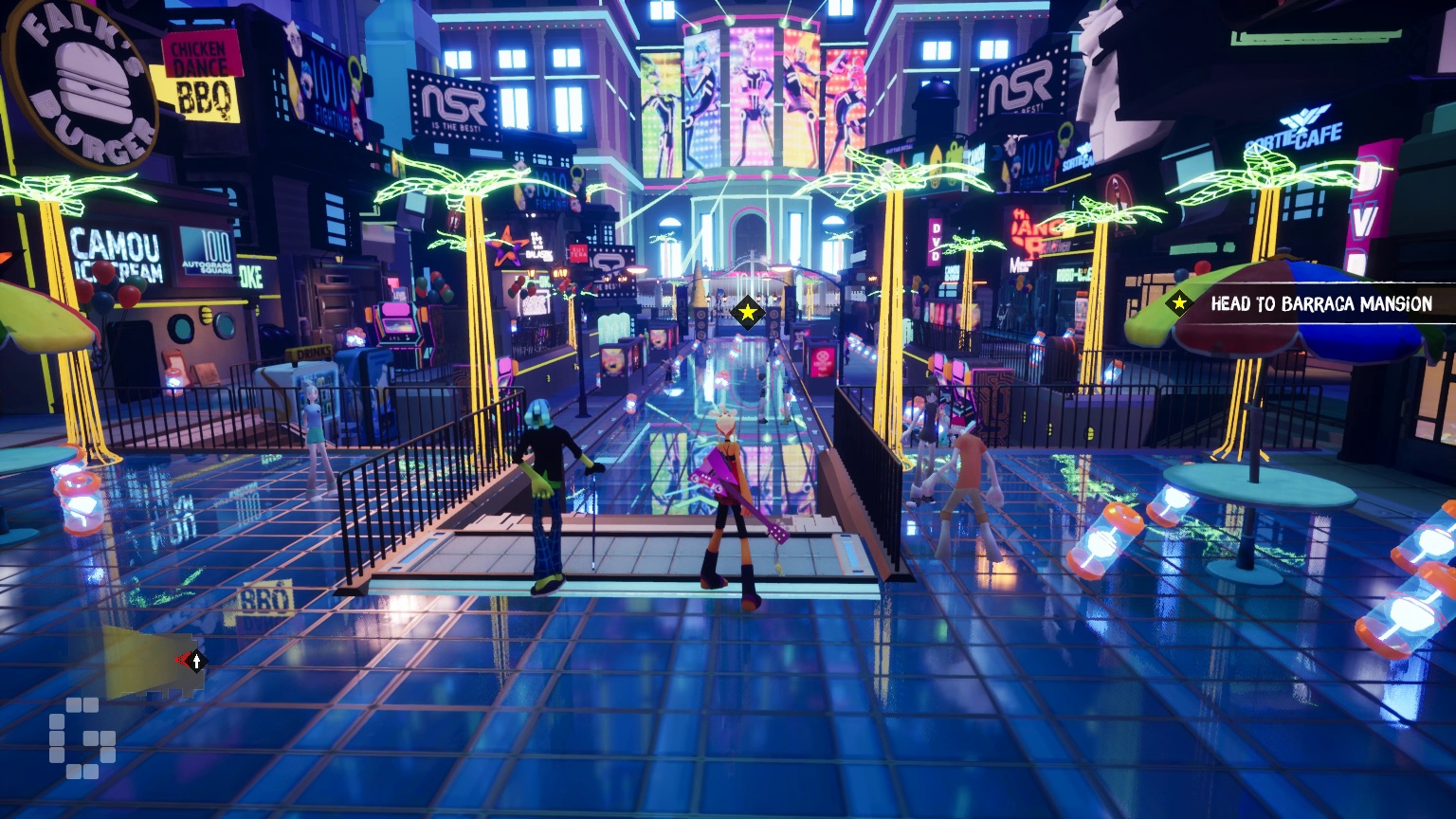 Bunk Bed Junction Vs The World
No Straight Roads has a plot that sounds like one of those Disney movies that's really good, but didn't perform well numbers-wise. That is to say, it's a good story,
Basically, Mayday and Zuke are Bunk Bed Junction- a small rock band that wants to contribute to the energy-generating music giant NSR. Despite proving that they had enough talent to light up the Qwasa (the transformer that converts music into power), they are disqualified due to the head of NSR, Tatiana, disliking rock music.
After Mayday throws a fit, rock is outlawed in Vinyl City. How does Mayday take this? Obviously, by going on a revenge mission to gather fans and overthrow NSR. It's a very videogamey plot, but, surprise- it's a video game. It's a great setup for the game's boss fights, and the sheer simplicity of it also makes the game's cutscenes more about having fun with the characters than some pretentious need to tell a "deep" story.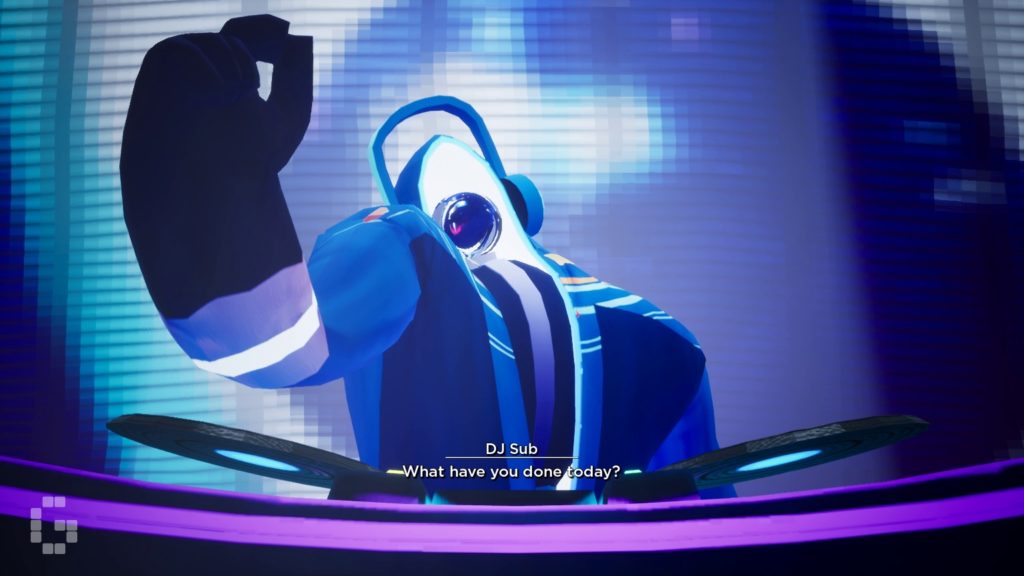 EDM Vs Rock
I'll admit, when I first saw the "EDM vs Rock Music" marketing for No Straight Roads, I shook my head a little. Music elitism is about as charming as a flat tire, and it was hard to shake off that same judgmental feeling as when the game's first trailer dropped.
However, the game managed to prove me wrong by not being snobby at all. The game has a good amount of heart- Mayday and Zuke never actually dislike EDM, but they dislike the gentrified nature of music under NSR. At no point does Mayday plug up her ears whining about how "EDM is bad". The biggest slight to her is simply that NSR tried to outlaw her music.
Even with the game's soundtrack– All the bosses represent different subgenres of music. These arrangements are handled respectfully, with reverence for the sub-genres they borrow from. That is to say, the music could very well be entries in that genre, rather than a game's parody of them.
It's nice touches like this that make me feel like this was someone's passion project, rather than a theme picked off of a wheel.
Like Rhythm And Character Action's Scene Kid Baby
No Straight Roads is a mix of an action game and a rhythm game. While not on the level of Crypt of the Necrodancer, it certainly gives the feel of an action-game vehicle with a rhythm-game-engine.
That is to say that every thing about how the game controls feels like your standard action game. Dodging, jumping, attacking, they're all there. But the game plays like a rhythm game, wherein you have to consider the rhythm of your enemy's attacks. This unfortunately means strict discipline. Panic-mashing is even worse here than in other games as you will be punished harshly for it.
How much this bothers you will definitely be affected by your expectations going in. As a character action fan, the temptation to start wailing is always met with a hard punish by enemies who want you to stay on-beat.
The rhythm-game-core of No Straight Roads does also affect how this game controls. To discourage you from simply mashing the buttons, attacks have long recoveries and cannot be cancelled. This is really important for managing expectations, because the game wants you to be thinking about when to make that next attack. The game has a parry system too, which works on an interesting logic. The parry window is quite forgiving for late inputs, but punishes early ones badly.
The game also has a series of upgrade trees. These go from individual upgrades for Zuke and Mayday, to overall upgrades for the team. You buy these upgrades with fans, which are treated like XP. These upgrades are useful for character action fans as they can enable double jumps, as well as air dashes. If you don't get enough fans from normal progression, you can always redo boss fights to increase your fans.
Band of Bandmates
The game's two playable characters- Mayday and Zuke, are a lot of fun to swap between. Mayday is a slow heavy-hitter, while Zuke is much faster but at the cost of damage. At first glance, Zuke seems the less fun to play. But after investing in some upgrades, he becomes a good source of AoE damage thanks to his combo finishers.
In single player, you get to switch between these characters at will. Meanwhile, in co-op, players can choose to play as either Zuke or Mayday. For the most part, the game is much more playable in single player. The second character is invulnerable in single player, turning the game into a challenge about switching out characters before they take too much damage.
However, there's a boss fight in the game that turns into a full-on rhythm game, with you having to control both Mayday and Zuke as you move between lanes to avoid obstacles. This is incredibly overwhelming in single player, and I've found it much more bearable with a second person there.
No Straight Roads' Excellent Boss Fights
So what's all this combat for? No Straight Roads is essentially a boss rush, wherein you move from zone to zone defeating the various artists employed by NSR. The game contains some small platforming sections before each boss. These are from the Megaman school of design where they serve to train you for the coming boss fight.
The boss fights are the meat of this game, with each boss fight playing differently from its predecessor. There's a good amount of variety in these fights, and with good reason- each fight can be replayed for more points, and at different difficulties. These bossfights can be long, though, with each one lasting around the 10-minute mark on a no-die run.
While some may complain about it I quite welcome the game's boss focus. After all, these bosses make up the bulk of the game's promotional materials. If they'd shortened the fight and added more regular levels, the game would be the duller for it.
Closing Thoughts
Despite the nitpickiest of gripes, No Straight Roads is an excellent time. It knows why you're here- music based bossfights- and doesn't hesitate to get you to the good stuff as soon as possible. At worst, its sins lie in asking too much of the player to abandon their button mashy nature.
The game's lack of snobby commentary says a lot about the types of people who made this game. From its  reverence of the music genres it borrows from to the relatibility of Bunk Bed Junction's quest for validation: you can tell someone wanted to make this game.
It's a fun, lighthearted romp and absolutely worth checking out. While getting to the game's rules may be a steep curve at first, the game's ability to focus on its good parts make sure you're never struggling for too long.
---
| | |
| --- | --- |
| Pros | Cons |
| Stellar soundtrack  | Mismatched expectations can be frustrating |
| Characters are genuinely likable  | Platforming isn't great |
| Replayable boss fights means you're always playing the best part of the game | |
Final Score
8.5/10
We tried out No Straight Roads using the ROG Strix SCAR 15 which is the top tier choice for gaming for Windows 10 Pro. Rocking with the newest 10th Generation i9 processor alongside two GeForce RTX graphic cards and a 240 Hz/ 3 ms screen display. 
NO STRAIGHT ROADS
Epic Games Store, Microsoft Windows, Nintendo Switch, PlayStation 4
Fight against an evil EDM corporation and its ban against all other music. Battle your way through Vinyl City with Mayday and Zuke!
---
Check This Out Next
---