Nier Automata has been upgraded to the Nintendo Switch and after playing the game's first few dungeons, I can safely say that it plays more or less just as well as the PS4 version and that is brilliant in its own right.
Switch ports of games from more powerful systems have been hit or miss on the system, some turn out fine with a couple of compromises while others are a mess of bugs and framerate drops. Nier Automata however safely joins the ranks of Dragon Ball FighterZ, Alien Isolation, and The Doom Games for true miracle ports to Nintendo's handheld.
At this point I'm sure most people know that Nier Automata is a good game, a dare says it's one of the best RPGs of the last console generation with a beautiful, philosophical story, memorable characters, and sleek hack-and-slash gameplay courtesy of Platinum Games. This won't be so much a review of the game as it will be first impressions of the Switch version.
Yorha Portable Performance
Upon landing in Automata's desolate world I was stunned that not only did both the shooting and sword swings run buttery smooth but there also wasn't much compromise. The cutscenes look great, in part because they aren't rendered in-game but still, 2B looks as elegant as she did in the original.
That being said her in-game model looks pretty good as well. The original PS4 version of Nier Automata ran at 1080p resolution with 60 fps while the Switch version is 30 fps with a resolution of 720 handhelds and 1080p docked.
I'm sure that if you placed the Switch version side by side my the PS4 original, the former may look a little fuzzier in terms of lighting and textures (although the original didn't have the best textures either) but on its own, I really couldn't tell the difference, the character models still looked very clear and the enemies and bosses were still larger than life. I played the game both handheld and docked and while the game definitely benefitted from the larger screen and higher details of docked mode, handheld was still more than playable. So if you want to play Nier on the toilet contemplating the meaning of life, that's more than possible.
The framerate was also a strong point. While it is locked at 30, it's at least able to maintain the frame rate constantly, and much like the resolution, after a while of playing I really didn't notice that it was any slower than the original with one exception. When 2B receives a critical hit, she briefly gets stunned with the screen going black and white. I noticed this effect lasted slightly longer on the Switch version. It's far from game-breaking but it is noticeable. Although perhaps you can argue it's a good incentive not to get hit so much.
Another minor issue I had is trying to shoot with the Switch's shoulder button in handheld mode felt a little stiff. That's not the game's fault, I find the L and R buttons on the joycons to be too stiff in general but it's still something to keep in mind. In docked mode, I used the Switch Pro Controller which worked fine so I'd recommend using that if you own one.
These are just very small blemishes on what is otherwise a seamless transition to the Switch. Overall the combat is kinetic and the world is as serenely melancholic as it's always been.
The Extra Content
The version of Nier released for Switch is specifically 'The End of Yorha Edition' which includes the "3C3C1D119440927" DLC. This includes three challenging colosseums and additional costumes.
Additionally, the Switch version also has new exclusive costumes for the main characters consisting of sleek new Japanese kimono-inspired outfits and fox masks. They look gorgeous, fitting right in with the world of Nier while still dripping with unique style. 2B in particular kind of looks like she wandered out of a Ninja Gaiden game and I have no problem with that whatsoever.
Glory To Mankind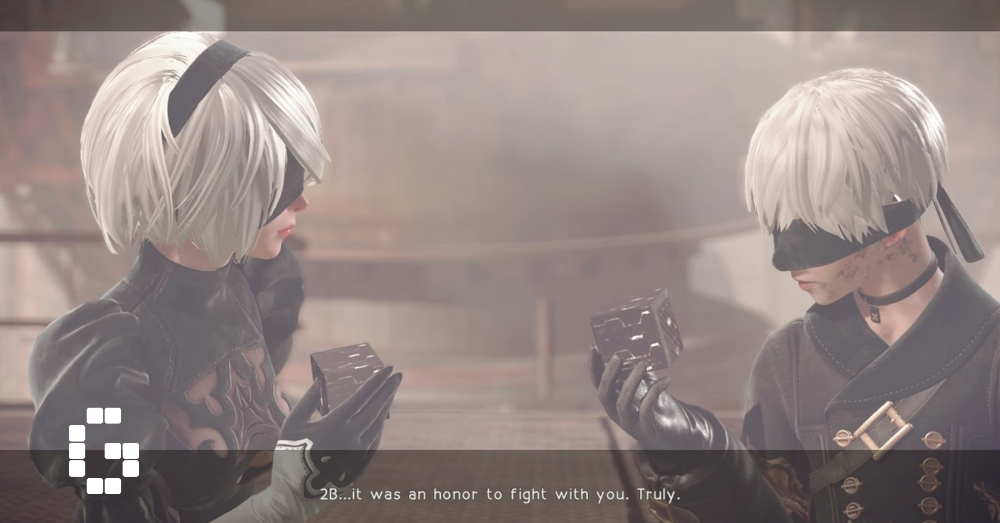 The Switch port of Nier Automata was developed by Virtuos Singapore, who had previously worked with Square Enix on the Switch version of Final Fantasy XII: The Zodiac Age. It's clear that they are high up there as some of the best developers of Switch ports and I hope to see them bring more RPGs to the console (perhaps even get Kingdom Hearts to run natively on the console).
Nier Automata is a masterpiece of the game that deserves to be experienced by anyone looking for something a little more unorthodox yet truly profound and creative. The fact that the Switch version is a more than viable option to experience the game speaks to the ingenuity of the port's developers.
If you have a Switch and haven't played Nier Automata yet, you now have no excuse to try it out from anywhere in the world.
Nier Automata: The End of Yorha Edition is now available for Nintendo Switch
---
Check This Out Next
---