There's plenty of things to consider in the product space, and it's no different with Acer. For this interview, we have Jerry Kao, Co-COO and President of IT Products Business, and James K Lin, General Manager of Notebook Products Business. They were accompanied by their team consisting of Wayne for their 5G product line, Jeff for desktops and Jane for spatial computing.
Interview has been edited for clarity.
---
Can we expect anything from Acer in the VR space? Perhaps a new mixed reality headset?
Jerry Kao: VR has been a topic of many years, maybe starting from 2016. Every year, someone will say it's the year for VR to start getting mature, but that hasn't materialized yet. The thing is, using VR as entertainment or part of low end applications, it's really easy. If we are to assume the virtual space to become reality, then no, that technology isn't 100% mature.
Acer has tried a few times, but we don't have a successful story right now in terms of a business result. For now, we intend to continue watching this technology to understand the trends and availability. Once we can fit the demand, then we can go into it. Currently, there's no plan in the coming future for some humongous spec.
Acer is among the first, if not the first, to develop a portable gaming Android device with the Predator 8 tablet. Are there any plans to reignite this product line?
Jerry Kao: There's an issue of technology and fulfilling user needs. Knowing the market is not just an issue of technology, but also user behaviour and what games they may currently enjoy. Does this tablet form factor fit? I don't think there's a real answer as a smartphone can fill that role already. As with VR, we're keeping an eye out to see if there are any growing user needs for us to fill that requirement. There's no solid plans for this, while we keep watch on the market.
In the Malaysian market and among local tech media, they are very curious about AMD gaming. With an increase in popularity and performance bump with the AMD Ryzen 5000 processors, will there be a dedicated lineup or more variety for AMD Ryzen-based gaming notebooks, besides the Acer Nitro 5? What about AMD variants for the Predator desktops or notebooks?
James K Lin: Let me begin by applauding AMD for doing a good job with releasing a very high performance platform. This question has been around for many years now. We do consider AMD for our gaming products, but when considering a different platform, they have different value propositions. You could say the discussion has not been very conclusive.
If we put it under the same brand, it could confuse the end user, so a sub-brand would be easier with regards to marketing, as well as making it very clear to the end user. We'll definitely continue talks about it.
Jerry Kao: We have several directions for AMD, which is currently under discussion.
Are there any plans for foldable display devices? e.g. for laptops, or tablets?
Jerry Kao: Acer has been working on product maturity, but it's not at that level yet. We know some portable technology is only available at some panel makers, then there's limited design and innovation, especially with different panel providers having different solutions. We've been working with vendors, but there are still limitations. Usage models are important, when people buy such expensive machines.
We're in talks with Microsoft to see how to make use easier on different screens, maybe it'll still be the same as a single screen. I know there are a few products announced but we're still not seeing a very successful implementation as yet. I'd like you users to stay tuned while we are still working in this direction.
How's the progress on the space for Windows on Snapdragon? 
Jerry Kao: We're working with Microsoft and Qualcomm on optimization and to make a better user experience. There are a lot of different OS compatibility challenges, so what we can say now is that we'll be providing solutions.
How has Acer's experience in VR and HMD impacted the development and direction of SpatialLabs?
Jane: Our experience in AR and VR isn't limited to just market technology, evaluations and prototyping, but we don't have something that we can announce yet. SpatialLabs came from our understanding of how immersive technology can benefit the industry, like leveraging stereoscopic 3D; it's a technology that has been there for a while, but it's now a great timing to bring it into the market.
Now, with the rise of 3D designers, they were confined to reviewing or communicating in a 2D space. This will allow them to view 3D models as they should be, including sensory technology computing for eye tracking and AI involvement. We think the technology is finally available for designers to get a clearer view of their 3D creation in 3D, for developers to design showroom content, or for those who can do better storytelling in 3D compared to 2D.
With the reveal of Acer's 5G products, when can we expect Acer to release smartphones again? 
Wayne: Our release of the router products is related to the timing where there's the global trend of working from home. So, home broadband access has become very important. For those who live outside the city, the coverage is usually not as good, so 5G with better throughput and lower latency will be a great alternative to fiber ADSL and cable. We believe now's a good time for these products.
Now, we're using the Predator brand for the 5G CPE router. Think of it this way, for gamers to play online, having low latency is extremely important, hence the branding. We traditionally had Intel Killer for laptops and PCs, but not through the router. Now that we have Intel Killer Prioritization (in the Predator Connect X5 5G CPE), this helps us differentiate ourselves from other providers.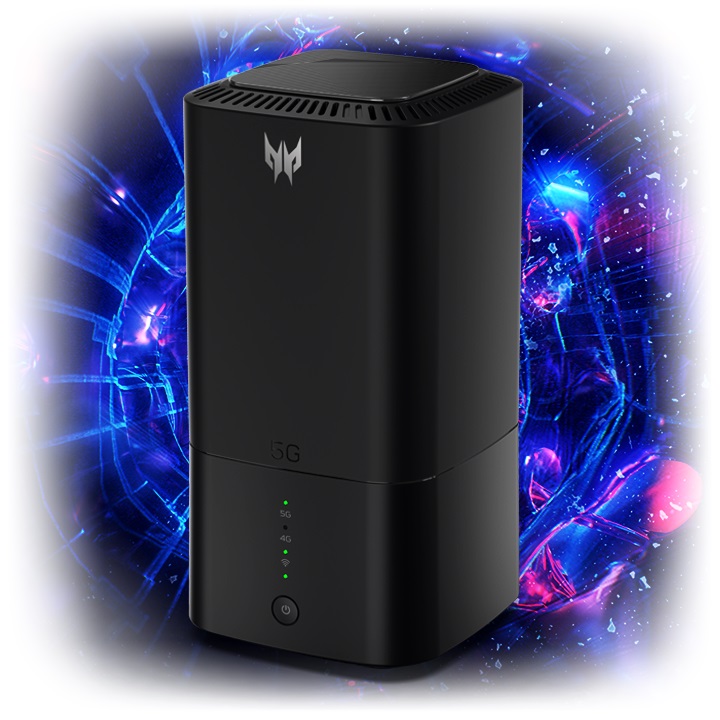 Jerry Kao: With regards to the smartphone, it goes back to us wanting to create value for a user. We enter a market because we want to build products that users will appreciate. We're still watching the market, of course. There's many vertical usage models which may need a communication device with other functions, but can you call that a smartphone? Should we find the right timing, then we will enter the market.
Is there a reason behind launching a completely separate line-up of products made with recycled materials instead of integrating the same materials within the production process of existing products?
Jeff: I'd put it more to, it's going to be a gradual expansion across product lines in the future.
Are there plans for a Predator gaming laptop that is more portable than the Triton 500 Special Edition? Maybe a 13- or 15-inch laptop?
Jeff: I'd say 14- or even 13-inch dimensions are possible targets yes, but if we're going to talk features and no compromise on performance, then we'd have to work on providing a solution. It's like an innovation cycle, and we want to have flexibility for the engineering and technological solutions.
---
That's all for this session! Technology marches on, and this climate, there's plenty of possible chances for Acer to fill that niche that we may not have noticed before. As a lot of us remain working at home, maybe now really is the time to innovate.
---
Check This Out Next
---