The MSI GE76 Raider has come to the market promising a gaming laptop that will take gamers to "infinity and beyond". This sleek machine offers a cool, comfortable gaming setup with extra ports, a good keyboard, and a  crystal clear screen.
It has a couple of problems with its battery life but apart from that I can't deny that it's an impressive laptop and should serve almost all of your gaming needs.
Design
The MSI Raider GE76 may look streamlined, but the overall design has a classic sports car shape. With the blue and gray color scheme and the "MSI Dragon Shield" logo, it gives off a sense of calm and understated visuals. Although this notebook is not thin (397 x 284 x 25.9mm), but still can fit in most backpacks, but the weight is a bit on the heavy side at 2.9kg.
The GE76 Raider SteelSeries keyboard is made of a non-slip material that prevents your hands from slipping when playing games, although the key travel is a bit far, so long-term use might be a little tiring.
The keyboard has RGB and supports "SteelSeries Engine Apps", which allows gamers to customize the RGB lighting for each key, along with the Mystic Light banner lighting system in the palm rest. It's definitely a big plus if you're an RGB fan.
This laptop also comes with a separate numeric keypad, and the on/off key is located in the right corner of the keyboard surface. Besides, the design of the CTRL key at the left corner becomes larger, it is very convenient for FPS players. 
The I/O ports are arranged well. In order to facilitate gamers to have enough I/O ports to connect to external equipment, not only do the left and right sides have I/O ports, but the back also has them.
Left ports
One USB3.2 Gen1 port

One Type-C USB3.2 Gen2 port

One headset-headphone connector
Right ports
Two USB3.2 Gen1 ports

One SD card reader port
Back ports
One Thunderbolt 4 

One HDMI 2.0

One Mini Display 1.4 x 1 

One power connector
With cable ports located on the rear side, you won't be bothered by the clutter of cables when connecting a screen or LAN, and you'll have more space when using the laptop. These spaces make it easier for gamers to connect a keyboard or mouse externally.
In addition, GE76 Raider is equipped with the latest Cooler Boost 5 cooling system, Besides two fans, there are four ventilation slots and six heat pipes designed. The bottom of the laptop has a large area of cooling mesh so the heat is easier to dissipate out. However, when you boost Cooler Boost 5, this laptop will emit quite a lot of noise but shouldn't bother you if you wear a headset to play games.
The GE76 Raider has two speakers on both sides of the keyboard, featuring a Dynaudio system and dual-sided Duo Wave speakers to let gamers enjoy the quality sound. In addition, the MSI GE76 Raider has a "Nahimic" audio system for clearer effects and music in games. So, enemy footsteps become loud and clear when playing FPS games.
The Screen
MSI GE76 Raider uses a 17.3-inch professional gaming screen with QHD and 240Hz ultra-high refresh rate and wide color gamut coverage. This high refresh rate screen provides silky-smooth gaming visual, allows you to spot enemies faster, and has accurate shots when playing shooting games.
This screen is also ideal for watching movies or editing videos, thanks to IPS and 2K display technology, which allows the screen to produce colors more brightly. Additionally, the screen is designed with a camera and microphone in the center of the upper bezel.
MSI Center and MSI True Color
The MSI Center is pre-installed on to the laptop. Gamers can use this software to perform a more detailed setup. Under the function screen, you can set up scenarios and select Extreme Mode to set up the laptop to run at the highest performance. 
The feature screen lets you set basic settings, such as gaming, user scenario, and general setting. The laptop also supports the MUX switch and you can change it directly from the MSI center. In this mode, the graphics card will reach its maximum performance and allow for smoother results in high-quality games.
MSI True Color is also pre-installed, which allows you to set up the laptop's screen. Under the View Mode screen, you can set like sRGB mode, gamer mode, anti-blue light mode, etc. 
Battery
MSI GE76 Raider has a battery capacity of 99.9Whr and is supplied with a 280W charger. For daily routine, it is able to maintain about 6-8 hours. I tried to play games without charging but cannot play triple-A games in this situation because the FPS is only 5-15.
I also tried plating the Indie Game Nine Sols and it was very smooth and run around 100-130FPS. After playing the game for 30 minutes, however, the battery dropped from 89% to 49%. So yeah, it's best to keep this laptop plugged into as much as possible. 
Performance Test
MSI GE76 Raider equipped with RTX 3070Ti graphics card and an i9-12900HK processor. I put the hardware to the test by playing the following games on the highest possible settings to see how they functioned. 
God of War (2018)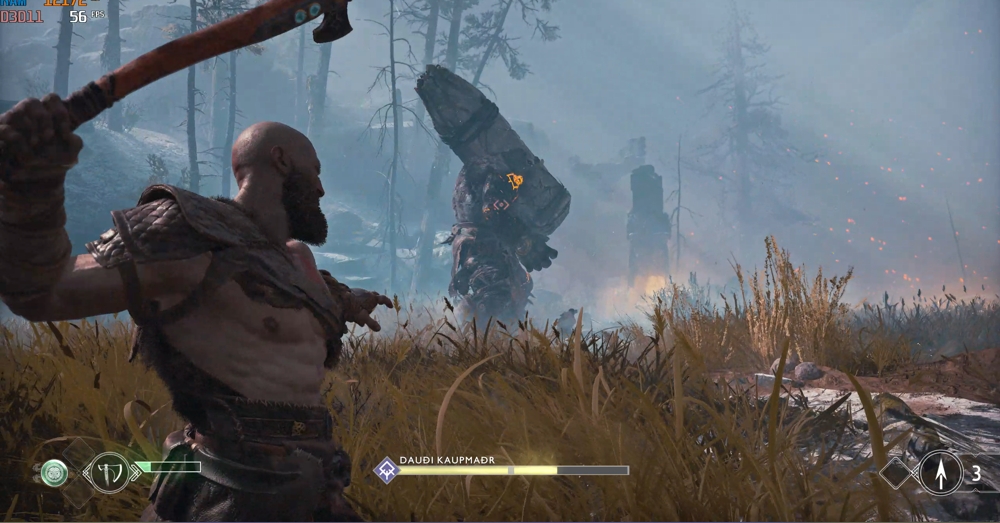 God of War ran pretty well. The laptop managed to smoothly run the game and maintain a staple 50 FPS at all times, even in more hectic fights.
Dying Light 2
The laptop runs the game at an average of 40-60 FPS. No frame drop during parkour though which is a good sign.
Ghostwire: Tokyo
The game ran smoothly although when I tried to run it with Ray Tracing, the FPS dipped a little to around 45-60.
Apex Legends
Playing the game at max setting gives you a 150FPS experience. If you lower all the settings to the lowest, the game might be able to utilize its 240Hz display. 
Overall
The MSI GE76 Raider is a great gaming laptop. Its' design is sleek and comfortable to use especially with the extra ports on the back and it plays the majority of games fairly smoothly.
I like the low-profile design with the modern RGB combination. It lets you feel the rustic yet stylish beauty of the machine. With a high-performance processor and graphic card, it will not disappoint you and paired up with the QHD screen, you will be shocked by the game's performance. 
If you're in the market for a new gaming laptop, this is very much one you should consider picking up.
---
Check This Out Next
---