Monster Strike will soon be running a Jujutsu Kaisen collaboration, scheduled for 2 May 2021, 12:00 JST. The Jujutsu Kaisen cast will be available to obtain through the collaboration gacha in Monster Strike, and will feature the following characters: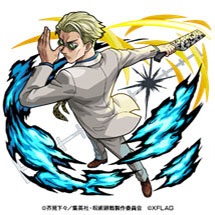 Fire 6-star Yuji Itadori
Water 5-star Megumi Fushiguro, base form 4-star
Wood 5-star Nobara Kugisaki, base form 4-star
Light 6-star Kento Nanami
Dark 6-star Satoru Gojo
The gacha will run until 17 May 2021, 11:59 JST. There will be periods where certain characters will be available at a higher rate as well. As usual, there will be the relevant event quests, where you can obtain additional characters, including:
Fire 6-star Jogo, base form 5-star
Water 5-star Mai Zenin, base form 4-star
Wood 6-star Hanami, base form 5-star
Light 5-star Ultimate Mechamaru, base form 4-star
Dark 6-star Mahito, base form 5-star
The " quest will allow you to obtain Dark 6-star Aoi Todo, base form 5-star.
Additional "speed clear" quests will let you obtain the following characters in their respective quests:
Water 6-star Panda
Wood 6-star Toge Inumaki
Light 6-star Maki Zenin
There will be a log in bonus giving out Panda, Toge and Maki besides a variety of materials and currency. Collaboration special goods will go on sale from 2 May too, from acrylic stands, badges and other items.
Full details about the collab characters can be found on the official news post.
---
Check This Out Next
---