Ever wanted to play Mario Kart without any other essential device? Yes? Now Mario Kart Tour is here to please all of you Mario Kart fans! The game launched yesterday and we can tell you that we had a blast playing the game and interestingly, it wasn't as bad as a lot of people thought it to be. Check their trailer here!
Mario Kart Tour features a vertical screen compared to the traditional horizontal display. This game features 2 things that is different that the normal game.
Controls
When the game was rumored I really thought that the game would be very close to their roots of how Mario Kart would traditionally be. But after trying the game, the fact that the game was in vertical gave me a small surprise, especially on the controls!
The controls was utilizing swipe patterns and a press. Swiping patterns are to control your character and pressing on the screen would be using the items picked up from the mystery box.
From the tradition of utilizing a controller to move and to drift within the game, I'm very bad at using one pattern to control the kart. At the beginning of the game, you are required to choose between SIMPLE or DRIFT. This determines how you play.
If you choose SIMPLE, you might not be able to reach ULTRA MINI-TURBO. If you choose DRIFT, the game specifically highlights when ULTRA MINI-TURBO is possible. Another important setting is about the Smart Steering. This heavily affects how strong your turn will be when you swipe.
There is also a gyro control for the game. It might help towards players who choose to use drift controls, but for simple control users, it won't be as comfortable as it seems.
Character, Kart and Gliders Unlocking
Each character in this game features a signature move of themselves. Other than signature moves, there are also Favoured Courses for each character, kart and gliders. These all provide special bonus points which will be explained later. All characters, karts and gliders will also have their own respective levels, rarity and skills. The levels and skills will affect your points that you need to proceed further.
They utilize gacha as their main channel of monetization. As of now, there is a Pauline themed gacha in the game following with other purchasable content. The gacha allows player to get either a character, kart or glider, followed by the rates of what rarity of an item that you can get.
As mentioned, there are purchasable content within the game. You can buy their Rubies to gacha or buy something from the shop, or purchase their currently featured 'New York Set', which includes Mario, 45 Rubies and 5 Star Ticket. The other purchasable content is their Gold Pass, which is like a battle pass in Apex Legends. If you own a Gold Pass, you can unlock a special Mario, 3 different karts, Rubies, earn badges from Gold Challenges and unlock 200cc races.
Gameplay
The game is pretty similar towards the games within the franchise. Other than the controls and unlockables, the courses are fairly short. The visuals and everything are the same, which includes THE GOD DAMN BLUE SPIKED SHELLS!!!!!
Overall, the game was pretty fun and I will continue to support the game. I like the fast and short courses since it's now on the mobile platform. What do you guys think?
If you want to know more about the game, check them out right here! If you want to follow Nintendo's latest news, check them out at their official website here!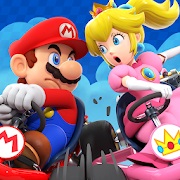 Mario Kart Tour
Android, iOS
Mario and friends go global in this new Mario Kart as they race around courses inspired by real-world cities in addition to classic Mario Kart courses! These destinations will be featured in tours that rotate every two weeks! In addition to courses based on iconic locales, some of your favorite Mario Kart characters will get variations that incorporate the local flavor of cities featured in the game!
---
Check This Out Next
---