A manga has been made for the local Malaysian Idol concept "Project Dreamcatcher". This multimedia franchise is a series made in the same vein as Love Live or Idolmaster and set in Penang, Malaysia.
You can read it on their Facebook page. The Project Dreamcatcher manga titled "The first step" has released a 'prologue chapter' to the series. It is 51 pages long with an original story is by Miranda Tan and CK. This will be the first piece of media for the project outside of concept art.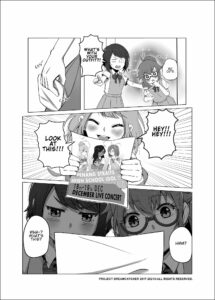 The manga follows a fairly familiar plot for the genre. A village in Penang is being demolished, so three schools girls come up with the idea to become idols and perform in a local contest.
It's a fairly simple story and moves a little fast but it works well as a proof of concept. The manga gives you a good idea of the main leads and the trials one has to face in going from everyday school girl to becoming an idol. I do like the part where the two girls are just sitting down after deciding to become idols and realizing they have no clue how to start but they eventually make it.
We actually did an interview with Yore Productions, the 3D animation team behind Project Dreamcatcher. They're currently working on a music video for the project. It's pretty ambitious for a smaller indie company to take on an idea like this but the results so far have been interesting and a Malaysian idol group has a lot of potential.
We wish them the best of luck!