Facebook Gaming as a platform has existed for some time now, merging social media with content creation in one. Today, a presentation regarding various aspects of the platform were further discussed, featuring:
Michael Rose, Head of Games Partnership at Facebook for the Southeast Asian region. Prior to Facebook, he's worked in a number of gaming companies including Sony PlayStation, Bandai Namco Entertainment and in Google's Gaming Partnerships team as well as YouTube. His current mission is to develop the gaming video creator ecosystem for Facebook, building up the world's largest community of gaming creators.
Together with Yana Samsudin, herself an actor, gaming creator and online gaming ambassador, they go through the various points regarding the platform and the app. Yana has been making waves since becoming active in PlayerUnknown's Battlegrounds (PUBG) late 2019, now an official creator on Facebook, garnering 247K followers on the website and 13.5M followers on Instagram. Not having originally planned to be part of the gaming world, she hopes her involvement now will inspire positive growth for Malaysia's online gaming and esports industry, especially more so encouraging more women to join her.
Let's just get straight to it: they want to make Facebook Gaming a viable platform for aspiring content creators to make a proper career on. Gaming is a major phenomenon, especially more so in this time of social distancing due to the COVID-19 pandemic, so plenty of people are seeking entertainment. The numbers: 2.5B monthly users are already engaged in gaming. 700M+ users are watching streams, playing games or simply engaging in gaming groups. Facebook wants to further build up this community, and content creators are arguably the most important piece in this entire set-up.
Gaming content creators will all go through a program flow from beginner, to Level Up, to Partner. There are three primary ways in which creators can earn money through the program:
Ad revenue: Creators can turn on the option to earn revenue through advertisements
"Stars": a la Twitch's "Bits", viewers can purchase these "Stars" for their favourite creators for them to earn money according to the number of Stars they have
Direct donations: Unlocks when a creator reaches the Level Up tier, for viewers to directly donate a sum to their favourite creator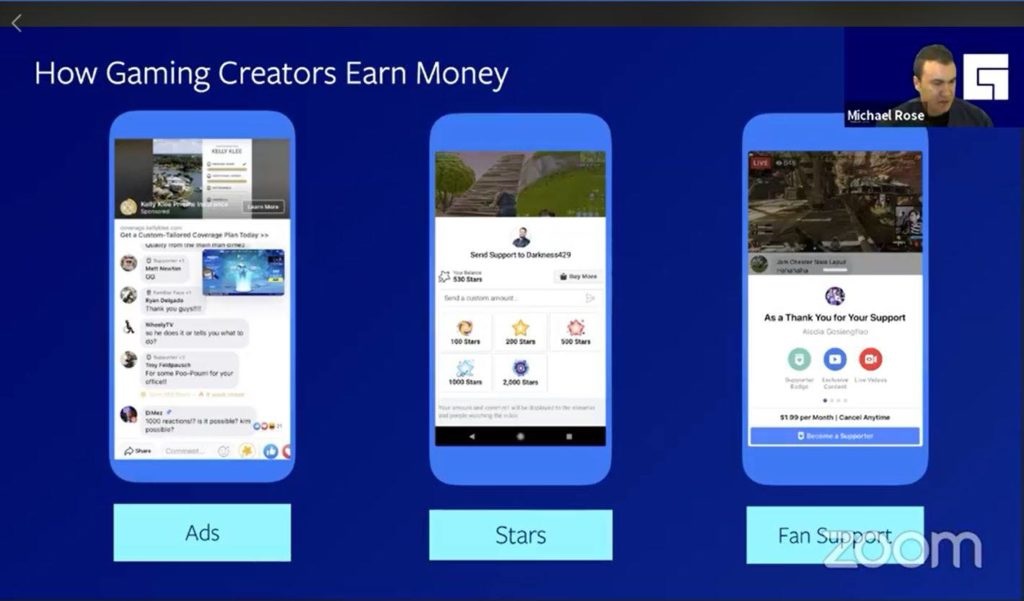 For Malaysia alone, Facebook Gaming has seen incredible growth in the past 2 years:
In order of popularity, the top 5 most streamed games from Malaysian creators on the platform in April 2020: PUBG Mobile, Mobile Legends, Grand Theft Auto V, PUBG Lite, Dota 2
20.7M Stars were sent out in the same month
Over the last year, viewership in Malaysia has grown by 87%
"Southeast Asia has grown into one of the most popular markets for Facebook Gaming, driven in large part by the popularity of gaming video and our gaming creators in Malaysia. Facebook is here in Malaysia to support Malaysian streamer gamers to build strong communities and create meaningful interaction with their fans, while at the same time, providing multiple ways for these creators to build the business that best suits their content and audience."

Michael Rose, Head of Southeast Asia, APAC Games Partnership.
To further tap into this engagement, there will be a special #BukaGeng event. In partnership with eGG Network, various Facebook Creators on Facebook Gaming will be breaking fast with their viewers every week throughout Ramadhan until Raya. The Global Ramadhan Celebration 2020 had already begun from 23 April, and will last until 23 May 2020. The celebration includes a special overlay and gifts! While the PUBGM Friendly Tournament featuring various creators has passed, Tournaments for Facebook Gaming has launched. Stay tuned for one in June!
Improvements have also been made to Facebook Gaming, now having a dedicated tab where creators can have personalized shortcuts for their convenience. The centerpiece of the update is a feed for a much easier time to find content that matters to you.
The dedicated Facebook Gaming app has already launched for Android, with an iOS version to follow. This app includes casual games and access to gaming communities, but its success will largely depend on how much it encourages people to both watch and livestream themselves. The "Go Live" function on the app allows users to upload streams of mobile games with just a few more buttons. These streams can then be shared onto a user's personal feed, encouraging the growth of amateur streamers.
Some of you may be skeptical about Facebook Gaming, considering the existence of Twitch, and even YouTube Gaming. Rose says their biggest difference is that they work closely with creators, to bond, work and grow together. If you wish to join the Facebook Gaming program, you'll need to start off with making a profile. You'll be recommended to move on to the Level Up stage once you meet the necessary criteria, with the Partner stage requiring further discussions with eGG Network.
Yana's advice is to always read the comments, since engagement with your fans will be what gets you the views, which would translate into revenue, after all. Having occasions like a Supporter Day, or special days like Women's Day, also helps with the interaction. It's also important to upgrade your gear accordingly so that you can improve on the quality of your content creation.
All this sounds like there's a more heavy focus on livestreaming, so those who might prefer edited content could feel shafted. Don't worry though, as Rose says:
For FB Gaming overall, currently the focus is on livestreaming, but we do support pre-recorded content, and monetization features that include ads to run on their content. We definitely support that, we encourage all our creators even those who livestream to upload content on a regular basis. For viewers they'd want to see both right, they want to see a mix, of pre-recorded content that's edited and then livestreaming… ultimately down the line, the destination is to watch all content. We support it now, but later on it'll be more focused on.
As we maintain social isolation, if you think you're good enough at a game, why not showcase to the world? Invite some friends, show off your skills, and have some fun. Maybe you'd prefer edited content, providing guides or tips that people haven't given before. The gaming world is your oyster, and so long we all have to stay home, there will always be that need for entertainment or, say, edutainment, even. Who knows, you might even be able to work with your idol in your favourite games?
---
Check This Out Next
---