Magic The Gathering held their Announcement Day 2021 livestream on Twitch today, bringing with them a whole host of collaborations with big brands like Street Fighter, Fortnite and Warhammer 40K.
From the worlds of Middle Earth to Innistrad, there's something for every fan of Magic: The Gathering. Read on for all the big releases you can look forward to, including some nice throwbacks for Magic's 30th anniversary.
Magic: The Gathering Secret Lair
For the uninitiated, Magic: The Gathering Secret Lair is the brand's limited run series of exclusive cards. Once a card appears here, it does so for a limited time, before vanishing into the ether, gone forever.
The best thing about these is that Secret Lair cards don't have to be strictly MtG creatures, with the potential for both guest artists and characters in the Secret Lair brand.
That being said, they announced two big brands would be coming to the Secret Lair collection, being Street Fighter and Fortnite.
The Street Fighter collab brings with it a special Chun Li card, which will have the laughably appropriate Multikicker ability, letting you cast the card's ability as often as you can afford to.
Meanwhile, we don't know as much about the Fortnite Secret Lair drop, but Magic: The Gathering have confirmed that we'll be getting two of the drops, with a sneak-peek at the first one.
Out Of Time
Of course, it's not all just big-brand names getting in on the Secret Lair drops. There's also the Out Of Time drops, featuring cards with artwork by artists such as Mark Zug, Greg Staples and Adam Rex.
We're also particularly big fans of these traditionally-styled card arts by Jungshan, which make you desperate to collect a whole set so you can display all this gorgeous artwork next to each other.
Johannes Vos also has his own set of cards as part of the Secret Lair drop, with a refreshing storybook aesthetic to it.
Meanwhile, fans of dark fantasy will want to check out Thomas Baxa's set, with each of these specially curated cards looking like the perfect addition for anyone whose wardrobe is mostly black. We're especially big fans of Ob Nigillis Reignited, the special black Planeswalker card of the set.
Alexandre Chaudret also flexes his own fantasy muscles with his set of cards, which almost scream classic Magic with how simple the concepts are. That being said even the humble Thragtusk looks menacing with its twisted background, and of course the Vindictive Lich is nothing short of Chaudret at his best.
Universes Beyond
Earlier in the year, Magic: The Gathering announced their plans for Universes Beyond, letting you use the MtG ruleset with cards from all your favorite series like Lord of the Rings and Warhammer 40K. Today at Magic: The Gathering Announcement Day, they finally showed off some of these cards, such as this absolutely fantastical art of Gandalf the Grey by Dmitry Burmak.
Wizards of the Coast has promised more Lord of the Rings cards are on the way, as part of a special booster set that will be released in 2023.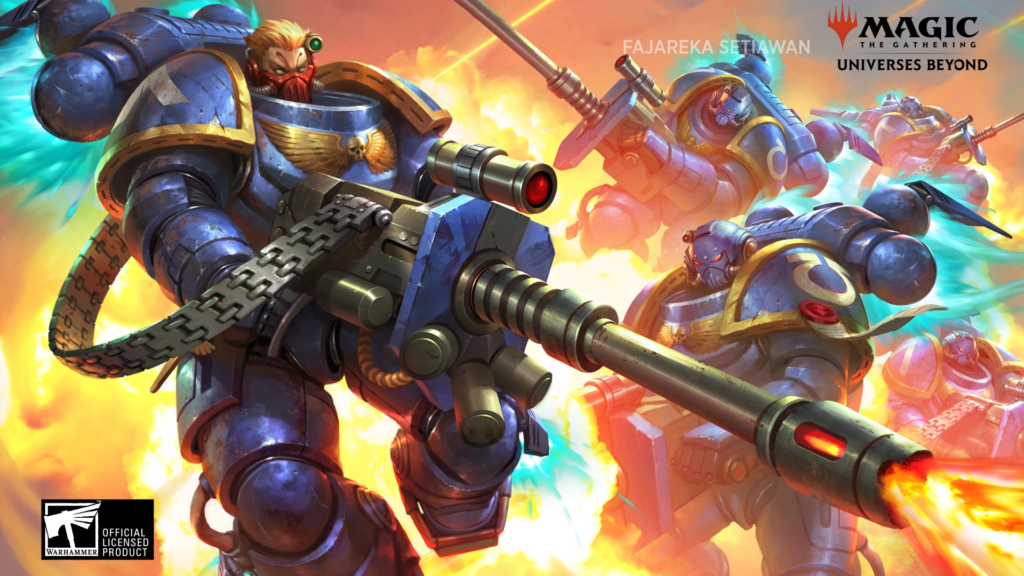 Of course, we also got a peek at two cards from the 41st Milennium That Knows Only War, with some slick art of the Ultramarines, including the epic art of some Vanguard Supressors carrying out the Emperor's Will. This was done by Indonesian Warhammer artist Fajareka Setiawan, who's done work for Warhammer 40K before.
Of course, no Ultramarine set is complete without Marneus Calgar, Chapter Master of the Ultramarines, who gets his own card illustrated by Slawomir Maniak.
The Warhammer 40K expansion of Universes Beyond is due out in Q3 of 2022, so it won't be long before you can start playing your Space Marines in Magic: The Gathering.
Magic: The Gathering 2022 Releases
Of course, it wasn't all party buses and crossovers. Wizards of the Coast also announced the premiere set releases for Magic: The Gathering in 2022, with four major sets to look out for next year.
Kamigawa: Neon Dynasty (Q1 2022)
This set takes place in a futuristic version of the Kamigawa plane in Magic: The Gathering. It's got everything cyberpunk fans could love in the genre, with slick neon visuals.
Streets of New Capenna (Q2 2022)
This expansion puts you in the gritty world of New Capenna, where you'll play as one of five crime families vying for control. Of course, it wouldn't be Magic: The Gathering without a fantasy bend, as angels, demons and more get involved.
Dominaria United (Q3 2022)
With 2022 marking Magic: The Gathering's 30th anniversary, the back half of the year is loaded with a trip to Magic's past, starting with a return to Dominaria. We don't have much in the way of information for Dominaria United, but it's always welcome to come back to the place where it all started.
The Brother's War (Q4 2022)
Of course, you couldn't celebrate Magic's 30th anniversary without also talking about the Brother's War. Again, details are scarce, but this acts as a great way to celebrate the anniversary of one of the most iconic card games of all time.
Getting Spooky In Innistrad
Wizards of the Coast have also announced a return to Innistrad, as part of some spooky fall releases, with Werewolves and Vampires to mark the spooky time of year.
Innistrad: Midnight Hunt (September)
This set brings Werewolves back into the spotlight, as you become what you fear and ward off the darkness for the Harvesttide Festival.
Innistrad: Crimson Vow (November)
Of course, you can't have werewolves without vampires- and the Crimson Vow will take you right into the heart of a Vampire wedding, with all the extravagance and decadence associated with everyone's favorite creatures of the night. Here, you'll also meet Olivia Voldaren, last seen durin Shadows over Innistrad
Innistrad Double Feature (Early 2022)
Exclusive to the Wizards Play Network, you'll be able to buy a sealed draft of the Innistrad Double Feature, which includes both the Midnight Hunt and Crimson Vow sets. This means that rather than only playing your sealed draft games with either set, you can play one whole Innistrad-themed game, with vampires and werewolves galore for each player.
Magic The Gathering Netflix Series (2022)
Before the show ended, they gave us a first look at the Magic: The Gathering Netflix Series, coming some time in 2022. Details are really scarce- the main character will be Gideon Jura , voiced by Superman Returns star Brandon Routh, as well as a glimpse at the 3d model.
With all these announcements from Magic: The Gathering Announcement Day, there's a lot to look forward to whether you're fan of brand collaborations, the worlds of Magic or even just here to celebrate its 30th anniversary.
---
Check This Out Next
---