Love Live School Idol Festival is having a crossover event with Persona for the series' 25th Anniversary in an event that will be going on from the 31st of October to the 25th of November. And as part of the event, the idol girls of Muse and Aqours will be getting new costumes based on the Personas of well, Persona.
The event will see a new story scenario featuring Morgana meeting the Love Live Idols and Persona costumed versions of the girls will also be available as ultra-rare gacha. Three songs from the series 'Burn My Dread', 'Pursuing My True Self' and "Wake Up, Get Up, Get Out There' will also appear as songs in the game.
The Muse artwork is done in a traditional anime style while the Aqours artwork is done in a more chibi style, reminiscent of Persona Q. Here are the costumes, each set has three designs based on Persona 3 personas, three based on Persona 4, and three based on Persona 5 :
The Muse Designs
Honoka Kosaka dressed as Palladion (Aegis' Persona)
Umi Sonoda dressed as Konohana Sakuya (Yukiko Amagi's Persona)
Kotori Minami dressed as Johanna (Makoto Niijima's Persona)
Hanayo Koizumi dressed as Io (Yukari Takeba's Persona)
Rin Hoshizora dressed as Tomoe Gozen (Chie Satonaka's Persona)
Maki Nishikino dressed as Carmen (Ann Takamaki's Persona)
Eli Ayase dressed as Penthesileia (Mitsuru Kirijo's Persona)
Nozomi Tojo dressed as Sukuna Hikona (Naoto Shirogane's Persona)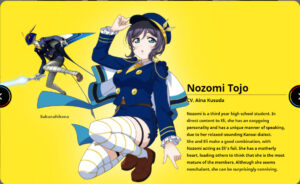 Nico Yazawa dressed as Milady (Haru Okumura's Persona)
The Aqours Designs
Chika Takami dressed as Psyche (Metis' Persona)
Riko Sakurauchi dressed as Himiko (Rise Kujikawa's Persona)
You Watanabe dressed as Cendrillon (Kasumi Yoshizawa's Persona)
Hanamaru Kunikida dressed as Lucia (Fuuka Yamagishi's Persona)
Yoshiko Tsushima dressed as Ariadne (Labrys' Persona)
Ruby Kurosawa dressed as Pandora (Sophia's Persona)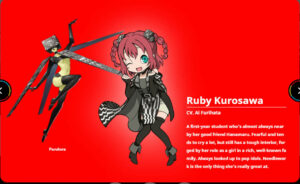 Mari Ohara dressed as Orpheus (Female Persona 3 Protagonist's Persona)
Dia Kurosawa dressed as Kaguya (Marie's Persona)
Kanan Matsuura dressed as Necronomicon (Futaba Sakura's Persona)
The collaboration between Persona and Love Live School Idol Festival was announced about a month back with an introduction featuring Eli Ayase dressed as the Persona 3 character Elizabeth. You can find out more about the event on the official website.
Love Live! School Idol Festival is available for IOS and Android.
Love Live! School Idol Festival All Stars
Android, iOS
Join the 27 school idols in creating unforgettable Live Shows! You and the All Stars cast will write a new story together! Take on the role of a student at Nijigasaki High School which, located in the Odaiba area of Tokyo, offers students the freedom and opportunity to explore and specialize in a variety of subjects. While out in the city one day, your world is changed after seeing μ's and Aqours perform together. You set out to become the closest ally and supporter to these brilliant school idols on their path to perform at the prominent School Idol Festival. The journey to realize your and the school idols' dreams begins here!