Will you let your cosmos burn? Moonton's Mobile Legends: Bang Bang is having a collaboration with the ever popular Saint Seiya franchise! In this article, we will take a look at the crossover content which will be available during the event period.
A brief introduction to the franchise for those who may be wondering, Saint Seiya is originally a manga series that was created back in 1986 where it was published in Shueisha's Shonen manga magazine, written and illustrated by Masami Kurumada.
Before we dive into the contents of the collaboration event, there will be another event coming up on 8th of November where all of the skins in Mobile Legends: Bang Bang will get a 50% discount, so stay tuned for that! Mobile Legends: Bang Bang can be downloaded on the GameCenter.
We Are All Part of the Universe
The collaboration between Mobile Legends: Bang Bang and Saint Seiya starts on 24th October 2022 and lasts through 23rd November 2022. The collaboration event will feature an exclusive Saint Seiya banner where the summoning pool consists of Three Saint Seiya characters where players can attempt to pull from.
The Prize Pool features four different skins: Gold Cloth Sagittarius Seiya skin for "Badang", Gold Cloth Leo Ikki skin for "Valir", Gold Cloth Libra Shiryu skin for "Chou" and another skin for Badang being the Bronze Cloth Pegasus Seiya skin.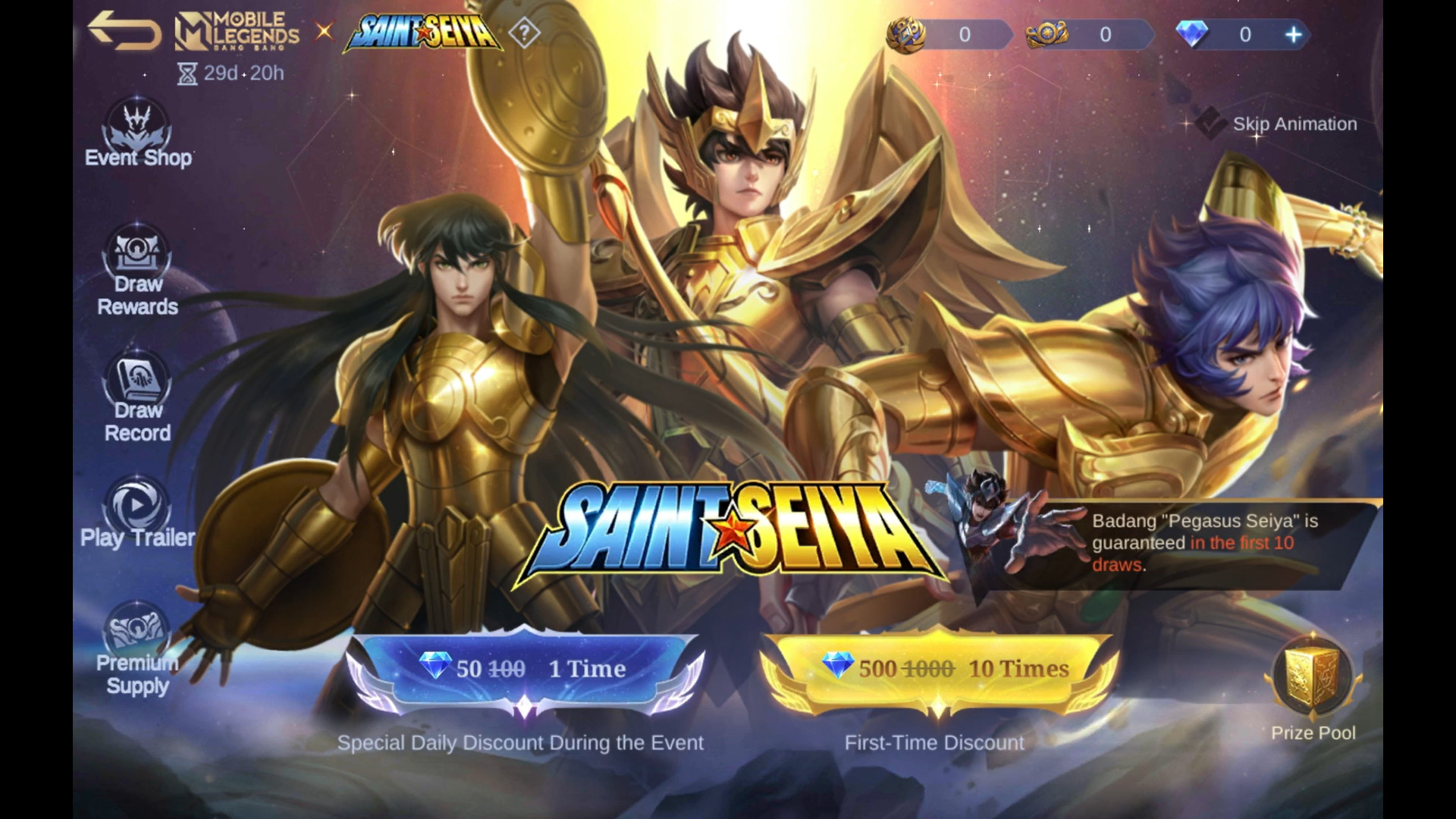 And to celebrate the arrival of the Saint Seiya event, players can enjoy a 50% discount on their daily one-pull as well as ten-pull. The original price of 100 diamonds for the one-pull and 1000 diamonds for the ten-pull will be reduced by half but only for the first time!
Not only that but the first 10 draws on the Saint Seiya banner will guarantee you the Pegasus Seiya skin for Badang! The total pull rewards can be claimed once reaching the specific number of draws. Players who take part in the Saint Seiya banner, the tokens obtained can be exchanged for shop rewards in the exchange shop which includes items such as the collaboration skins and in-game effects like special recall effect, elimination effect or even an avatar border. So, this is the opportune time to pull for players who are big fans of Saint Seiya!
These Saint Seiya collaboration skins both look really cool and also super high in quality. The obvious change when a player equips this skin would be the character model changing to fit in the Saint Seiya characters but it also comes with unique in-game features too.
The Saint Seiya skins will have Special Random Actions, Display Music, Action, Skill Icon and Voice Over which fits in the Saint Seiya theme. One of the examples being with the Gold Cloth Saint Seiya skin changes Badang's Fist Crack skill into Pegasus Meteor Fist, which is one of Seiya's iconic moves.
The exclusive skill changes Badang's original skill as it pays homage to the Saint Seiya franchise where it includes a mirror image of a golden pegasus and golden special effects!
All of the Saint Seiya collaboration skills have special changes to their skills, so it's a nice love letter to all fans of the series.
Individual Skins for the Bronze Cloth skins will also be on sale at a later date. Bronze Cloth Dragon Shiryu skin for Chou will be available from 27th October till 22nd November where the first week of the sale will have a 30% discount.
Whereas the Bronze Cloth Phoenix Ikki skin for Valir will go on sale starting from 3rd November and lasts till 22nd November. Similar to the Chou skin, the Valir skin will also have a 30% discount for the first week, along with an additional discount if you own the Chou skin, making it a lot easier for players who wish to collect the entire set of Saint Seiya skins!
Additionally, there is also a special event that is ongoing with the collaboration event, being Seiya's Training where players complete tasks to activate horizontal and vertical lines to win rewards such as Lucky Tickets, Trial Chests and more!
There's also the Sight of the Zodiac event where players can pre-register to claim a free token of the Zodiac on the 29th October where the MLBB x Saint Seiya collaboration awaits. 
Promo Carnival Event
Players who are looking for more Promo Diamonds wouldn't want to miss out on the Promo Carnival Event! Players are able to log in to the game daily to earn 20 Promo Diamonds starting from 26th October till 9th November.
Additionally, 20 extra Promo Diamonds will be awarded to players who complete the relevant tasks, where up to 464 Promo Diamonds can be earned! Do note that the tasks will reset every day.
---
Mobile Legends: Bang Bang can be downloaded over on the GameCenter!
---
Check This Out Next
---