Popular manga Komi San Can't Communicate has announced the release window for the Komi San anime, arriving later this year. The announcement was made in this week's issue of Weekly Shounen Sunday, where the manga is serialized.
After putting out a special teaser for the anime, it was announced that the Komi San anime would release in October of this year, as part of the autumn lineup.
The anime will be produced by OLM Studio, whose credits include the 1997 Pokemon anime, as well as the 1997 adaptation of the legendary manga Berserk. Kaguya-Sama and Paimon VA Aoi Koga will also be voicing the titular Shouko Komi.
We were also treated to official art of three of the series main cast- protagonists Shouko Komi and Hitohito Tadano, as well as their friend Najimi Osana. Official key art was also released, showing more of the anime's large roster of charactersin the background.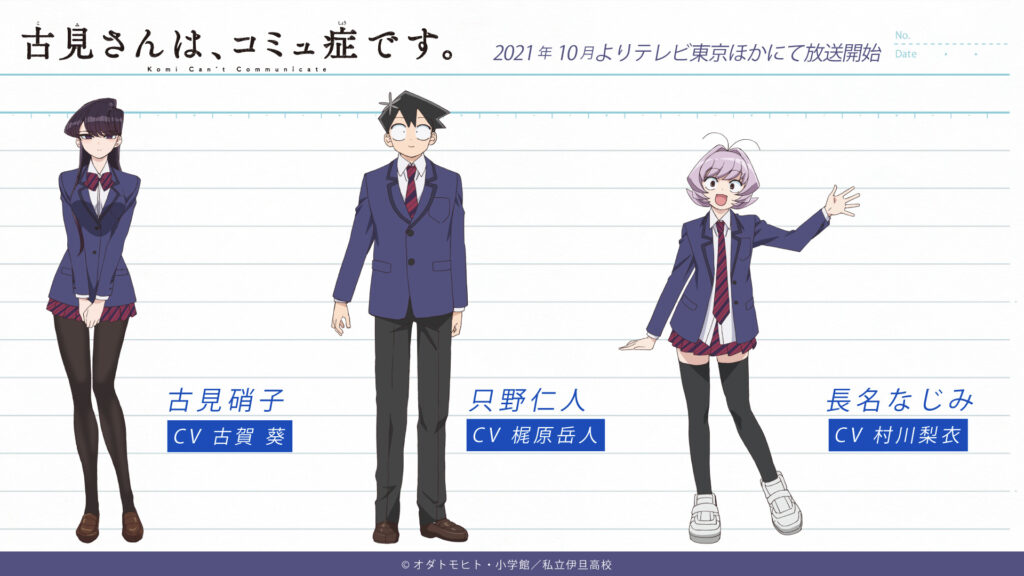 Considering how Komi San's chapters are much shorter than your average manga, it's not currently known how far the anime intends to adapt, or if any parts of the manga will be skipped. The manga recently passed 300 chapters, with some pretty big developments anyone interested in might want to avoid for the sake of spoilers.
Komi San Can't Communicate is a manga written and illustrated by Tomohito Oda, and revolves around Shouko Komi – a shy high schooler who everyone projects weird fantasies and expectations to. She meeds Hitohito Tadano, who offers to help her reach her goal- overcoming her shyness and making 100 friends. Most of the chapters are one-off stories, although occasionally some of them end up being multi-parters.
The manga has also been released in volumes, collecting the various chapters along with official English translations.