We attended the Jujutsu Kaisen 0 preview screening in Malaysia, so here's a spoiler-free review for all you Jujutsu sorcerers out there. With the series expanding its domain as one of the biggest shounen IPs out there, let's see if the movie has what it takes to live up to the first season of the anime.
For those of you who don't know, Jujutsu Kaisen 0 is the prequel to Jujutsu Kaisen season 1. Don't worry—this spoiler-free review of Jujutsu Kaisen 0 will not spoil anything from the TV anime as well.
With that disclaimer out of the way, it's time to "Special Grade" what worked or didn't in Jujutsu Kaisen 0 through this spoiler-free review!
Animation
Already having established itself as one of the titans of the animation industry, Studio MAPPA has done it again for Jujutsu Kaisen 0. When it comes to the fight scenes, the animation is as smooth as butter.
Characters move and fight fluidly. The camera also shifts very dynamically and in a way that makes the fights feel epic. There are several sequences where it's just one long take of characters battling it out and using their abilities that just feel extremely pleasant to watch.
One particularly great aspect of the animation is how it expresses characters' facial expressions. There's quite a lot of close ups in both fight scenes and non-fight scenes which really highlights the emotions a particular character is feeling. If you love Satoru Gojo, guess what—you're gonna be seeing a lot of his pretty eyes in Jujutsu Kaisen 0.
Just a slight point to nitpick, but comparing the fight scenes between Jujutsu Kaisen season 1 and Jujutsu Kaisen 0, I still feel that fights in the TV anime are better by a slight margin. Jujutsu Kaisen 0's animation and fight choreography are still great, but when it's a movie-level production with supposedly more budget than the TV anime adaptation of season 1, you kinda expect the fights to be better animated, right? Demon Slayer Mugen Train did this, so Jujutsu Kaisen 0 having great but not better fight scenes than its TV anime is a small letdown.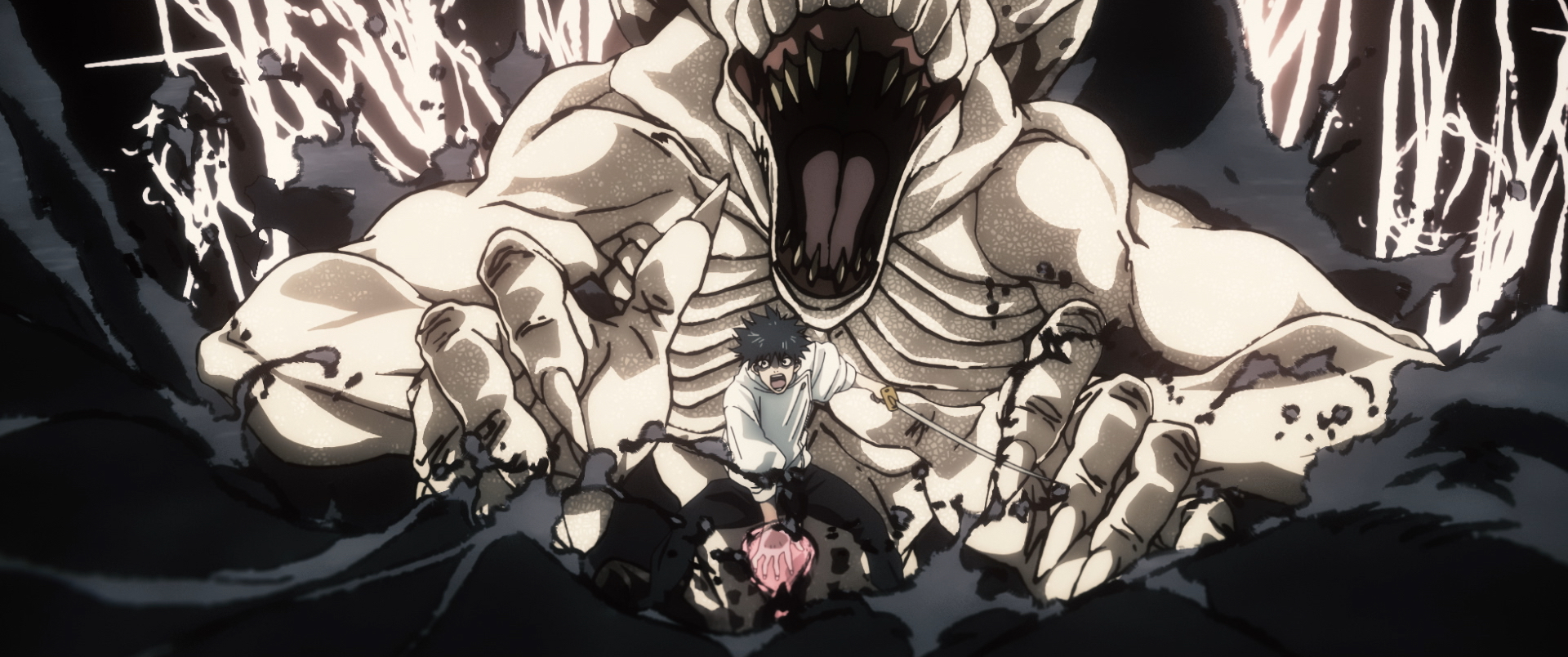 Writing/Pacing
Jujutsu Kaisen 0 is pretty straightforward when it comes to plot. Just like the first season of the anime, it's a rather simple shounen story carried by the strength of its fights and action scenes. However, unlike season 1 where it had 24 episodes to flesh out what is happening, Jujutsu Kaisen 0 had too much to cover, but too little time.
The film tries to compress about a year's worth of story events (with a healthy number of flashbacks) into a 105 minute runtime. Its biggest issue is too many things are happening off-screen.
To highlight how big of a problem this is, I'm going to reference a sequence that took place in the third act of the movie without getting into spoilers. In one scene, we see two characters about to fight, then it cuts to a fight scene happening somewhere else. When it finally cuts back to the 2 characters from before who were ready to fight, one of them has already been defeated. If the film is going to show us two people about to fight, show the fight, don't skip it!
Similarly, a lot of fight scenes in the third act are just too short, intercut between other fight scenes in different locations and dialogues/monologues. In Jujutsu Kaisen season 1, we can have like 2 – 3 episodes of just a single fight and it feels epic. We get to see characters having to devise strategy, adapt on the fly and learn how to bring the most out of their abilities. In Jujutsu Kaisen 0, there are too many minor fights happening here and there that only last for a couple of minutes which ultimately feel rushed and takes away from the major fight that is happening.
The pacing issues aren't just limited to the fight scenes. The same treatment also applies to its characters. In Jujutsu Kaisen 0, we meet a lot of new side characters who are set up to have an important role towards the climax of the film. Sadly, many of them never have a fight scene while some of them don't show up later on at all. The way I see it, it's pointless to introduce side characters only to pull the rug out from under them.
In the end, the film only cares about main character Yuta Okkotsu, his classmates and the villain. This is fine, since the movie wants to flesh out Yuta's relationships with his classmates, but every other character except Gojo and Rika feel completely irrelevant. There are touching and humorous moments here and there, but due to the horrendously fast pacing, I didn't feel the emotional impact from the emotional moments of the film.
I understand that it's a faithful adaptation of the manga that it's based on, but that is still no excuse to jump and skip over so many gaps in the one-year duration of the story. Too many important moments that build up or justify the events at the movie's climax were neglected and the end result is characters having to tell the audience that "actually, X and Y took place before the event." If only the movie was longer and had the time and respect to SHOW us what happened instead of TELL us it happened, I think it'll be much, much better.
Fan Service
No, this isn't the typical panty shot or lewd scene-kind of fan service. Jujutsu Kaisen 0 actually had a lot of moments were it tries to appeal to fans of the first season. This is both a curse and a blessing, depending on whether you watched season 1 or not.
Besides debuting a lot of new side characters, side characters from the first season also make a return. These returning side characters had no importance to the plot of the movie whatsoever. If one were to take out their scenes from the movie, nothing would have changed in the end.
Of course, for fans, it's fun seeing some of our favourite characters pop up and show off a few of their skills and abilities. However, for people who didn't watch Jujutsu Kaisen season 1, they're going to be utterly confused. These returning side characters have no introduction whatsoever, so if you go into the movie thinking that it's okay to watch because it's a prequel, you'll be left hanging when these plot-irrelevant characters show up to suck the movie's already insufficient screen time.
Audio
Putting aside the irrelevant characters and bad pacing of Jujutsu Kaisen 0, it's time to jump to another more pleasant part of this spoiler-free review—the music and sound design.
The background music that plays during fights do a fantastic job of matching the energy of the animation. Fight scenes are joy to experience. Even in more sombre, emotional moments the music does a good job of carrying the atmosphere.
In addition, the sound effects are also a joy to hear through the cinema's surround sound. We get plenty of explosions and other sound effects like blades cutting through flesh and they're all really pleasant to hear. If there's one reason why you should watch Jujutsu Kaisen 0 in theatres instead of streaming services in the future—it's this.
On top of that, the Japanese voice actors absolutely blew it out of the park. Yuta's voice actor, Megumi Obata, and Rika's voice actress, Kana Hanazawa, performed extremely well and showed off a huge range when it comes to their vocal control. Hanazawa in particular amazed me with how she can transition seamlessly from innocent childhood friend to creepy yandere monster, it's super good.
Closing Thoughts
Thanks for making it all the way to the end of this spoiler-free review of Jujutsu Kaisen 0. As you might already guess, I have pretty mixed thoughts when it comes to the movie. As a fan of the series, I enjoyed it despite all its shortcomings. I think a lot of other fans will also feel the same way and won't mind overlooking some of its issues in exchange for the incredible action and hype we get from the stunning fight scenes.
However, as a movie reviewer, I also have to take into account those who will be watching the film without experiencing the anime, since it's marketed as prequel, after all. With that in mind, the issues plaguing Jujutsu Kaisen 0 are impossible to ignore. The breakneck pacing coupled with side characters being hammed in without introduction or relevance to the plot will leave you more confused than excited. Furthermore, the short fight scenes coupled with too many things happening off-screen cannot be saved even by the wonderful animation.
As a result, I have to give Jujutsu Kaisen 0 a score of 7 out of 10. If you're a fan of the series, you'll likely feel that it's an 8 out of 10, but for those who are not, 6 out of 10 is more apt of a score, considering its issues.
To stay updated with the Jujutsu Kaisen series, follow the series' Twitter account.
| | |
| --- | --- |
| Pros | Cons |
| Amazing animation | Horribly paced, especially in the last act of the movie |
| Fantastic sound design and voice acting | The movie introduces side characters who have no relevance to the plot whatsoever |
| Fan service for Jujutsu Kaisen fans | Fights are too short and are cut and interspersed with other fights—too many things happening offscreen |
---
Check This Out Next
---