We attended a preview for Tekken 8 that was held down in Singapore and hosted by none other than the head of the Tekken Zaibatsu himself Katsuhiro Harada. After duking it out in the latest King of Iron Fist Tournament, we caught up with Harada for an interview about the new mechanics present in Tekken 8, all translated by the game's Producer Michael Murray.
Harada has been involved in the Tekken franchise since the very first game where he worked as the voice actor for Marshall Law, Yoshimitsu, and Kunimitsu. He would sit in the director's chair starting with Tekken 3 and act in the role for every numbered game in the series (except Tekken 6 where he was Executive Producer) all the way up to the upcoming Tekken 8.
For this interview, Harada focused on explaining two new systems in Tekken 8: the Heat System, that once unlocked enhances a character's best skills, and Special Style, an alternate control system that is more accessible to new players.
Balancing The Heat System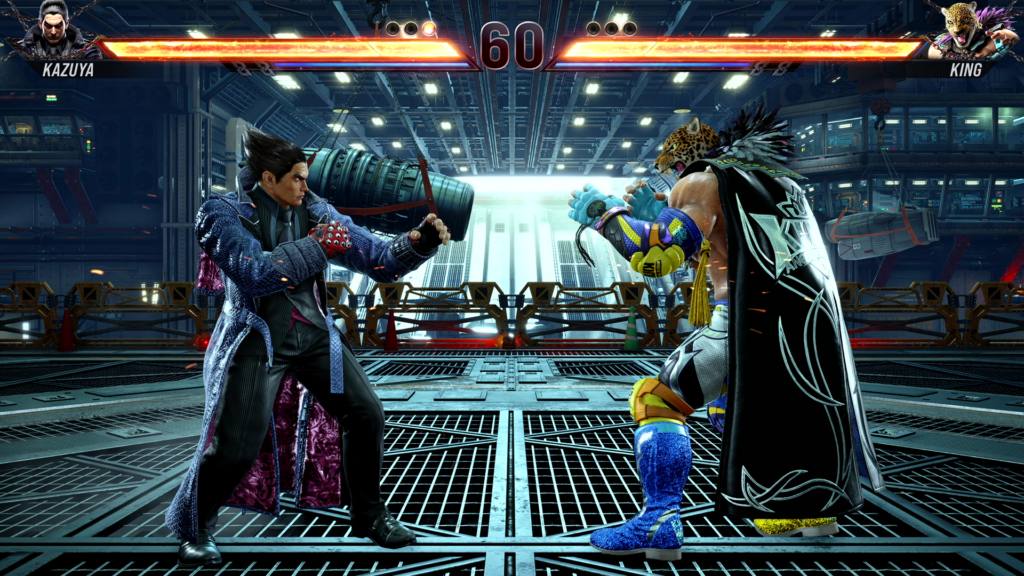 One of the most important parts of any fighting game is balancing the roster. This becomes even more intricate with Tekken 8's introduction of 'Heat Mode' giving each character a different attack buff. We started by asking Harada how the team balanced out the characters in heat mode. He started by telling us the nuances of balancing fighters in general, pointing out there is far more to it than player impressions.
"Balance is very subjective even regardless of the Heat state, even if we're talking about characters in the game, something that all fighting game people talk about. You know in Tekken 7, people would say "this character is super strong because we won with him somewhere" or whatever. So it's very easy for some people to say "oh this is too strong or too weak" from their impressions". 
"We can't balance the game based on impressions, so it's more about we take a lot of details about the game, more empirical data like the win/loss rates that we can take from the game for characters across the board in regards to special moves and all kinds of attributes of characters. That's just the basis of discussion where there's an image and actual data, and you have to distinguish between the two".
Balancing For Different Experiences
He went on the say that balancing the Heat states, in particular, was more or less the same as balancing other aspects of the roster, as well as further reiterating that just because esports players find a character strong in their experience won't mean they're top tier amongst all kinds of players.
"You can't just take one instance of a particular person being really strong with the character and apply that to everything. You can't take all the pro players who are in esports and balance the game based only on their experience because the intermediate or beginner players will have a totally different experience. So you have to take lots of things into account". 
He further says that they've "taken a lot of data from the balancing team to do what we've done so far and obviously, we'll have to look at the game once it's released across the many players and look at their experiences, and maybe refine it after launch as well".
He ended his answer by saying that they'll also be using EVO Japan as a chance to perform a number of tests based on feedback from a variety of different players and will be making adjustments as necessary.
Unique Heat Mechanics 
The Heat system emphasizes certain moves from each of the characters such as Jun's regen system or Jin's Electric Wind God Fist. Knowing this. According to Harada, all the characters will have unique Heat mechanics, specific to their moveset.
"The Heat System is more about the individual characters and how to make them the most entertaining to play. For example, you look at your average player, not esports or anything, just the average person who likes Tekken, they have a favorite character right? It's more about focusing on that one experience of your favorite character. We're making it so that the characteristics of that fighter really stand out and are enhanced to make for a much more pleasurable experience". 
Combo Into Heat Engages
While in the Heat State, characters can use all-powerful Heat Engage attacks but you can't actually combo into them. We assumed that this was done so that veteran players couldn't use it to overpower newcomers but Harada says it was to make sure that can they didn't "break the game".
"It wasn't done just to prevent people from overpowering beginners because there are so many ways to dispose of beginner players with certain techniques. It's not so much that, it's more like [with] the Heat system you can do many things, you can do the Heat Smash or you can cancel it into other moves, so it's in one way taking off limits that were there in the gameplay originally". 
"If you take off all of the limits, then there are certain areas where it'll break the game. For example, we can't just think of "out in the open, not in the air, back and forth, neutral". But you also have to think about whether [if they're] in the air or maybe they're by the wall and in the air. There are all these different situations that maybe make the game really fun in this instance but it makes it not fun at all in another instance". 
He explained that they needed to take into consideration how to regulate the different mechanics in order to improve the overall experience.
Could matches be one-sided with The Heat System?
Another factor of the Heat System is that it can be kept for a long time over the course of a match. The concern here is that the fights could be too one-sided with the first person to access their heating getting a clear advantage.
Harada however says that this will not be the case. Firstly he notes that if you play against someone around the same skill level as you or higher, you'll get more of a feel more it and realize The Heat State can decrease pretty quickly as you burn through it when using certain techniques.
"If you're in a match, and you activate it, in some instances your opponent is attacking you and you have no opening to use your moves. Then you may notice it's already gone because you're just blocking the whole time. If you're in a normal match, it's quite hard to maintain that gauge or to keep it from decreasing that rapidly. It's going to take a lot of knowledge, skill, and practice. Kind of like you could say in a fighting game "well if you don't get hit, if you block all your opponent's attacks you could win the match" Yeah, it's easy to say that, but can you actually do it"?
From this, we can gather there will still be ways to fight back against an opponent in the Heat State. It might seem like the system will be overpowered but both you and your opponent will be trying different moves, strategies, and mechanics that should even the playing field. 
Making Tekken 8 Accessible With Special Style
Another new feature of Tekken 8 is the new Special Style control mode. This is a new mode meant for newcomers that allows special moves to be executed more easily. We asked Harada to tell us more about Special Style and how it would Tekken 8 more accessible to new players. He first said that it's not just for new players but also for "intermediate or advanced players as well" as it can help them to play with characters they might not be familiar with. 
"For example, I play Heihachi but I also used to play Marduk. If I tried using Marduk after a while, I might not be as good anymore since I haven't gone into his new move list or studied him. This [special style] kind of cuts out the work that's necessary to try other characters because you don't have to do all that prep, they're already set to that palette and you can try out different things. You can learn different combos and get a feel for that character that you otherwise couldn't". 
The director went on the say the point of Special Style was to lower the "first step" in learning characters, allowing new players to easily execute moves so they can learn how to time and strategize with them.
"When you start off first, you need to learn the techniques to perform your moves. This [Special Style] takes away that first step and allows you to jump into matches and [go] "how do I actually use this move against someone". Even then, that just kind of lowers that first step, you're still going to get to that point where in order to win, you'll need to add some more techniques or strategies so you still have to learn the game". 
Will Special Style become a crutch? 
These more simplified controls in fighting games have been attempted before with titles like Blazblue and Marvel vs Capcom 3 to mixed results. The main issue is that those that use them often aren't able to learn the traditional controls for the game, making the system a crutch. Harada does acknowledge that this is a potential issue but believes that Special Style will encourage new players to learn more about the game and its mechanics.
"It might be true to some extent where you'll be strong at first because all the good moves are selected, but it's also kind of inevitable that once you see different tournaments or different people play, you're going to get bored doing the same thing over and over. You're going to want to add just one more move or one more different combination or variation which will then prompt you to the more traditional moveset and learn a little bit more". 
"There's an image of a staircase of how you progress with the game and that first step is just so huge. With a shooter, they also have things that help beginners, like aim assist, which helps you a lot. With fighting games because of the controls, each character's move sets are so drastically different, and compared to other games that one step is huge. So we're trying to make it easier for people to overcome that first step with this control scheme".
The challenge of making fighting games more accessible to casual players has always been a major fight in itself. It'll be interesting to see if Special Style cracks the code and hopefully brings even more players into Tekken tournaments.
Customizing Special Style
We further asked if Special Style could be more customizable in the future such as choosing the specific strings of movies or combos. Harada however said they didn't have plans for it currently. This is because it would be too difficult to balance across all modes.
"Although it's an interesting idea in theory, there are several problems in doing that. Currently, we want Special Style to be used in a variety of different modes. If you're able to program what moves are in the palette, then it's pretty much the same as certain controllers where you can program an easy Dragon Fist button or whatever, it's kind of like that right? Those [controllers] are all banned in esports tournaments for a reason". 
Basically, if you can bring up your most powerful special moves with the hit of a button, it could give too much of an unfair advantage. This means that Special Style movesets have to be fixed.
Tekken 8 Round Times
The highest level of gameplay in a fighting game round tends to take up a lot of time, sometimes leaving 10 to 20 seconds left before a round is done. Considering the design of the Heart System as fast, hard-hitting and aggressive, we asked Harada what the ideal round time would be for the game. He gave us a pretty interesting crash course of how round times have changed in fighting games as a whole:
"When you're talking about the round/match time, there are many things you have to think of as background information. The first is that fighting games were born in the arcades, so it started as a business model because you think with one coin in Japan, that's a hundred yen which is like one US dollar. How long do you let a person play for that amount, that's how it started. Now, fighting games have evolved around that 3 to 5-minute time cycle. It's not like in the past when Tekken had that arcade time duration, we're starting off on consoles, so we're not stuck with that model".
"We've balanced the rounds still balanced around what makes them feel exciting, so we're not going to change it that much from past installments. As far as being timed out, it really depends on the play styles and the characters chosen. There are some players that might just be really good at evasion and they can run out the clock, but you just have to look at overall how the match plays out if it's too long or too short. Does it feel like you have to attack your opponent and as a result does it feel exhilarating? Those things are more important".
Defensive Mechanics in Tekken 8
If you haven't noticed from all the Heat talk, Tekken 8 has a rather aggressive philosophy to its fighting mechanics. This makes does make you wonder, will the games' defensive mechanics get any tune-ups to counter all that aggression?
Well, Harada believes that they don't have to make the defense options stronger since they are already quite strong, to begin with. He points out that fighting games are some of the only titles that allow you to block and find victory in being defensive.
"You really need to think about how fighting games are unique to other genres. For example, for shooters, you can't guard yourself against bullets, right? I mean, in general. Fighting games are one of the only genres that let you actually block and not take damage. So if you're successful in defending, you can win the game by doing nothing but blocking, which you can't do in other games". 
"It can be said that for fighting games, the defense has always been very strong. Some games and some instances [the defenses] are too strong because the timer runs out or whatever. Which, I don't know if that's fun for the people playing, but is it fun for the people watching? Maybe not. More than making the offense oppressively strong, it's more about taking a genre that allows times that maybe the defense was a bit strong and kind of dialing it back a bit. Because the offensive options are a little bit more than there were before". 
The Heat Is Rising 
We thank Harada and the team at Bandai Namco for inviting us to this preview and interview for Tekken 8. The faster and more aggressive style is big a change for the series, almost taking on the flashiness of anime fighters like Guilty Gear or Dragon Ball FighterZ, it certainly has the particle effects for it.
Despite this, however, it's also admirable to see clear attempts not to leave newcomers in the dust with concepts like Special Style. While easier control schemes have been done before in fighting games, the best kind will encourage players to learn more about the game and not just pigeonhole them into doing the same two combos over and over again.
Will we see a whole new generation of fighters emerge thanks to Tekken 8's heat and special style? I suppose nothing is impossible in the King of Iron Fist Tournament.
Tekken 8 will be launching on PS5, Xbox Series X|S, and PC via Steam
This interview was edited for clarity.
---
Check This Out Next
---