After years of waiting, Digimon Survive has seen praise from fans for its darker, more adult-oriented take on the usual Digimon Formula, more specifically how it's cast out middle school survivors parallel with characters of the original Digimon Adventure.
From the art style to the basic premise, Survive clearly wants to invoke the fantasy world of the first anime but as producer Kazumasa Habu said when we interviewed him, not everything is the same. The kids of Adventure were chosen children, destined to save the digital worlds, the cast of Survive on the other hand are regular kids caught between powers far beyond their comprehension, and not all of them take that very well. It's a more realistic take on the Adventure premise that shows what would more likely happen if you put a bunch of teenagers into an alternate world filled with monsters.
Of the eight main characters of Digimon Survive, the majority of them seem to use one of the Adventure kids as a template, showing how this character, their personality, and virtues would be twisted into a darker take on the plot. Here's a quick overview of each of them:
Warning: the rest of this article will contain spoilers for all routes of Digimon Survive (except moral).
Shuuji Kayama – The Pains of Being The Oldest
If there is one thing you know about Digimon Survive and its characters among the fanbase, it's that everyone hates Shuuji. He abuses his partner Lopmon, he proclaims to be the leader but acts like a coward, his plan is to hide in the school for help that isn't coming. When he dies in chapter 5, I doubt many people felt too bad for him.
Shuuji is clearly meant to be a parallel for Joe from Adventure. Similar designs, the oldest of the group, a partner they don't get along with but Joe grows beyond this initial neuroticism. While Joe can nag he never actually proclaims himself to be the leader (in the OG series at least) and eventually learns to not do things so by the book and instead trust his instincts and do what he thinks is right. This leads to some seriously badass moments like Joe climbing a mountain just to see if it's safe for everyone else to climb. Part of this likely comes from his brother who we see encourages Joe to follow his own path even if it's not what their parents want.
Shuuji however isn't so lucky. His strict but successful father and older brother neglect and abuse him, expecting perfection and nothing less. This reflects in his behavior, adamantly sticking to strict societal norms. We even learn he only volunteered to go to summer camp because it'd look good on his college application. His abuse of Lopmon likewise mirrors his own, continuing the cycle of mistreatment.
In many ways, Lopmon is the perfect partner for Shuuji. In-universe Lopmon is commonly portrayed as the dark or weaker twin to Terriermon (who's not even in the game) much like how Shuuji is seen as inferior to his brother. The constant abuse Shuuji was given turned him into the monster the same way Lopmon turns into Wendigomon. This is another recurring idea through Survive and other Digimon media, the partners are reflections of their human child. It's something we'll see in many of the other kids in the game.
Thankfully this cycle ends in the Truthful Route where Shuuji survives and begins taking after the much kinder professor leading him to be much kinder to Lopmon as well.
Aoi Shibuya – A Whole Lotta Love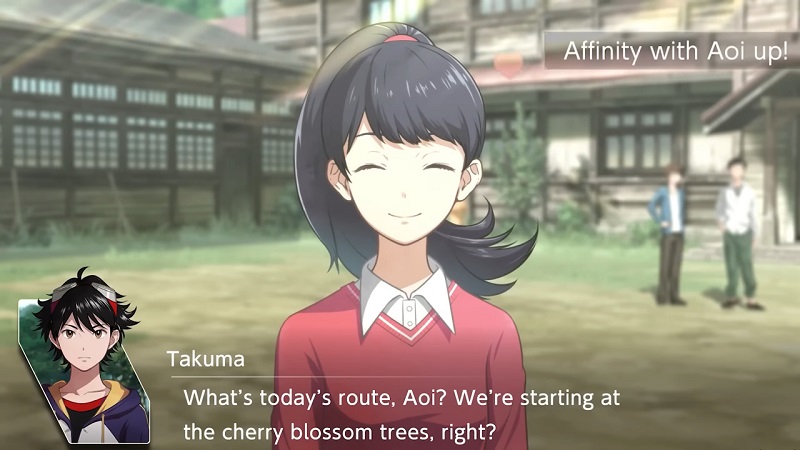 Partnered with Labramon, Aoi fills the same 'Team Mom' role that Sora did in the original but similar to Shuuji, Aoi shows just how stressful this leadership position can be, particularly on the Wrathful Ending. If Shuuji showed what happened when someone who's forced to take leadership, Aoi shows what happens when people go too hard into the leadership position.
It's clear that keeping an entire team of scared teenagers alive while you too are a scared teenager keeps Aoi highly stressed. She shows blatant signs of anxiety in conversations with Takuma and most of the time her favorite answer is to just work even harder. Labramon needs to convince her to rest.
When Saki dies on the Wrathful Route under circumstances completely out of her control, she breaks. Aoi goes mad seeking more power to try and shape the digital world into a safe place for her friends, fusing with Labramon into Plutomon to do so. Her partner is very fitting for these developments, having evolutions based on Cerberus, and Pluto (Hades), guardians of the dead much like how Aoi wants to guard her friends even if it may kill them in the process.
Sora's character involved her fighting with her mother over being allowed to play soccer, feeling her mom was too smothering and prevented her freedom, only to realize she was doing the same thing with Biyomon when the bird wanted to fight Myotismon. It's more or less to show how sometimes love involves allowing a loved one to do dangerous things even if you don't agree with them. In the Wrathful ending, Aoi decides she doesn't like that answer and attempts to smother the whole Digital World. That's a little too much love.
Saki Kimishima – A Surprisingly Mature Take on Mimi
From her flowery demeanor to her flower Digimon partner Floramon, Saki is clearly meant to be the Mimi of the group, the girly girl. At least that's what I and likely many others thought before actually playing Survive.
Upon actually meeting Saki, I was surprised that she didn't really have that same Pampered Princess vibe Mimi did, if anything she was one of the more down-to-earth members of the cast. She's incredibly blunt which can come off the wrong way but she wants what's best for the group and remains one of the most mentally stable people in each route.
That being said, she does have her own issues. While Mimi started Adventure naive of the greater responsibilities she had, Saki uses the digital world as a form of escapism. We learn that Saki is very ill and is supposed to go under what's implied to be a life-threatening surgery once camp is over. She's upbeat and peppy because she wants to make a "lifetime's worth of memories" before going under the knife. As such, while Saki still searches for a way to leave, she also admits she likes being in the Digital World since her illness isn't as bad there.
This is shown in a lot of her dialogue. She hates her illness being brought up so she can, if only briefly, pretend things are ok and just enjoy hanging out with Floramon.  It's a fairly nuanced portrayal of escapism. Saki isn't delusional, she knows she has to return to her world but she also dreams of a better life and doesn't like being reminded of her disappointing reality. I think we can all feel like that at times.
Now I do think feeling scared about a surgery equating to your Digimon partner evolving into a yellow testicle that throws its own poop might be just a little harsh (we could have got Kiwimon guys, seriously), but it can be linked back to her insecurities. Saki sees herself as possibly dying young so Floramon's "adult" form being a rotting vegetable is good, albeit unappealing imagery. As she spends time in the alternate world however she eventually begins to heal turning Floramon into the more beautiful Ceresmon Medium.
Miu Shinonome – Coming Out of Your Shell
Miu's character is directly tied to her big brother Kaito, being the TK/ Kari (Takeru/Hikari) to his Matt (Yamato). With this in mind, we should probably go over their backstory.
We learn that Miu (an eleven-year-old) was being stalked by an older man who Kaito proceeded to beat the crap out of. Because of this, their family moved to the countryside where Miu was bullied for being a city girl, to which Kaito once again responded by beating up her bullies. This has led to Miyu being rather reclusive.
TK's story in Adventure was about learning to become more independent, learning to solve problems without the bigger children's help. Miu's character is similar but has far more to deal with. While her family moved to protect her, Miu hates living in the country and feels like it was more of a punishment than protection. Likewise, in the Harmony route, Miu outright says Kaito just uses her as an excuse to become violent and that he's almost as toxic to be around as the stalker he fought against.
When we first see Miu, she's an antisocial chuunibyou, pulling pranks but we soon learn that this is an act because she is scared of others getting close to her. It's fitting that her partner Shakomon is a clam, hard on the outside, soft on the inside.
Miu and Shakomon however get on the best of all the partners in Survive showing that Miu does have a kinder side underneath her brattiness and may in some way be more stable than some of the older kids. As the game goes on she becomes more friendly and independent, symbolized by Shakomon evolving into Mermaimon, literally coming out of her shell and no longer needing to protect herself or be protected by others.
Kaito Shinonome – Big Brother is Watching You
Kaito at first seemingly takes the role of Matt. He's the cool lone wolf but he never really has a rivalry with Takuma the way Matt did with Tai. His only concern is his little sister Miu. Everything with him is Miu, getting her back, keeping her safe, nothing matters but Miu.
At first, I thought this was kind of annoying. It made Kaito feel incredibly one-note but Survive later points out just how messed up this mentality is. Kaito rarely tries to bond with the other kids beyond what he needs to for Miu. He even says he doesn't even care if she hates him, as long as she's safe. He doesn't even seem to have goals or hobbies outside of protecting his sister. This comes to a head in the Harmony Route when Miu dies. He completely closes himself off and lashes out by attempting to destroy the world since a world without Miu isn't worth living in.
Kaito on the Harmony Route is basically Matt's protectiveness of TK taken to an extreme, becoming toxically overbearing with even Miu wanting to get away because of how violent he could get.
Additionally, Matt's greatest strength was his deep care for the entire group, even if he had trouble trusting them all at times. Kaito however loses all trust of the others when Miu dies, blaming them for being too weak to protect her. He forgoes any kind of friendship, being consumed by obsession and revenge.
Kaito's partner Dracmon acts like his conscience, always keeping Kaito level-headed and trying to get him to open up more to others. It makes sense in the Harmony route, Dracmon is assimilated into the Boulboutamon, with his personality disappearing. It shows Kaito losing all sense of morality in favor of anger.
Ryo Tominaga – A Lack of Communication
This one's admittedly a bit of a stretch on my part, but I can't help but notice similarities between Ryo and Izzy (Koshiro). Not just because they both have bug Digimon as partners, mind you.
Ryo and Izzy both start off as somewhat outcasts. Ryo is a punk with a bad attitude and Izzy is always buried in his computer, not engaging with the other kids beyond what's necessary (culminating in that one episode where he makes Mimi cry because he'd rather analyze data than search for the others). Survive however shows the harm in this lack of communication.
Izzy being a computer geek eventually makes him essential for survival in the digital world. The other kids heavily relied on his skills, with him opening up to them more in return. Ryo however is just an average scared middle schooler and ends up being a load that the other kids don't really want to deal with, with some admitting they don't like being around him. This in turn causes him to spiral into despair, leading to his death on every route that isn't the Truthful Route.
The most interesting part however is that both of them have their issues stemming from similar places: losing parents. Izzy finds out he's adopted and Ryo lost his mother. Both of these cause them to shut themselves off from other people and require them to learn how to connect with others. It's no coincidence that Ryo's partner Kunemon is the only partner that can't talk: it represents Ryo's own inability to truly communicate with his peers.
You save Ryo in the truthful ending by raising his affinity, basically reaching out to him and forming a bond, creating that connection. This is pretty much the central point of Digimon Survive, the kids must forge connections with each other and their Digimon if they want to live. Doing so is what allows Ryo to survive and locks the player on to the truthful ending where no one dies.
On said truthful route, Ryo's able to get better and finds a true place on the team: punching Shuuji in the face for abusing Lopmon.
Minoru Hinata –  Just Your Average Fifth Grader
There are two characters remaining out of the Digimon Survive cast that I haven't mentioned: the main character Takuma and the upbeat Minoru. These two don't really have Digimon Adventure equivalents. Takuma is pretty much just an audience surrogate who has Agumon and is generally brave but doesn't have much in common with Tai beyond that.
Minoru likewise doesn't seem to be based on any character from Adventure. Rather, I think he serves a different role in the story: representing how most regular middle schoolers would react in this situation.
Of all the kids outside of Takuma, Minoru is the most "normal". He doesn't have a dark backstory or deep trauma like the others. He does however see himself as a bit plain, not having exemplary talents, and thinks himself cowardly compared to others in the group. These insecurities come about primarily in chapter 6 after Shuuji dies when he starts distrusting his partner Falcomon the most out of the group.
Falcomon at first says he feels the same, not wanting to put up with Minoru's complaints but it's later revealed they're both insecure about being each other's partner. Minoru doesn't think he's good enough to be with Falcomon and Falcomon fears killing Minoru the way Lopmon did to Shuuji. Both feel weak and powerless but in admitting these feelings they're able to get over them and become strong. There's that theme of communication again.
Minoru presents how most average kids would react to a situation of Survive. They likely (hopefully) don't have traumatic backgrounds but rather just feel a little plain too average compared to their peers, leading to a lack of self-worth. Minoru shows however that strong bonds and a little confidence are what you really need to Survive. That's likely why he's the only character aside from Takuma that actually lives through every route.
Closing Thoughts
A lot of modern Digimon media likes to pay homage to Adventure but Survive has to be the most interesting take on those original characters so far. It makes a point of just how bad that trip to the Digital world could have been under the wrong circumstances but also how tragedy can be avoided through Digimon's traditional themes of connection and evolution.
As an older Digimon fan who grew up with the series, Survive is the sort of Digimon game I've always wanted. A new series with a new cast that captures the feel of the first 5 seasons of the anime. The fact that it's a heartfelt visual novel with a more adult-oriented take on Digimon Adventure's original premise made it even better. Like Adventure, it took a good deal of time exploring the real-world issues of its cast and how they affect their actions in the digital world but to a much bleaker degree.
Likewise, it's interesting comparing Survive's casts to Adventure, seeing how one group of kids was able to surpass their personal problems while the other had some of them be driven mad by them. It really makes you think about how'd you react to being stuck in the Digital World as a kid. Would you be able to Survive?
---
Check This Out Next
---