Hortensia Saga R is now available in Japan, with a Traditional Chinese version to follow suit at some point. For the unfamiliar, Hortensia Saga R is a full 3D remake of the original Hortensia Saga that launched in 2015. It has a currently running anime series, featuring Yoshimasa Hosoya as the main character Alfred Albert and Yui Horie as Marius Casteledo, actually the disguise of Princess Mariel of Hortensia.
You'll be able to log in and redeem the variety of pre-registration rewards, as well as start playing the game to complete the newcomer missions as described here. So how does it play?
---
PRESENTATION
Now, I'm not familiar with the original Hortensia Saga, so I'll just speak based on this game. As promised, the game is done up in full 3D, with the story sections also rendered in 3D instead of just having 2D spritework, along with full voicework. I'd say the 3D work won't be the best you've ever seen, but hey, I can forgive it for being a primarily mobile title even if Genshin has made that standard really high. They still do have the 2D arts which you'll see in the unit gallery and during the gacha, and those look pretty damn good. There's not much to say here, since it can be highly subjective. Visuals aside, animations are alright, and the music is also fine. I think the sound effects do sound a little odd…
As you complete the main story quests, they fill up the related story image hex by hex, and forms into the main image. I think that's pretty neat way to show your progression.
GAMEPLAY
The game is a turn-based tactical RPG, selecting your skills and taking your turn. Your turn ends only once all your units have acted, then the enemy's turn will begin. Even without knowing Japanese, it's easy to at least know what range the skill covers, with offensive skills colouring a tile in red to show it hitting the enemy.
To start, you'll have 3 units on the field, and you can shuffle them around in the white tiles before you commence battle. The auto battle system only works during battle, not before, and won't work until you actually start the fight, so there's an extra step of setting unit formation (unless you don't want to) first. You can shift the camera angle if you like, though the top down would work just fine.
As you can see from the battle screens, there's the weapon triangle to denote the strengths and weaknesses so you can place the appropriate units. You can also check enemy details if the mascot pops up on the right of your screen, though being in Japanese, it doesn't do anything for me. Characters have their animations and cut-ins for special attacks, as you might expect.
Characters can increase their star rarity by utilizing shards, the number of which will gradually increase. You'd mostly get these from pulling dupes in the gacha, which will be discussed later. Besides that, characters can have up to 6 equipment slots, and at certain levels, can go into a pseudo-skill tree system to choose between two skills, which works like your X-COM promotions. The skills can be reset with premium currency. Later on, you'll get access to weapon emblems, where you can place down tiles and it'll confer the bonuses within those tiles.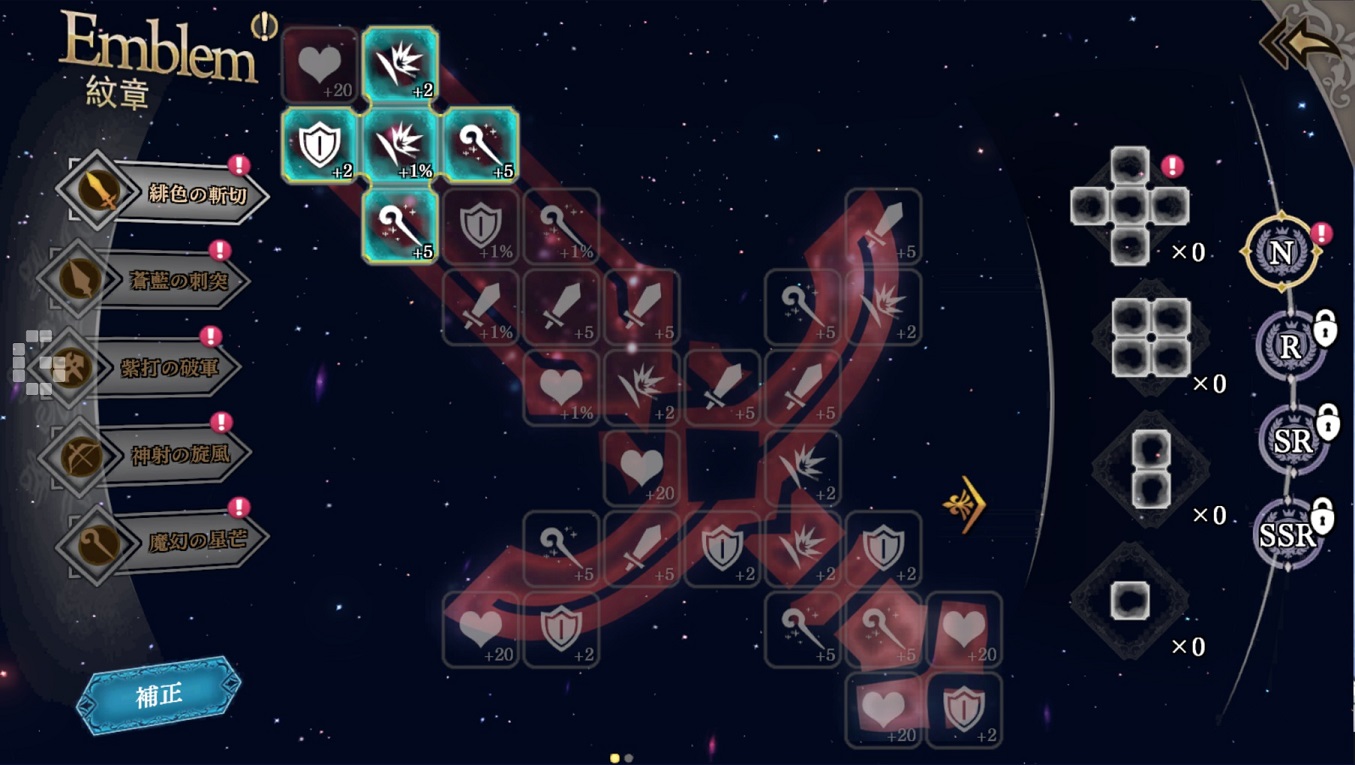 So many things require the relevant stamina system in this game, and ranking up doesn't fill the bar, which is somewhat concerning…
GACHA
As usual for a free to play/start title, the game operates a gacha system. Base SSR rates are 2%, which is on the lower end. To start the game, your initial rigged roll will always have one SSR, and can be rerolled up to 30 times. Why not unlimited? Who knows…
The game does have a somewhat interesting system where you can choose to increase your SSR chances after a 10 roll, or increase the probability of obtaining the character you desire. It's only a 0.1 increase if you choose to increase an SSR rate, or a 10% increase to a specific SSR's drop rate. It's not a hard pity, but better than nothing, one supposes?
---
CLOSING THOUGHTS
There is quite a decent bit to chew through this game, with quite a bit of systems to fiddle about and grind for as you go along. It can make your device chug a bit, which will hopefully be ironed out once the game's launched for some time longer with optimizations to be worked in. The gacha system is a little hit or miss and I won't know how effectively you can go through the game with low rarity characters, but if you like some turn-based strategy, you should give it a shot for yourself.
Hortensia Saga R
Android, iOS
A full 3D remake of the original Hortensia Saga, available for smartphones.
---
Check This Out Next
---