Higan: Eruthyll is a game I believe would be on quite a few people's radars, in part I'm sure being its fairly attractive visuals and being available in English in time. After missing out on the earlier beta test, I hopped into this one to check it out.
---
ALL THE WORLD'S A STAGE
After being conned into taking the role of yet another amnesiac, I am put into the role of the "Director" of the Gopher Troupe. While the anime art style isn't exclusive to anyone, this game could've been mistaken as Honkai Impact 3rd even more than its compatriots, to me anyway. In a way, I think that's fairly high praise, seeing how polished the visuals are. It's nice to see this seamless transition across a series of stages situated in the same area.
There are both Chinese and Japanese dub, with the weeb in me not bothering to change the voice language. The models and art look very clean, but right now, it's a bit jarring as the voices don't sync with the models / cutscenes. Presumably this will be fixed for the full release, alongside some typos and awkward translations.
The game has this blend of fantasy and sci-fi leaning elements which is definitely my jam. It does feel a little generic – what with the "getting mistaken for Honkai" thing I brought up – though this is, again, my opinion. The story beats being voiced is nice, just needs the extra polish to have them be timed / synced better for a better experience.
PLAY YOUR CARDS
The core gameplay has you field four characters on a hexagonal field, each with their own roles and skills. Skills require Energy to cast, and take the form of cards. It's real time battle, with a slow down as you select a card to cast it in the right direction. I thought there was some auto targetting but this isn't the case, as I realize a character has casted something way off base. Early on, there can be tiles with special effects, but these are irregular.
As there are cast times, you can interrupt an enemy's skill provided you have an Interrupt card to cast. Besides these more standard actions, your characters have their ultimate skills. There's the usual elemental chart and importance of positioning, and that kind of stuff. You can also raise affection with your troupe members.
Units have a base level cap which is raised by refining their associated weapon, which also unlocks new skills for them. Awakening is the process of getting shards from duplicates, unlocking nodes of increasing cost upon hitting a star rank. Nodes typically grant incremental stats. Last but not least, characters can equip "Plays", 3 pieces of equipment that provide set effects.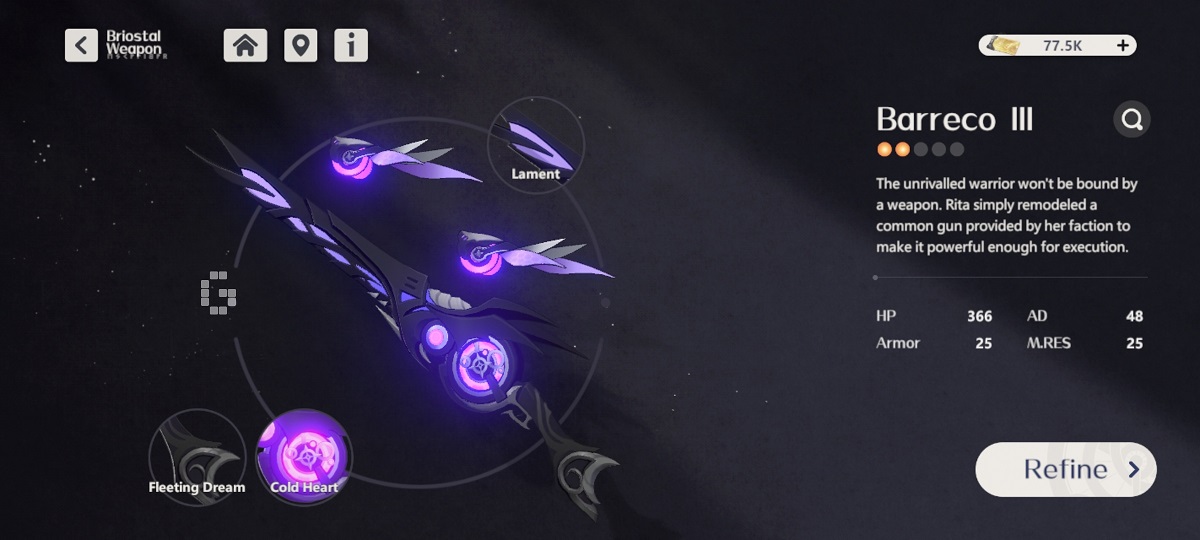 Besides the farming stages, there's PVP which I did not try, and the Mesmerizing Labyrinth. This last is the "rogue-lite" mode, selecting branching paths to pick up items, fight, and that kind of thing. I don't find the gameplay particularly inspiring, admittedly. The Dreams Back mode is a bit interesting where I could only use the featured character solo to fight, at least.
I see the gameplay leaning on quite a fair bit of grinding, since levelling up characters requires quite a lot of different materials and the raw numbers itself is somewhat expensive. Plays can get Conceptions to grant it new attributes which means a bunch of future min-maxing grind and it's not something I enjoy. It does have a nifty auto-repeat system though, where you can select target items to farm for in stages you've unlocked.
GACHA
Gacha consists of the hero and the Play pool, both using different currencies. They have their separate pity rates, but no "spark" per se. At 2% base rate, it's on the lower side. Duplicates grant those shards for Awakening.
FIN
I suppose I'm terribly jaded from playing a lot of gacha games. Higan: Eruthyll ticks all the checkboxes for what an anime-style gacha game needs to be, with an interesting twist on the real-time action gameplay. There are a number of systems that I can see that makes this game theoretically F2P friendly since you can redeem a bunch of currency through the shop, at least.
The game is fine, just not for me.
---
Check This Out Next
---