For many anime fans, you may have encountered clips of Hatsune Miku in the anime Jashin-chan Dropkick, courtesy of the Youtube algorithm. Specifically, she has been appearing regularly in the third season of the anime, Jashin-chan Dropkick X, also known as Dropkick On My Devil!! X.
While the Vocaloid superstar has appeared as cameos in anime like Lucky Star and Himouto! Umaru-chan before, and even as a full-blown anime character in Shinkansen Henkei Robo Shinkalion The Animation, rarely has an anime appearance for her stirred up this much of a storm.
So great is the stir in fact, that the official Jashin-chan Dropkick Twitter account reported that clips of Hatsune Miku from the anime have exceeded 5.5 million views on YouTube in total. As such, in order to combat this, the anime's official YouTube account has declared that it will upload Hatsune Miku clips faster than anyone else. According to ITmedia News, the Jashin-chan Dropkick YouTube channel has accumulated nearly 10,000 new subscribers since the announcement, a 999% increase over the past 7 days.
The Appearance of Hatsune Miku
As to why a Vocaloid would exist in the same world together with devils and the denizens of hell, the short explanation for it is that its part of a collaboration. Contrary to what many Western fans believe, Hatsune Miku in Jashin-chan Dropkick is voiced by her original voice actress, Saki Fujita, and not through the use of the Vocaloid software.
Hatsune Miku isn't just making a cameo appearance—she is featured in the anime's opening and also appeared in the first 2 episodes interacting with the other characters, with fans expecting her to appear in more. Have a look at her character sheets from the anime's production studio, Studio NOMAD: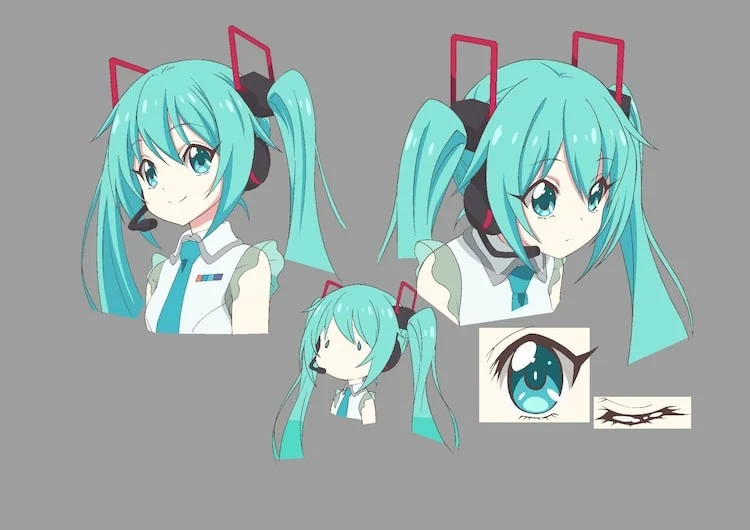 Hatsune Miku and Jashin-chan Dropkick first collaborated back in October 2021, when the two released a music video promoting Hokkaido. The MV, "Thank You Drop Kick!" is performed by Aina Suzuki, Jashin-chan's voice actress, and the Vocaloid software.
As for the clips of Hatsune Miku from the anime, be sure to support the official Jashin-chan Dropkick YouTube channel and view the clips from there. Each clip also has English subtitles through YouTube's closed captions (CC) feature.
To stay updated with the anime, be sure to follow the Jashin-chan Dropkick Twitter account. You can watch the anime's third season legally for free through bilibili.