How have you been since the initial release of The Last of Us? The game took many by storm, with a heart-clenching story that while featuring Joel, was ostensibly revolved around Ellie. This girl, the apparent sole person immune to the infection, carries the hopes of the world for a cure, but it's not something she asked for, is it?
With The Last of Us Part 2 on the horizon, this article will be a two-parter:
Our first impressions of the game and story, with no spoilers
An interview with Anthony Newman, co-game director of The Last of Us Part 2
For more context, you should also peruse our earlier write-ups on a press demo from 2019:
PART ONE: Game Impressions
With the heavily story driven nature of the game, we're not going to be providing any wink-wink, nudge-nudge hints towards any specific event that occurs in the game. We can, however, discuss the feelings behind the whole ensemble: the writing, the acting, the visuals, sound, so forth.
Think of the best movie, TV show, maybe even theater production you've ever seen. You are in the audience, drinking in the sights, admiring the production and finding yourselves invested in characters you may never have seen before. Now, you are still the audience for TLOU Part 2, reading a story of someone else's crafting, but you also have control. That's the advantage of an interactive medium that is a video game.
The game is longer than expected, but you're probably not going to notice any of it. If you were impressed by the quality of the graphics in the trailers, well, be prepared to be blown away once you do get a hold of the game. Every scene is going to hit that much harder with how real it all looks, and you can just about believe this was some live action sequence instead of "merely" mo-cap and animation. The subtle movements of the characters, like maybe that tiny little tic you give away when you emote. You'll find that in these character's faces. Not everything has to be said.
Of course, while we have these amazing graphics, they really start hammering it in with the music and sound effects – and perhaps even lack of. Expect the score to amplify your joy, your despair, your anxiety as you – and Ellie – make your way around the world, finding the briefest comforts, to the heart-pounding chases. Take your time to explore the areas, which are much less linear from the first game. Follow your heart, and see how it gets wrenched – or soothed – as you follow the paths less followed or otherwise.
You can have your expectations high for this game. Look forward to our full review on 12 June, so have a taster for now. Incidentally, those Shamblers from the Alpha version back during the press demo have been changed to have the same bad eyesight as their brethren, instead of being able to always spot you.
We have already finished the game, with some tips to come 19 June (release day!). Naughty Dog, as well as us, want you guys to experience the story as spoiler-free as possible, so that you may enjoy it to the absolute maximum. We're looking forward to seeing the game unlock for all of you out there.
PART TWO: Interview with Anthony Newman
THIS SECTION MAY HAVE POSSIBLE SPOILERS.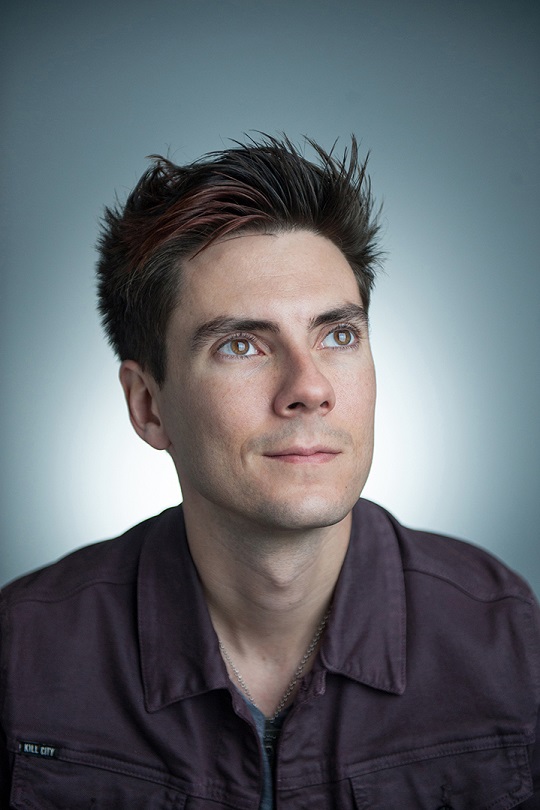 Previously the melee combat designer for TLOU, Anthony Newman is now co-director of TLOU2. You might also know him as the writer of Savage Starlight, as well as having previously worked as a gameplay scripter for Uncharted 2 and 3. It's quite the step up in responsibility as he himself would attest to, but let's get into the questions, shall we?
The game has expanded with the ability to jump, as well as utilize more environmental items such as ropes and thus opening up more possibilities in level design. The intention for TLOU2 was to evolve it as much as possible from the first game, while retaining its complexity and rich experience. The world is grounded though, so the challenge was to maintain the realism as well.
One of their solutions? Breakable glass.
"It's kind of such a simple thing; it doesn't sound very exciting on paper but once you play it in the game, you realize it can be used to close off paths to different areas, it can be used as part of puzzles, put pick-ups behind it, [and] there's this interesting question that if you're in a combat state, do you break the glass to get the supplies, and if you do, you could potentially attract the attention of enemies."
A building could house supplies, but you might also find infected in there. Would you be able to find a way to sneak past to get to the goods, or would you prefer to play it safe?
Besides that, Newman also says the glass adds "to the aesthetic", with melee moves slamming you into objects – or gunshots – and have it break on impact, which adds a new element to the game. They wanted to challenge themselves to make broad levels with these optional areas, with subtle clues strewn about should you follow your gut and curiosity, while also maintaining a certain linearity regarding the story flow.
For people coming off TLOU without expecting a "part two", it could've been quite surprising that Naughty Dog decided to make one.
"Just because something has a good ending doesn't mean it can't have a sequel."
Newman's aware many people have thought the first game had such an impressive ending, but he believes Niel [ Druckmann ] already had a plan for TLOU2. They needed to finish Uncharted 4 at that point before any work could be done, but he mentions a point we've heard in our interview with Halley Gross:
"It really is a continuation of Joel and Ellie's story and the inevitable results of the choices they made in the first game and kind of exploring the continuation of that. So it's not just some kind of extra follow up, it really is like a very specific continuation of a story that was started in part 1.
Also mentioned in the initial interview, "hate" is billed as one of, if not the, themes of the game.
"I think TLOU at its core is a game about examining humanity."
The first game saw how love – how far can it take you, where it can come from and how it surprises you – and Newman doesn't think it's "just" about hate.
"It's about the ultimate self destruction of hatred and the hollowness of the pursuit of vengeance, and I think that in the world we live now, I can't think of a more important message than understanding the futility and uselessness of hatred and how it's ultimately it has negative consequences for everyone including the person doing the hatred."
He counts himself lucky to be part of the team able to express this message.
Accessibility options added to the game means more people are able to learn this message, too. Newman acknowledges some of these assists can make the game "easier" – lock-on aim and threat indicators, a HUD element that tells you if you're spotted – but he points out this is only easier if you're able-bodied. These accessibility options allow people who may be impaired to also get the same gameplay experience.
The options are available at any difficulty option, so even the hardest difficulty level is still open to everyone. New to TLOU2 is the blind accessibility mode. Newman says blind players will be able to get the platinum trophy with its assistance – from complex navigation to puzzles, and of course, the combat – so while we did not try it for ourselves, he stresses that he feels it's important that everyone can enjoy everything the game has to offer.
Coming off from Uncharted 4 where Newman was lead designer, he says there's plenty for him to be nervous about regarding TLOU2's release, since it's his first game as co-director. He reveals he's been able to inject many of his own ideas into the game which was exciting, but if people don't like the game, the blame can fall onto him. He loves both titles, with Uncharted 4 he considers a more "pure fun" kind of game, quite a world away from a "tactical" game like TLOU.
"Personally I've always gravitated more towards games like TLOU because I'm very passionate about gameplay mechanics and systems."

"I think one of the biggest things was encouraging designers to think in a systemic wayand we have a very talented design team that was able to push for a lot of really cool systemic features."
Prone is one of these features. Newman says Ellie pulling out an arrow out of her shoulder was merely meant to be a non-gameplay feature, but it became part of gameplay: bleeding out from the arrow competes against your desire to defend yourself from enemies, and you'll have to make your decisions wisely. He positively glows talking about the team, being proud of how their ambitious ideas have come together from level design to character emotes in a fun process.
Speaking of character emotions, we've mentioned how real they are as we play through the game. It's not his area of expertise, but Newman can definitively say rigging has been one of the greatest challenges. It's one thing to model a character, it's another to animate the expressions, and the tech designers have worked to control every aspect of the face: it's not just expressions, it's the various fleshy parts of say, the nose. The colour can drain from their face, or their eyes go bloodshot from crying.
He also reveals a system of emotions that the game dials into at various points of the script. He provides an example of "confusion" being at a "0.4" level, and it accordingly gets shifted both in scripted ways and systemic ways – the latter referring to combat situations in real time, the former for occasions in which you explore, like with Dina – so you can very quickly pick up on what a character feels at any given point in the game.
Sound design plays into this as well, but while Newman can't fully reveal the sound design team's research process, he does tell us they do extensive research and material gathering, like going to a dog ranch for recording barks and even the zoo to get a variety of "crazy" sounds. There's a "Murmuration" technology in play he's excited about:
"Basically, a lot of games [ they ] have a sound for heavy breathing like if you've been sprinting for a long time, but it tends to be very discreet – like you hear this intense breathing and then it ends. What Murmuration allows is that all of our characters have this heart rate that is able to slide up and down based on events in the world; so if you've just been sprinting, in melee combat or just been shot, [ and ] the situation is tense, that value can slowly move up and down."
Depending on the "value", it will select from breathing loops that overlap and work seamlessly with each other. It's also used heavily for the infected enemies to help players better recognize the awareness of enemies.
"With humans, I think it's always very clear because they can say "I think she went over there" because they're literally telling you what they're thinking, but with the new detail that we've been able to put into the infected, even though it's just grunts and growls and kind of weird sounds, you have a much better idea of – "Wait I think they just heard me" or "I think they lost me and now they're calming down"."
As such, it seems only natural that the AI has improved from the first game, which we've mentioned in our demo gameplay write-up.
"We are trying to be more true to what the enemies would know and when they would know it. It sounds like a very minor thing but in TLOU but if you kill someone with a silent weapon, you'd have the expectation that no one would know where you were. But if someone saw their friend die – we call it witnessing a silent kill – if they witnessed it in TLOU, they would immediately know where you were."

"In TLOU we only had 2 states: the enemy didn't know where you were, or they knew exactly where you were. In TLOU2, we introduced this middle state that honoured the fact that if someone witnessed their friend get killed by an arrow in front of them, of course they're going to be alert, they know someone did that, but they shouldn't know exactly where it came from."
Enemies would be vaguely aware of where you were even if they're not so sure yet. It means silent kills are still risky, but there's still that grey area where you can still slip away when the opportunity presents itself. The enemies feel more human, intelligent, while not being completely unfair.
While the "human intelligence" might not necessarily apply to your fungi pals, we can still bring up the Shambler here. Newman brings up the Bloater, which, in his words, was where they "did everything" with it:
Devastating melee attack
Possessed a projectile attack
Ton of armour and health, thus being a great all-rounder
The Shambler became the result of wanting to have something "in-between" a Clicker and a Bloater. It's able to leave a cloud of corrosive acid that persists, so even as you try to run, there's an extra obstacle, more zones of danger that you need to navigate around besides the enemy itself.
"I think because of that we ended up with something that felt like a natural evolution part of the natural infected ecosystem, because it already doing something a bloater was doing, but in a different way to still be fresh to the series."
Its nature equivalent would be fungi that eject their spores forcibly, with an explosion of spores.
Last but not least, with all these new tech and additions into TLOU2, we asked if there was something Newman felt they must have in the game. He admits the "prone" mechanic has been one that has given the team the most heartache and difficulty due to multiplying the number of situations the player can be in.
"Not only is there prone – which is lying flat on your stomach – there's also supine – that is flat on your back – and if you're prone and you start aiming around and up, and suddenly you're on your back if you release [ your ] aim… this is a state that we had to account for a lot."
Healing, crafting, swapping to your backpack – all these have their own animations, then they had to make more for the prone, supine, crouch and standing states too. Nevertheless, the work seems to have been much worth it – the tension of hiding under a bed, a truck, and seeing your enemies walk past you – that feeling pays off in having one of the most fluid mechanics possible gameplay wise, in terms of accessing all your capabilities at any point in time.
---
Now, that was a lengthy one, wasn't it, and we haven't even gotten into the gameplay proper yet! We're definitely excited to be able to go into more in-depth, because the story is so worth the wait. The interplay of mechanics and story, in this interactive package, is what really elevates this game to a work worthy of being called a masterpiece.
The Last of Us Part II can hit where it hurts most like no screen-viewing of media can do, with the controller in your hands, and you making the decisions, and following in Ellie's journey through this ravaged world. Her story may be set in your stone, but your actions aren't. Go forth, for this world Ellie lives in is both cruel and beautiful, with the whispers of both the past and present that will haunt your every move.
---
Check This Out Next
---