Ahead of its launch in Japan, Heaven Burns Red is now available to pre-download. After suffering some delays, it's finally going to be available, even if only for its home country.
While you pre-download the game, don't be surprised if you come up against launch day errors for Heaven Burns Red. It's basically a rite of passage for these quite highly anticipated mobile titles. Recommended specifications for the game are given as follows:
iOS
OS: 13 or newer
Compatible devices: iPhone 8 plus or newer
RAM: 3GB RAM or higher
Android
OS: Android 7.1 or higher
CPU: Snapdragon 835 or higher
RAM: 4GB or higher
The base download is roughly 1.05GB, and the batch download is at 4GB for no voices, and 4.7GB with voices. Be sure to have sufficient storage space. You'll need to manually start the batch download according to the instructions on the official Twitter.
Heaven Burns Red is written by Jun Maeda, who also wrote renowned anime like Angel Beats! and Clannad. It features high schoolers taking on an extraterrestrial enemy is humanity's days are numbered. For more details about the game, check out our coverage of the game's story and gameplay.
No specified time was given for the server's going live, so just get that download done and stay tuned.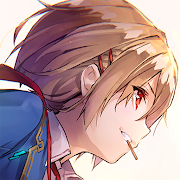 Heaven Burns Red
Android, iOS
Key by Associate Maeda, "Heaven Burns Red (Hebban)" is a story of girls who are entrusted with the last hope. A dramatic RPG that challenges you to fight for your life while running around the field and experiencing the irreplaceable everyday life!