Developer Colorful Palette's rhythm game title, Hatsune Miku : Colourful Stage is now available in the SEA region for mobile devices.
Players from Malaysia, Singapore, Thailand, Indonesia and Philippines can finally try out the game through the Google Play Store and Apple App Store.
The SEA version for Hatsune Miku: Colorful Stage will be joining in the Global servers, which means that players joining in will be all caught up with the current story.
However, that also means that players will be missing out on around 2 years worth of content.
Hatsune Miku: Colorful Stage having a SEA version also means that players from SEA will not need to use any third-party apps or a VPN to bypass the previously implemented regionlock.
For context, the Global Version of the game includes North America, South America, Middle East, Europe, and Oceania.
About
Hatsune Miku: Colorful Stage features a number of renowned songs from the Vocaloid singers, while part of the songs feature a 3D MV mode.
Players can also select the songs with the original version or SEKAI version, which is a crossover of the Vocaloid singers and the in-game units.
Welcome Campaign
As a celebration for the launch of the SEA version of the game, a welcome campaign is currently underway with in-game items for clearing missions, new login stretch goals and more.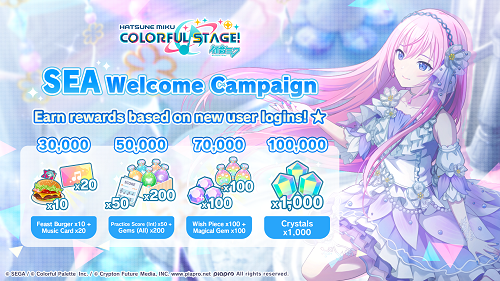 ---
For more information on the title, do check out the game's official website here.
Hatsune Miku Colorful Stage
Android, iOS
Find your true feelings! A mysterious song named "Untitled" with no melody or lyrics is passed around amongst the youth in Shibuya, Tokyo. This song unlocks access to "SEKAI" a strange place that allows everyone to discover their true emotions and their own song. Play with Hatsune Miku and her Virtual Friends, as well as an original cast of 20 characters overcoming their struggles through the power of music.
---
Check This Out Next
---