With Tales of Crestoria being our for a decent amount of time, I've decided to give my two cents about which SSR units are worth more than others in the bigger picture.
And since you can pretty much get one of these units (excluding Kanata, Aegis, Vicious and Misella) guaranteed for free, this tier list will be more towards on summoning your first character using your Gleam stones!
Quick Note: For the best way to reroll, it's easier to just redownload/reinstalling the app since most of the tutorial can be skipped.
Tales of Crestoria SSR Unit Tier List
This tier list evaluates these certain criteria that these units offer:
How well does the character perform in raids

How strong it is in PvP

How well does it synergize with other characters (same element and weapon)
SS Tier
Velvet [Tainted by Vengeance]
Velvet being the master of martial arts, she has one of the hardest hitting Mystic Artes in the game at the moment with a staggering 450% damage output.
Her awakened passive grants two bonuses: one of which grants all characters to receive 10% increased attack. The other passive boosts martial arts attacks by 20% after reaching 20 hit count.
Her only drawback currently is the low hit count her arts produce. But she still one of the most amazing damage dealers and probably the best characters to use in Water raids.
Leon [Defiant Heart]
Leon doesn't mess around when it comes to showing off his mystic art – it's a 29 hit combo that can leave the enemy with a cursed status. Only Yuri beats his mystic arts hit count. However, Leon's Master Swordsman passive grants a 10% increased attack for all and a massive 20% increase for dual-type attackers, after achieving 20 hit combo.
Most importantly he is a Dark element character which means he only takes more damage from Light characters but can deliver normal damage to the rest of the elements except Light, which obviously, will take more damage. He is also the best character to have in a Light raid.
Sorey [The Dawn's Guidance]
Sorey really stands out from the rest is with his Bolt Tempest mystic art. While it deals decent 320% damage 8 hit attack, the chance of applying Wildfire is what counts the most. Every time someone with Wildfire gets attacked, a portion of damage gets transferred to every single team member of that target.
This is an especially deadly debuff in PvP because as per our records, only Earth and Light element characters can mitigate wildfire with some Memoria stones while the rest of the characters are at the mercy of receiving this debuff.
Stahn [Energetic Soul] 
Stahn brings with him an impressive 6% attack bonus and a 4% chance to reset fire arts when he gets fully awakened. He is one of the building blocks for utilizing sword character teams in PvP.
His mystic art is also quite decent, costing only 180 Over Load and dealing 360% damage. His 2nd art can also leave enemies burning. Overall, he has really strong stats.
Luke [Shaken in the wagon]
Luke has an amazing, low-cost mystic art that delivers 25 hit counts. His 1st art also can damage up to two adjacent enemies with a nice 8 hit count.
Overall, he has decent stats, works really well in sword-based PvP teams that focus on sword characters and his 20% HP increase bonus for Fire members is a nice awakening bonus.
S TIER
Ludger [Twilight Memories] 
Ludger is an expert when it comes to debuffing your enemies. What really makes him strong in this tier list is his awakened bonus – granting 10% ATK to All and 13% to Dark allies, meaning he can boost Dark allies by up to 23% ATK.
This makes Leon and Ludger the perfect starting pair for anyone who wants to build a strong Dark team.
Jude [Soul of Diligence]
Jude has a nice self buff to increase his own damage output. What makes him really strong are his artes – all of them deal very good damage and produce nice amount of hits.
Most importantly – it only costs 130 Over Load to activate his Mystic Arte making him one of the fastest Mystic Arte users.
Rita [Flash in the Twilight]
Rita has one of the hardest hitting Mystic Artes in the game. Not only that but combining with her own Memoria Stone produces beastly damage after breaking the boss since critical damage is guaranteed.
She is a very good water element caster.
Cress [A Moment's Peace]
Cress doesn't shy away when it comes to racking up hit counts – his mystic art deal 310% damage and produces 16 hits. And his second art – Phoenix Dance, produces 12 hits but more importantly, it may inflict burn status on enemies which increases damage dealt with them. 
Cress is also superb in Wind raids.
Reid [Serene Hunstman]
Reid is as cheerful as he is dangerous when it comes to his awakened passive which allows any fire art to reset its cooldown with a 5% chance. His mystic art – Burning Phoenix also deals 380% damage and overall, his damage output is quite impressive.
Not to mention he is a Fire element character which is one of the easiest elements to build early on when starting out.
Vicious [Jig of hot lead]
Vicious is an expert when it comes to combo attacks – with an average of 12.5 hits per each art and basic attack, he might just play the central part of building up the hit counter.
Not to mention he is of a dark element, so he can be utilized in more than just single element teams in different types of content. He also provides a decent 15% HP bonus to all characters, when fully awakened.
Yuri [At Yesteryear's Window]
Yuri has the most amounts of hit counts because of his mystic art has 38 HITS. Not only that but his both art skills also deal decent damage and produce a good number of hits.
He is a quite good combo creator. What's even more interesting is that Yuri's awakened passive bonus has a chance of clearing certain debuffs which makes him an interesting choice for those who are looking for a support combo hitter.
A TIER
Estelle [Reading in the Flowers]
Estelle at least knows her true purpose – to be the healer of the group, unlike some other characters who stick with a hybrid build of attacking and healing. What's also special about her is that she has one of the highest HP stats in the game.
She is truly annoying to deal with in PvP since her AoE heal is extremely potent and can restore half the health of whole team. In PvE, she's not so desirable since attack is still king.
Kohaku [Sparking in Battle]
Kohaku works really well with Velvet and other martial arts characters. What's also really good about her is that her healing arte can remove physical debuffs. Most importantly – her Mystic Arte only costs 160 OL to activate and deals very decent damage and produces 20 hits.
So, she's a rather nice character to have for support and increasing hit counter.
Kanata [Blade Swathed in Sin]
Kanata has a strong arts attack that targets all enemies and produces a decent amount of hits. He is quite versatile because he is of Light element and his awakened passive grants a sizeable 15% attack increase for all characters. His mystic art also deals 380% damage.
The biggest drawback is the fact that there aren't that many longsword users and then you are missing out on the same weapon and element bonus when building your team.
Kannono E. [Greatsword Brandisher]
She boasts pretty awesome stats Both of her arts generate 7 and 10 hit counts and her mystic art overload cost is pretty cheap with a 10 hit count which makes her a pretty good combo attacker.
She also grants 10% increased to attack to characters after awakening her and her second effect recovers 15% of HP to longsword users after BREAKING an enemy's attack. She one of the best characters to use in Fire raids.
Milla [Noble Hearted]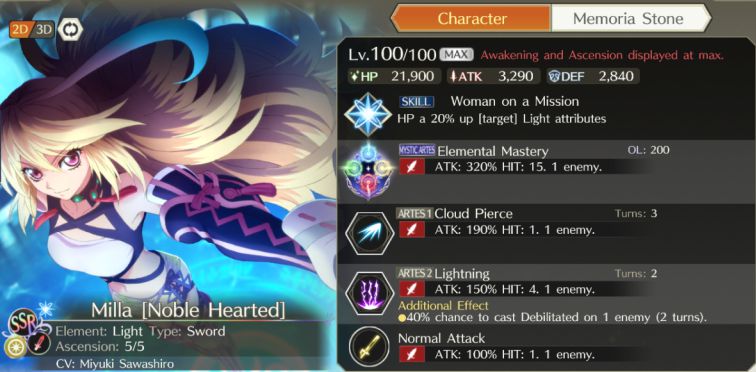 Milla can use art that applies Debilitate debuff on enemies which increases damage received. This art also has a short cooldown which makes it possible to keep Debilitate active at all times.
There aren't that many Light characters in the game so she is quite useful for when you want to build a team that's more fit for all content. She does seem to be fragile because of her low HP and defense.
Asbel [Under an Azure Sky]
One of many sword characters that differentiate itself from others with his first art skill which can improve his offensive capabilities.
He is also quite good for when it comes to building fire raid teams, since his awakened bonus grants 20% increased attack for all water allies, after reaching 20 hit combo.
B TIER 
Lloyd [Twilight Training]
Although Lloyd has a strong but expensive Mystic Arte, nothing else makes him that great. He has below average attack and serves the purpose of giving 20% DEF to earth allies once awakened.
He has a very niche use until players will start building mono element teams.
Aegis [Lance that Lights the Way]
Aegis lives up to his name and focuses on providing up to 25% defense for his water teammates when fully awakened.
His damage output isn't that amazing and the meta from beta testing in Tales of Crestoria was to focus on maximizing damage output.
Misella [The Blazing Bloom]
She is the perfect choice for somebody who's looking for a supportive character. Her awakened passive grants 15% DEF increase to all characters and her 1st art can heal up to 45% Hp for a single ally.
She can also Burn enemies with her 2nd art to provide that extra debuff support. Overall, she is a decent fire element choice for those who will struggle with survivability.
That pretty much sums up this tier list. Do you agree with this list? Let us know!
For more information about the game check out here!