With the release of Gavial's event for Arknights global servers, it comes along with Ceobe's Fungimist, a rogue like game mode that can be tough to maneuver without a guide. Due to its random nature, strict clear guides are not feasible, but you can at least pick up some tips to make successful runs more likely. It's time to dive into the RNG fest!
---
RECOMMENDED OPERATORS
The event will see you spend event-exclusive currency, known as Hope, to recruit the Operators that will make your squad. Recruitments will take both the levels and any skill levels/masteries where relevant from your own line-up. You will also be able to obtain Operators who are max level, max potential with all skill masteries for free under Temporary Recruitment.
Ideally, you will want at least one of each class by the time you reach the last boss, but this game mode will test your improv skills, and your luck. Here are some recommendations sorted by class.
| | |
| --- | --- |
| GUARD | Prioritize ranged guards for versatility |
| Midnight | Ranged, can bring Arts damage |
| Cutter | Skills are incredibly powerful |
| Specter | AOE, self-sustain |
| Bibeak | SITUATIONAL on SP relics |
| Lappland | Ranged, silence, Arts damage |
| Sharp | If you just need more DPS or have good relics, pick him up as he's free |
| Thorns | King of versatility, especially with S3 M3 |
| SilverAsh | Old reliable Truesilver Slash, can also be an off-tank with S2 |
| Blaze | Luxury pick, especially with S2 M3 |
| | |
| --- | --- |
| VANGUARD | Low priority picks, squad space is limited and DP printers are not in demand |
| Yato | SITUATIONAL, can be bait with reduced redeployment time |
| Fang | For early game, blocks two |
| Bagpipe | S3 M3 is just too good |
| | |
| --- | --- |
| CASTER | DPS |
| Steward | Early game, talent can come in clutch |
| Click | Fast attack speed, can stun on her S2 |
| Beeswax | Bait, summoned pillar can take aggro |
| Eyjafyalla | S3 for certain special encounters, flexible enough for S2 |
| | |
| --- | --- |
| MEDIC | Forced for at least one map variation |
| Ansel | For early game. Hibiscus is also an option but Ansel can extend his range on his skill + multiple targets |
| Warfarin | Swap between heals or buffs |
| Touch | SP regen on heals very good, free |
| Silence | For drone versatility |
| | |
| --- | --- |
| SNIPER | Mostly relic dependent if you intend to use them as DPS |
| Kroos | For early game, never forget the kokodayo |
| May | Slows on her S1 |
| Stormeye | Is free, roll high on his talent for incredible DPS, can multi target with skill |
| Firewatch | Tactical nukes |
| Blue Poison | Some arts damage helps her stay longer |
| Rosa | Crowd control and high damage on S3 |
| Exusiai | APPLE PIE! Destroys mobs with the right relics |
| | |
| --- | --- |
| SPECIALIST | Also known as fast-redeploy is king |
| Jaye | DPS, self-sustain |
| Gravel | Tanks shots, stalls |
| Projekt Red | Crowd control, or sniping single targets |
| Phantom | Red, but black and expensive |
| | |
| --- | --- |
| SUPPORTER | They… support |
| Podenco | Switches between healing or Arts damage with slow/silence. Also buffs other Supporters |
| Scene | PANORAMA!!! Helps with early waves if you have no ground units |
| Mayer | Same role as Scene |
Deepcolor is not included here as her summons cannot be refreshed, but if you can get her for free, it's not a bad idea. Shamare with her S2 M3 can also be useful, if you're forcing a Supporter run; M3 is really recommended as it can help even a non-buffed E1 60 Jaye survive the normal ending's boss' powered shot.
| | |
| --- | --- |
| DEFENDER | The meatshields, especially when the Bullies come in |
| Cardigan | Self-sustain for early game |
| Spot | Similar role to Cardigan, except he can heal the team instead |
| Matterhorn | A well-built Yaka will be immortal |
| Nearl | Does healing defender things |
| Saria | Not priority for early game, but is as strong as ever |
| Hoshiguma | Stat stick |
| Nian | Expensive stat stick. Can block 3 instances of damage and helps block 2 units block Bullies |
While you can pick the other 3-star free recruits, they don't have very good stats and do not have talents. Hope you didn't neglect your 3-stars!
STARTING OUT
The unlocks are gotten through Normal mode, and you can pretty much just spend your entire time here without the Hard (The Road of Misery) mode modifiers. You'll be asked to choose your starting squad for your first modifiers. Depending on your roster, you would probably prefer to pick a squad that you have the most promoted units in. For the unfamiliar, you can opt to go for Easy mode first (Joyous Wandering).
When you get the recruitment vouchers, there's no harm in picking the free Temporary Recruitment unit. As mentioned, these units come with max level, max potential and once promoted, will have all their skills at Mastery 3.
The starting vouchers can of course, really make or break your early game, but if you can adapt, then the bumpy start would be less of an issue. I will very definitely recommend you save most of your Hope to promote your carries. Pick at least one 4-star unit to start with so that you don't waste the first level up.
GENERAL RELIC SELECTION
Relics come in a variety of flavours, and will unlock as you play through the mode in at least Outfitted Attendance (Normal) difficulty. You'll be able to get:
Free Hope
Squad Size expansion (maximum 13)
Increased deployment limit
Buffs to a specific class
General unit buffs
General enemy debuffs
Unless you are really lucky, you will probably be struggling a lot between squad size and deployment limits. When it comes to class buffs, you'd of course want to pick the buffs for the class you have the most units for. There will also be relics that will reduce your unit HP, in return for higher DPS.
Managing Hope is important, as you'll likely be short on it most of the time:
Recruitment costs

4-stars cost 2
5-stars cost 4
6-stars cost 6

Promotion costs

4-stars cost 1
5-stars cost 2
6-stars cost 3
GENERAL MAP TIPS
The map that you'll get on the way to the bosses are pretty much distributed at random, so here's just a rough primer of what to expect at which location.
ROADSIDE ROBBER
The starting enemies can either be snipers or casters, with slugs and more snipers/casters thrown into the mix.
BEAST TAMER
This map can have the Objective and Incursion point be flipped. Should the Objective be on the bottom, there will be a large enemy standing in the middle indicated by the box. Avengers (the katana wielders) can also spawn in the variation where the Objective is at the top.
INFILTRATE AND OUTRANGE
Those guys can attack from range, so watch out. This map also has Wraiths of both regular and Elite types, so have enough DPS or slows.
BOB'S FARM
The explosive slugs can also all be red for extra spicy difficulty. Big Bob himself will also walk down the aisle. One last thing to note is that there will be One flying drone, and later, there will be one more explosive slug together with the non-explosive ones.
DUCK LORD'S CHALLENGE
A special encounter map. If you can have a unit like May (for rapid slows) or Eyjafyalla (Volcano) and a Medic to support them, both the Duck Lord and his Polar Bear bodyguard can both be readily burst down. Of course, it helps if you can inflict slows (stuns do not work). The duck cannot be blocked, while the bear will most likely one-hit kill all your units.
URSUS TETRIS
Enemies will file down the lines. If you have a unit like Thorns, or ranged Guards, you can probably plug the gaps towards the bottom and slowly defeat the advancing mob. Sometimes, large armoured units may also join the procession.
MASTERLESS COLOSSUS
One of the possible boss maps you can encounter. The Colossus does not have a set spawn point, so you could possibly get screwed over by its starting position. Arts DPS is definitely recommended. For the most part, it will target the most two recent deployed units to stun, so if you can work around that, one part of the battle is done. Shielded Casters can also join the fray as you juggle with dealing enough Arts damage to kill the Colossus. Letting it leak will deduct 2 HP.
DEMON HUNTER
Agents that reduce unit block count will be hanging out here. Besides that, there will be at least two Bombtails who could destroy your formation. The Duck Lord or his bodyguard will take the lower route.
VILLAIN OF THE BARREN HILLS
Ranged units are not safe here, with Fanatics bashing in your units. Joining them are Possessed Heavy Defenders and slugs. If the Duck Lord or Polar Bear spawn, they will take the lower route.
ARTS AND ANVILS / ASSAULT
DP regeneration is slowed on this map. Arts drones may also spawn right next to the Objective. The top most lane will see a trickle of drones, while the bottom lane can feature Defense Crushers.
OCCULT GATHERING
Sleepy Sarkaz are abound, with the starting set dealing heavy Arts damage once awake. They'll be joined later by their greatsword wielding brethren as well as the Sarkaz Casters who bind.
WILDERNESS HUNTING GROUP
The regular Stage 5 final map. The boss will continuously fire bolts both regular and purple at your last deployed unit much like Faust, except his is Arts damage. Backing up your Defenders with healers will definitely be helpful, besides having enough DPS to burst down the boss who also cannot be blocked.
VALLEY AMBUSH
Units will lose a percentage of their HP on deployment. The place where the mortar enemy spawns will be random, but there will always be one. Wolves will begin circling the Objective area, with larger enemies and Elite Wraiths also sometimes thrown into the mix.
THE ABANDONED
One of the Area 3 maps. You will want enough burst damage to defeat the boss, and a unit tanky enough to take the shots as the Forsaken One dies. Deployment order is important when facing this boss, as if the boss is not blocked, it will annihilate your squishy DPS or Medic.
LAND OF RUST AND SMOKE
HP will constantly decrease, typically the map that will force some Medics. A variation of this map has a whole lot more of blocked tiles. Enemies that spawn from the side lanes include mortar enemies, casters and, at later stages, agents.
ANCIENT ICE
There will be a frost originium slug in the middle, position varies. There will be Frost Casters, more frost slugs, icecleavers, and frost bombtails. Hope you have enough ranged units!
SARKAZ RAID
W will take a winding path on this map. Sarkaz warriors will stream in from the top, both large and small. The armoured units may also be placed on the Medic tiles instead of this formation. If the duck or bear spawn, they will take the same path as W.
FLYING THIEF
The boss will be the Jetman, who will fly when he encounters a melee unit. He will take the bottom lane and circle around, accompanied by invisible units (including Casters and Snipers). Besides the Defense drones, there will also be flying Arts drones at the top lane. Jetman will make two circuits before he heads for the Objective.
SEA OF FIRE
There will be two mortar units who will spawn from the center incursion point. The Junkman variation is called Wandering Evil, and Junkmen will make one circuit around the middle high ground tile of the map.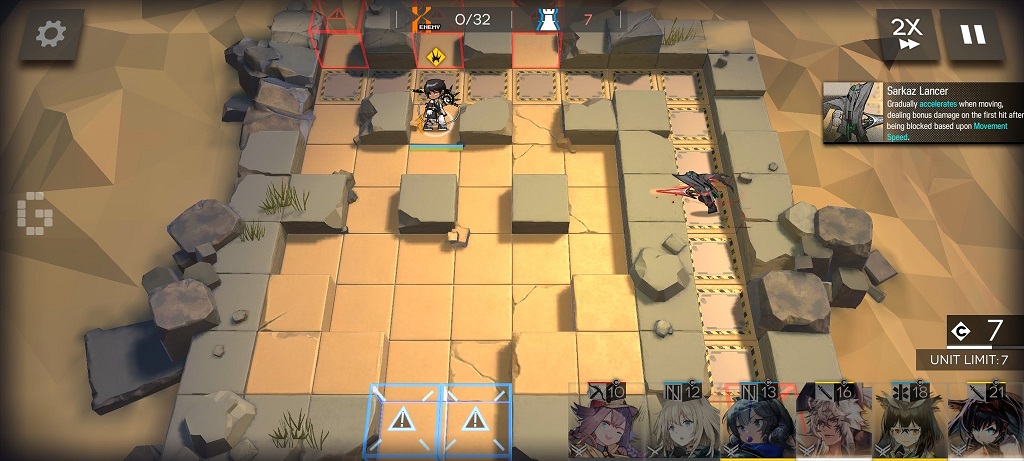 BARRENS
Probably one of the most disliked regular maps, and for good reason. I usually only attempt this map if I can have three self-sustaining melee units to plug the top (where Thorns is) and let 3 ranged DPS (at least one slow is good unless you have enough attack speed) deal with the stronger lancers and those that come out from the bottom incursion point.
FANATIC SIEGE
A special map you'll come across when you choose to help the Cautus girl. Eyja's Volcano is especially spicy here to burst down most of the enemies at once. If you do have her, you'll need to place down a distraction unit who's tanky enough to draw aggro away for her to get all her attacks off. Otherwise, you will have to find some other way to do burst while surviving these hard hitting enemies.
REACHING THE ALTERNATE ENDINGS
To reach either of the other two endings, you will need to clear the first ending at Wilderness Hunting Group before you can begin to unlock the others.
PERPLEXED TRAVELER ENDING
You will need to defeat the Frigid Calamity at the end of this route. To get there, you will need to do the following steps:
Encounter Non-Existent Fairy Tale Part 1

Choose to bury the bounty hunter (lose 5 Originium Ingots)

Encounter Non-Existent Fairy Tale Part 2

Sacrifice a total of 3 Objective HP for the Psychedelic Treasure Map relic

Encounter Non-Existent Fairy Tale Part 3

Obtain the Bloodstained Flyer
The boss has two phases, and Frost Altars will spawn at the T-marks. The boss will start out invincible, and will also be invincible at the start of its next phase.
RETURN TO THE WILD ENDING
Once you've defeated the Frigid Calamity, you'll gain access to a new set of relics to unlock the final, open-secret ending. To get there, you will need to do the following:
Encounter After the Deathmatch event

Take the Heavy Metal Chest relic (especially pertinent is the +2 DP cost for all Operators on picking this up)

Defeat Area 3's boss

Choose to take the Pitch-Black Key relic

Encounter Looming Disaster event

Take the "Hand Gun" relic
Once you defeat the Area 5 boss, you'll be taken to Area 6. There, you'll find a shop, a safe house, a combat stage and finally, the boss.
DP regeneration is slowed, redeployment time is doubled, ATK and DEF of allied units are also lowered. Placing forward units on the defensive tiles aren't very helpful, and also there'll be a swarm of other enemies who will be flooding in, including two Sarkaz Lancers in the mix. Hopefully you'll have built up enough HP or Defense as your units can and will get one-shot even on the special tiles.
---
May the odds be with you, doctor! Meanwhile, I'm going to mass even more honey cakes for Kay. Hopefully you'll enjoy more of this game mode in Arknights, I definitely am enjoying the ol' Fungimist, and may this guide get you to clear more runs.
While the relics are only unlockable in Normal or Hard, they'll all be available in the third week of the event, and after unlocking, you can chill in Easy to just get the items for the collection log. Have fun!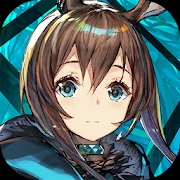 Arknights Global
Android, iOS
Take on the role of a key member of Rhodes Island, a pharmaceutical company that fights both a deadly infection and the unrest it leaves in its wake. Together with your leader Amiya, you'll recruit Operators, train them, then assign them to various operations to protect the innocent and resist those who would thrust the world into turmoil. Your tactics will determine the future of Rhodes Island. Fight for the Dawn!