As the prophecy of Honkai Star Rail foretold, Master Diviner Fu Xuan will be joining the playable cast in the second half of version 1.3, Celestial Eyes Above Mortal Ruins.
Fu Xuan is the Master Diviner of the Xianzhou Luofu's Divination Commission and one of the Six Charioteers. She possesses the ability of the third eye and the Matrix of Prescience, allowing her to foretell the outcome of future events and calculate Xianzhou Luofu's routes.
Character Preview
Fu Xuan is a 5★ Quantum-Type character who walks the Path of Preservation. She specializes in reducing the DMG taken by all allies, redirecting some incoming damage to herself, and increasing the Max HP and CRIT Rate of teammates. The breakdown of her kit is as follows:
Novaburst (Basic ATK)
Deal Quantum DMG to a single target equal to a percentage of Fu Xuan's Max HP.
Bleak Breeds Bliss (Talent)
During combat, Fu Xuan can apply Misfortune Avoidance for the team, allowing them to take reduced DMG while the state is active.
Furthermore, when Fu Xuan's current HP drops below a certain percentage, restores back a set amount of HP. This effect will not trigger if she takes a killing blow and can only activate 1 time initially, and 2 times at max.
Known by Stars, Shown by Hearts (Skill)
Activates the Matrix of Prescience and distributes a certain portion of unshielded damage taken by Fu Xuan's teammates over to her for a set number of turns.
Additionally, the Matrix of Prescience grants the team "Knowledge", increasing their Max HP and CRIT Rates.
The Matrix of Prescience state will be nullified if Fu Xuan falls in battle.
Woes of Many Morphed to One (Ultimate)
When activated, deals Quantum DMG to all enemies and increases Fu Xuan's health restoration trigger count of her Talent by 1.
Of Fortune Comes Fate (Technique)
When activated, all party members receive a Barrier that lasts for a set duration, during which it will block all incoming attacks and prevent the team from entering battle when attacked.
If the Barrier remains active while entering battle, Fu Xuan will automatically activate the Matrix of Prescience at the start, lasting for a certain number of turns.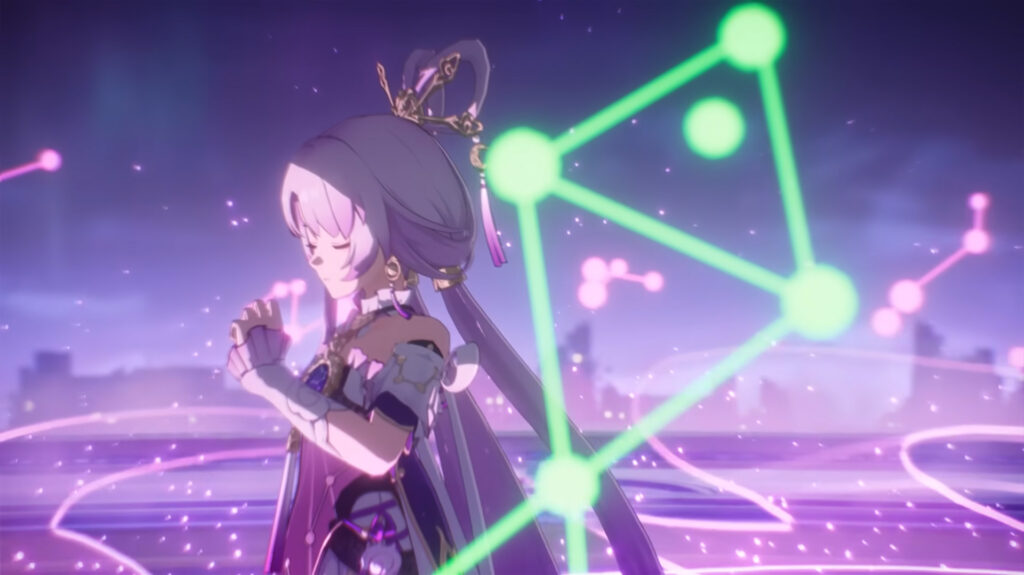 Ascension Traces
Taiyi, the Macrocosmic (Ascension 2) – Fu Xuan regenerates extra Energy when using her Skill if the Matrix of Prescience is still active.
Dunjia, the Metamystic (Ascension 4) – When Fu Xuan uses her Ultimate, heals all other allies.
Liuren, the Sexagenary (Ascension 6) – If an enemy applies Crowd Control debuffs to allies while the Matrix of Prescience is active, allies will resist all Crowd Control debuffs during the current action.
This effect can only be triggered once. However, if Fu Xuan activates the Matrix of Prescience again, resets the number of times this effect can trigger.
Fu Xuan is a Preservation character who specializes in keeping her entire team alive and she can do it in several ways. While Fu Xuan possesses no shield abilities, she instead redirects some incoming damage to herself through the use of her Skill, Known by Stars, Shown by Hearts. In other words, Fu Xuan is the shield.
Additionally, Fu Xuan's Skill also activates the Matrix of Prescience, which grants her teammates increased Max HP and CRIT Rate through the Knowledge buff, the former improves the team's overall survivability while the latter is helpful to enhance allies' damage output.
Bleak Breeds Bliss, her Talent, also greatly improves her entire team's survivability, reducing the incoming damage for all allies and restoring Fu Xuan's health when her HP is low, synergizing with her Skill and her role as a human shield.
Lastly, her Ultimate, Of Fortune Comes Fate, deals Quantum damage to all enemies but most importantly, increases the trigger count required for her Talent to heal her, which helps to sustain Fu Xuan.
Eidolons 
Fu Xuan is already a powerful defender at E0 but if you don't mind spending more Stellar Jades, you can consider pulling for her Eidolons as they do provide her various utilities that make her a formidable support.
Her Eidolon 1, Dominus Pacis, grants her allies additional CRIT DMG while they are under the Knowledge state applied by her Skill. Combined with the increased Max HP and CRIT Rate, her E1 further made her a great support for DPS, enhancing both their damage output and survivability.
Optimus Felix, her Eidolon 2, serves as a lifesaver during tough encounters, granting an effect whereby if any ally is struck by a killing blow while Matrix of Prescience is active, all allies will not be knocked down during the same turn, and 70% of their Max HP will be restored.
While the effect can only be triggered 1 time per battle, it helps prevent defeat.
Fortuna Stellaris is her Eidolon 4, which regenerates 5 Energy to Fu Xuan whenever an ally under the Matrix of Prescience is attacked. A straightforward yet powerful Eidolon that enables Fu Xuan to cast her Ultimate more frequently.
Lastly, Omnia Vita, her Eidolon 6, keeps a tally of the total HP lost by all allies in battle once the Matrix of Prescience is activated. When Fu Xuan casts her Ultimate, it will deal an additional 200% of the tally of HP loss, capping at 120% of Fu Xuan's Max HP, and resets afterward.
This powerful Eidolon essentially gives Fu Xuan the ability to deal extreme amounts of damage to enemies as long as allies are losing HP to boost the Ultimate.
Suggested Relic Set 
For Relics, we recommend focusing on providing Fu Xuan with as much HP% as possible as her abilities scale with Max HP. Since she also requires a high amount of Energy to cast her Ultimate frequently to gain an additional charge of HP restoration from her Talent, go with Energy Regeneration Rate as a main stat for your Planar Ornament Link Rope.
As for the recommended sets, you can equip Fu Xuan with the Guard of Wuthering Snow set, reducing the DMG taken while restoring her health and regenerating energy if her HP is equal to or less than 50%.
The 4-piece Longevous Disciple would also be a great option as not only does it give Fu Xuan increased Max HP,  but also improves her CRIT Rate whenever her health decreases, allowing her to deal a decent amount of damage.
For Planar Ornaments, the Inert Salsotto set will synergize with the aforementioned Longevous Disciple, increasing the overall CRIT Rate and boosting Fu Xuan's Ultimate DMG if her CRIT Rate achieved 50% or higher.
Since she scales mostly with Max HP, the Fleet of the Ageless set will also benefit her, especially when you can provide her with 120 SPD or higher, thus increasing the ATK of all allies. Alternatively, the Sprightly Vonwacq set would also be a good choice for the increased Energy Regeneration Rate.
Suggested Light Cones
Like any other 5★ limited characters in Honkai Star Rail, their signature Light Cone tends to be their best-in-slot, and Fu Xuan follows the same pattern.
Her signature Light Cone is "She Already Shut Her Eyes", which increases her Max HP and Energy Regeneration Rate passively. Additionally, whenever the wearer loses HP, increases the DMG of all allies for 2 turns. At the start of each wave, also restores HP equal to a percentage of health already lost by the character themselves for the team.
Essentially, this Light Cone further bolsters her supportive capability, synergizing with her ability to draw in damage and enhancing her team's damage output while restoring health ever so often.
If you are saving up your Stellar Jades, you can consider the 5★ Texture of Memories, which is exchangeable at Herta's Shop. The Light Cone increases Effect RES passively, but more importantly, it provides Shield to the wearer equal to a portion of their Max HP whenever enemies attack them while they have no Shield, synergizing with Fu Xuan since she could not provide Shields herself.
To further bolster her survivability, the Light Cone also decreases DMG taken if the wearer is under the effect of Shield.
For 4★ options, you can consider either At This Very Moment or Time Fleets Away, both great choices that strengthen Fu Xuan's defenses.
Final Thoughts
Judging from her abilities, Master Diviner Fu Xuan of Honkai Star Rail is looking to be a powerful character who can help sustain an entire team during tough encounters. In combination with all her abilities, each synergizes with one another, Fu Xuan is able to provide sustainability to her team twofold while redirecting damages to herself.
Do note that Fu Xuan is only able to redirect a portion of incoming damage to herself, so avoid over-relying on her and ensure all allies stay healthy by bringing along a healer for long battles. That said, her Ascension 4 Trace named "Dunjia, the Metamystic" heals all other allies when she casts her Ultimate, making her a sort of Preservation Abundance hybrid.
As such, she is a versatile guardian who can work great with many characters especially those who can benefit from the increased max HP and CRIT Rate she provides. Due to her providing great sustainability, she will work best with any characters who are weak defense-wise such as Seele, Yanqing, Silver Wolf, Pela, Tingyun, and others.
Overall, Fu Xuan is a recommended character to pull for if you are looking for a character who can provide teams with plenty of sustainability and ensure survival in tough battles.
What do you think of Master Diviner Fu Xuan in Honkai Star Rail? Join the discussion on the GamerBraves Discord server and share your thoughts on the sassy lost Diviner.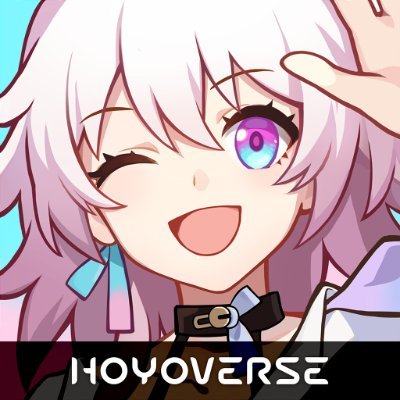 Honkai Star Rail
Android, iOS, Microsoft Windows
Honkai: Star Rail is an all-new strategy-RPG title in the Honkai series that takes players on a cosmic adventure across the stars.
---
Check This Out Next
---