Embracing the tranquility of Fontaine's lake, Freminet dives into Genshin Impact as a playable character and is ready to unleash his Claymore attacks.
Freminet is the taciturn adoptive brother of the magicians, Lyney and Lynette, and is one of Fontaine's greatest diver in the world of Genshin Impact. He is very attached to his mechanical penguin, Pers.
Freminet is a 4★ Cryo Claymore user from the region of Fontaine, thus also possessing the new Arkhe alignment mechanic which aligns him with Pneuma.
Talents
Normal Attack – Flowing Eddies
As for every Claymore user, Freminet's Normal Attack is a string of 4 consecutive strikes while for his Charged Attack, he performs a continuous spinning slash against all nearby enemies and unleashes a powerful swing by the end of the attack sequence.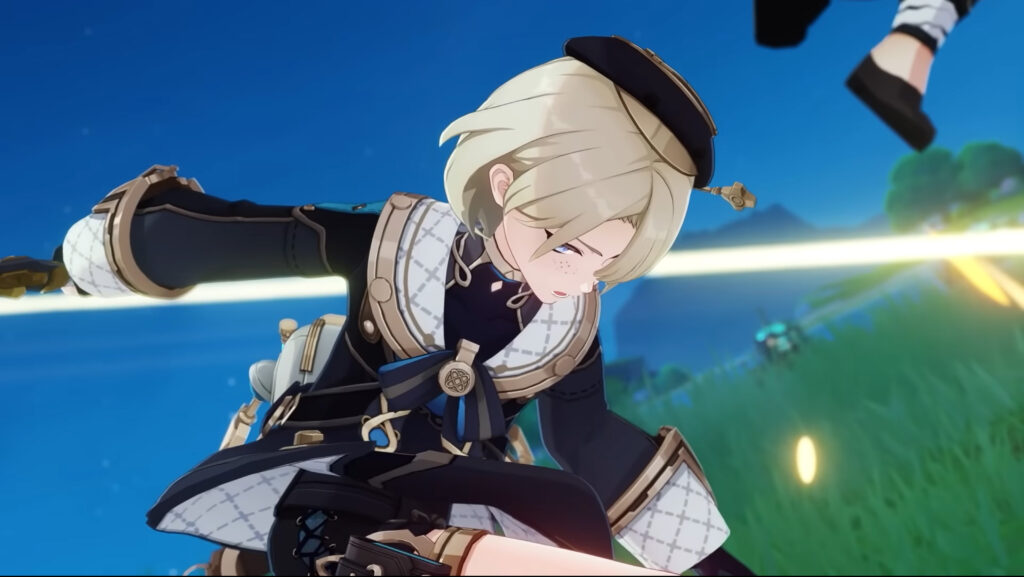 Elemental Skill – Pressurized Floe 
When Freminet activates his Elemental Skill, he executes an upward strike that deals Cryo DMG and grants him Pers Timer for 10 seconds.
When Pers Timer is active, Freminet's Elemental Skill will be enhanced into Shattering Pressure, which allows him to perform various different sorts of attacks depending on the Pressure Level of Pers Timer, and thereafter cancels the effect.
Level 0 – Freminet unleashes a vertical slash, dealing Cryo DMG.
Level 1 to 3 – Execute a vertical slash alongside Pers, dealing both Cryo and Physical DMG, scales based on the Pressure Level.
Level 4 – Freminet borrows the power of a fully-pressurized Pers to deal Physical DMG and causes his Normal Attack: Flowing Eddies to be replaced by Shattering Pressure.
Additionally, while Freminet is under the Pers Timer state, his Normal Attacks will emit waves of frost to deal Cryo DMG and increase the Pressure Level of Pers Timer. The Cryo DMG dealt by Freminet's enchanted Normal Attacks is considered as Elemental Skill DMG.
As a Fontaine character, Freminet's Elemental Skill can also release a Spiritbreath Thorn in the form of another upward thrust at certain intervals, dealing Pneuma-aligned Cryo DMG.
Elemental Burst – Shadowhunter's Ambush
When activated, Freminet wears his diving helm and unleashes a wave of cold, dealing AoE Cryo DMG, refreshing the cooldown of his Elemental Skill, and causing him to enter the Subnautical Hunter mode for 10 seconds.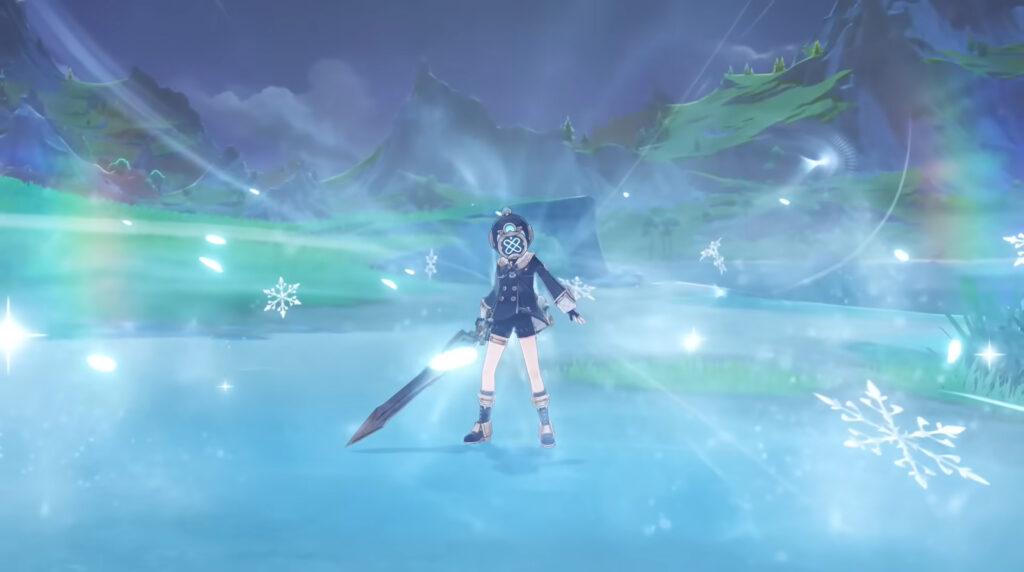 While under the Subnautical Hunter mode, Freminet's resistance to interruption increases and his Elemental Skill will be granted the following effects:
Cooldown duration is decreased by 70%.
The wave of cold emitted from the enhanced Normal Attacks deals 200% of their original DMG and increases 1 additional Pressure Level of the Pers Timer.
The effects will be canceled when Freminet leaves the freezing field.
Passive Skill (1st Ascension) – Saturation Deep Dive
When Freminet performs his Elemental Skill, Pressurized Floe: Shattering Pressure, if the Pers Timer has not reached Pressure Level 4, the cooldown duration of the ability will be reduced by 1 second.
Passive Skill (4th Ascension) – Parallel Condensers
When Freminet triggers a Shatter reaction against enemies, the damage dealt by Pressurized Floe: Shattering Pressure will be increased by 40% for 5 seconds.
Ability Breakdown 
In general, Freminet's playstyles are defined by his Elemental Skills, Pressurized Floe, making him enter a sort of ramp-up stat called Pers Timer, which allows him to increase Shattering Pressure to execute different variations of attacks based on the level gained from repeated Normal Attacks.
His Elemental Skills function in a way similar to Keqing's Elemental Skill where you can activate another time after the initial trigger for a different effect. From Pressure Level 0 to 3, Freminet will deal Cryo damage, while at Level 4, Freminet will unleash a burst of powerful Physical damage instead. As such, this allows Freminet to take on 2 primary playstyles, each focusing on a different element, either Physical or Cryo.
For his Elemental Burst, Freminet further boosts his Elemental Skill capability, allowing him to cast the ability more often with the reduced cooldown while also granting 1 more additional Pressure Level per hit, enabling him to achieve Pressure Level 4 a lot faster. Furthermore, the frost waves from his Normal Attacks that are granted by the Elemental Skill will also deal increased damage.
For his playstyle, if you desire to play him as a Physical damage dealer, focus on getting Pressure Level 4 during his Elemental Skill to unleash a massive burst of damage. On the flip side, if you want to play a Cryo damage-focused Freminet, aim to use his Elemental Burst frequently for its reduced Skill cooldown so you can unleash Pressured Floe more often for the Cryo DMG.
Constellations 
In general, Freminet's Constellations grant him some boost in offense and may be required if you desire to make him your main DPS.
His Constellation 1, Dreams of the Foamy Deep, grants his Elemental Skill, Pressurized Floe: Shattering Pressure, an additional 15% CRIT Rate. An overall good increase to his damage output through better Critical Hit consistency.
Next, Penguins and the Land of Plenty, his Constellation 2, restores 2 Energy to Freminet whenever he unleashes Pressurized Floe: Shattering Pressure, and if it's the Pressure 4 variant, recovers 3 Energy instead. A decent Constellation for Freminet to regain the ability to recast his Elemental Burst a lot more frequently.
Moving on to his Constellation 4, Dance of the Snowy Moon and Flute, Freminet will gain a 9% ATK increase for 6 seconds whenever he triggers a Frozen, Shatter, or Superconduct Elemental Reaction on an enemy, up to 2 maximum stacks.
This complements his Constellation 6, Moment of Waking and Resolve, which increases his CRIT DMG by 12% for 6 seconds after triggering the same aforementioned reactions, maxing up to 3 stacks.
Both are good Constellations that contribute to increasing Freminent's overall offensive capabilities.
Recommended Artifacts
For Artifact suggestions, since Freminet can be played as either a Physical or a Cryo main DPS, consider having either element as your main stat for the Goblet slot. For Sands, focus on ATK% as your main stat and aim to achieve the recommended optimal CRIT Rate CRIT DMG ratio of 1:2 by having your Circlet possess one of either CRIT stat as the main stat.
If you want to play Freminet as a Physical DPS, the 4-piece Pale Flame set is the recommended Artifact, granting more Physical DMG and further boosting his ATK whenever he uses his Elemental Skill. For Cryo main DPS Freminet, we recommend the Blizzard Strayer set for its bonus Cryo DMG and CRIT Rate.
Alternatively, the new Golden Troupe set is also a decent choice for Freminet, increasing his Elemental Skill damage, which synergizes well with his kit.
Recommended Weapon
For weapon choices, Freminet is rather versatile as long as the Claymore he wields could provide him with plenty of offensive stats.
If you owned any of the following 5★ Claymore, you could consider giving it to Freminet so he could utilize the increased offensive stats: Beacon of the Reed Sea, Wolf's Gravestone, The Unforged, and Redhorn Stonethresher. Another amazing option is Eula's signature Claymore, Song of Broken Pines, if you are playing him as a Physical damage dealer.
There are also many great 4★ alternatives for Freminet such as Prototype Archaic, Blackcliff Slasher, Serpent Spine, and Snow-Tombed Starsilver for Physical damage.
Despite many of Genshin Impact trailers showcasing him with The Bell, it is actually not a good weapon choice for Freminet due to him not possessing any abilities that grant Shields, thus not being able to take proper advantage of Claymore's passive effect.
Team Recommendation
Due to how his abilities work, Freminet is only able to be played as an on-field DPS in Genshin Impact. As previously mentioned, Freminet has 2 main playstyles, either as a Physical hypercarry or as a Cryo main DPS.
Like other Physical-focused hypercarry teams, you will need to pair him with an Electro unit to enable the Superconduct Elemental Reaction, such as Raiden Shogun, Fischl, or Beidou. For the support and off-field DPS, consider bringing Rosaria, Mika, Diona, Bennett, or Shenhe along for their buffing capabilities
Since Freminet is a Claymore user, he will not be viable in Perma-Freeze teams as he will be constantly triggering Shatter reactions and breaking enemies out of their Frozen state. However, he can be a good unit for Melt Teams with Xiangling, Bennett, and Kazuha.
Another alternative is to slot him in Hyperbloom teams with a Dendro character like Nahida, Yaoyao, and Baizhu, together with Yelan and Raiden Shogun. However, for this team, he will not be the highlight as he is only there to maintain the Dendro application since Cryo will not overwrite the element, allowing the other elements to do the Reactions.
Since his 4th Ascension passive, Parallel Condensers, increases his damage when he triggers a Shatter reaction, running a Hydro character with him will allow him to do slightly more damage.
Final Thoughts 
Genshin Impact's Fontaine expert diver Freminet is in an unfortunate position where despite his cool and interesting kit, his stats and damage numbers made him an undesirable character to play in a meta standpoint.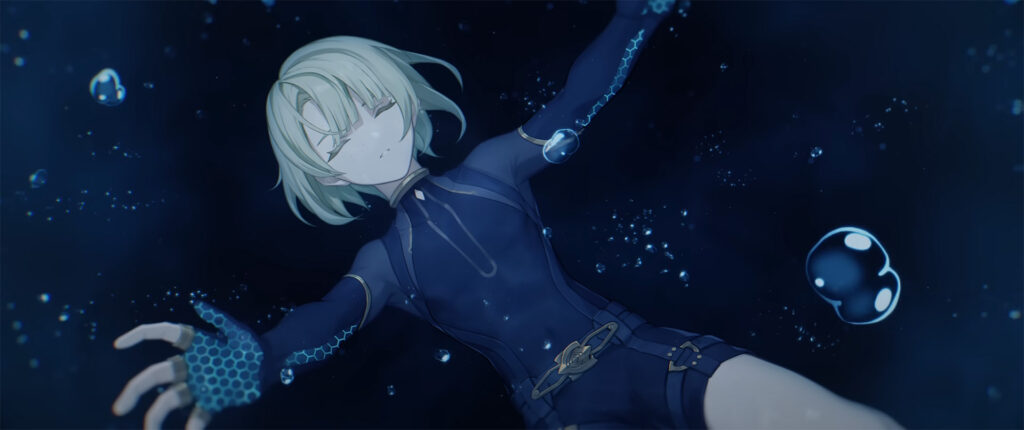 Even when utilizing him as a Physical main DPS, you need to consider that such a playstyle is struggling with the Spiral Abyss meta for a reason. Despite the supports used in Physical teams being top-tier characters, they generally are not able to unleash their potential as much as they would in other teams, largely due to the lack of Elemental Reactions. This is why, for Physical teams to work, the main DPS has to be able to unleash high damage numbers innately like Eula, but unfortunately, Freminet lacks such damage output.
He also suffers from poor Internal Cooldown (ICD), which hinders his ability to consistently apply his element onto enemies, making him not a good character for any team needing a Cryo applicator for Elemental Reactions. Overall, Freminet is not looking good as a unit and I would suggest avoiding pulling for him unless you like him as a character.
So what do you think of Freminet from Genshin Impact? Will you be pulling for Freminet once he releases in Genshin Impact? Join the GamerBraves Discord server and share your thoughts.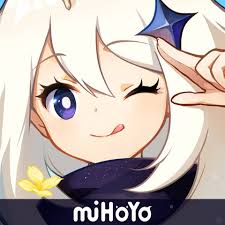 Genshin Impact
Android, iOS, PlayStation 4
Step into Teyvat, a vast world teeming with life and flowing with elemental energy. You and your sibling arrived here from another world. Separated by an unknown god, stripped of your powers, and cast into a deep slumber, you now awake to a world very different from when you first arrived.
---
Check This Out Next
---