The version event for Genshin Impact, Shadows Amidst Snowstorms, has begun! The event is as usual, divided into several parts, starting at the following server times:
Act 1: 25 November 2021, 10:00
Act 2: 1 December 2021, 04:00
Act 3: 4 December 2021, 04:00
To be eligible for the event, you'll need to fulfill the following requirements:
Adventure Rank 20 or above
Complete Archon Quest "For a Tomorrow Without Tears"
Complete Princeps Cretaceus Chapter: Act I – "Traveler Observation Report" (Albedo Story Quest)

Adventure Rank requirement will be temporarily lowered to AR20 and requires no Story Keys

Complete Joel's "Lost in the Snow" quest
---
STARTING THE EVENT
You'll get the "The Snowy Past" quest. Off to Dragonspine we go! For the most part, you only need to go through the dialogue. In the campsite you come across, you can find some Essential Oils and Potions.
When it comes to following the footsteps, it might bug out and not continue the quest. Logging out and back in again should fix it.
Later, you'll find Benny trapped in a cage. You will fight off a Cyrogunner Legionnaire and Electrohammer Vanguard to get the key to free him.
BORN OF SNOW
Items will be available from either friends or from Tracker Training. You can wishlist components.
DRAGONSPINE SPECIAL TRAINING
AGILITY TRAINING: SPEEDY DESCENT
If you can run fast enough, the disappearing Conquest Insignias can be less of a priority. What you'd like is the Ironskin Blessing to break the Ice Pillars with the glowing blocks to get the Adventure Insignias.
AGILITY TRAINING: UP AND DOWN
There'll be coins on the roof of buildings, which you'll need the Galespring Blessings for. They can get really finicky to use though, so if you lose the buff, it might be better to move on.
AGILITY TRAINING: ICEBREAKER'S ADVANCE
You'll be required to scale up the hill with the Galespring Blessings. Don't drop down!
TRACKER TRAINING
Melt the Ice Crystal Piles for Snowman Components. You may get duplicate items, which is what the exchange is for. Besides the Snowman Components, you can find Cyro Cicin, Cyro Crystalflies or even a boar when you melt them. Hilichurl or Fatui may be scattered around the piles themselves.
AREA 1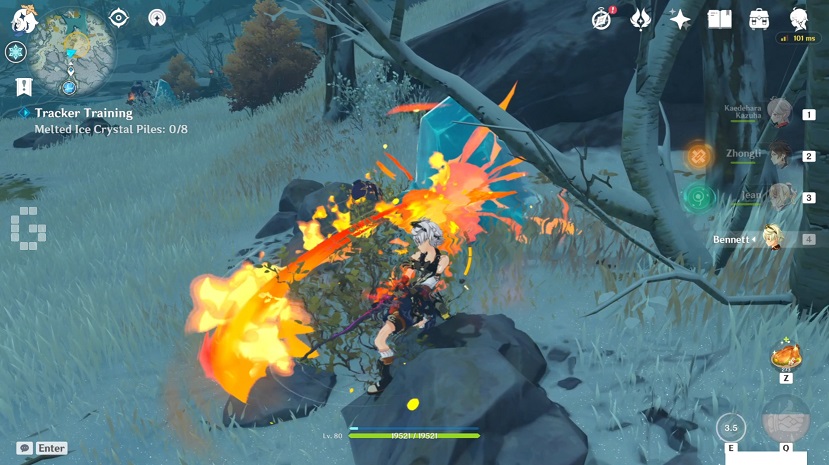 AREA 2
AREA 3
AREA 4
AREA 5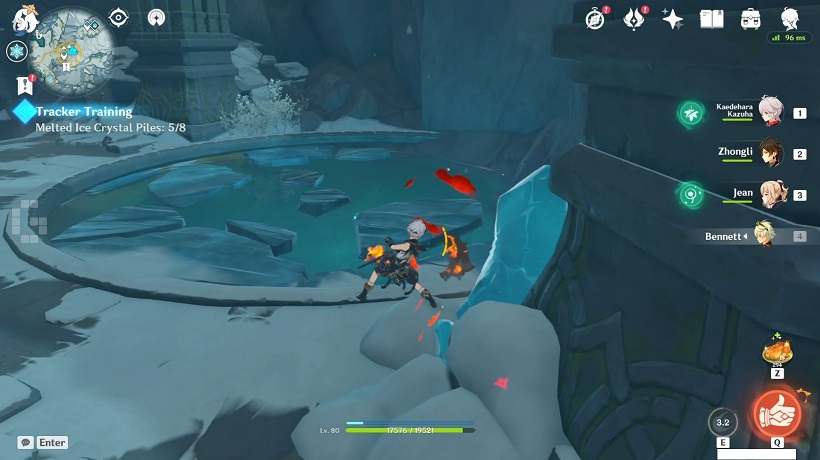 AREA 6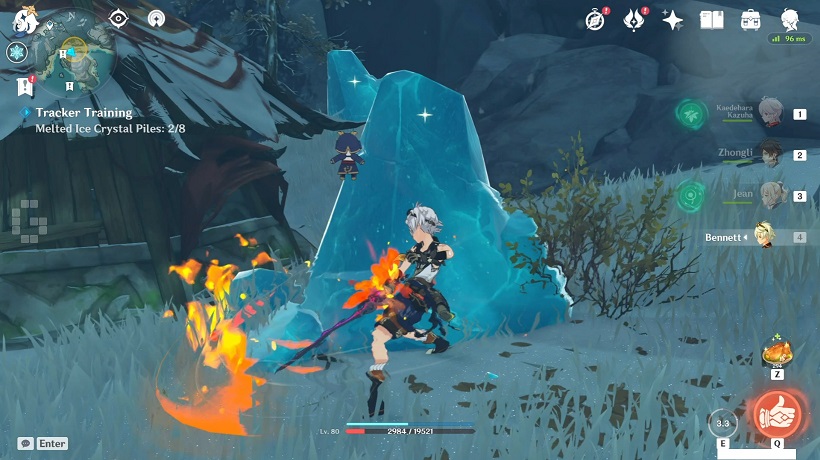 COMBAT TRAINING
You need some Scarlet Quartz to warm up the Lures. You can heat them up before you start the actual challenge. The Scarlet Quartz you need will be near the Lures, as those outside the event area might disappear before you reach them. Simply hit the Lure when you're carrying a Scarlet Quartz to heat 'em up. Defeating enemies will also drop Scarlet Quartz.
AREA 1
Enemies include Cyro Samachurl, Hilichurl and Mitachurl with Ice Shields and Cyro Slime.
AREA 2
Enemies include Cyro Abyss Mages, Hilichurl and Mitachurl with Ice Shields and Cyro Slime.
AREA 3
Enemies include Cyro Abyss Mages, Hilichurl with Ice Shields and Cyro Slime.
AREA 4
Enemies include Frostarm Lawachurl, Hilichurl with Ice Shields and Cyro Slime.
AREA 5
Enemies include Frostarm Lawachurl, Cyro Hilichurl / Archers and Cyro Slime.
AREA 6
Enemies include Cyro Hilichurl, Hilichurl and Mitachurl with Ice Shields and Cyro Slime.
THE SHADOWS DEEPEN
Enjoy the dialogue with Act 2 of Shadows Amidst Snowstorms. When it comes to it, approach the campfire for the next cutscene.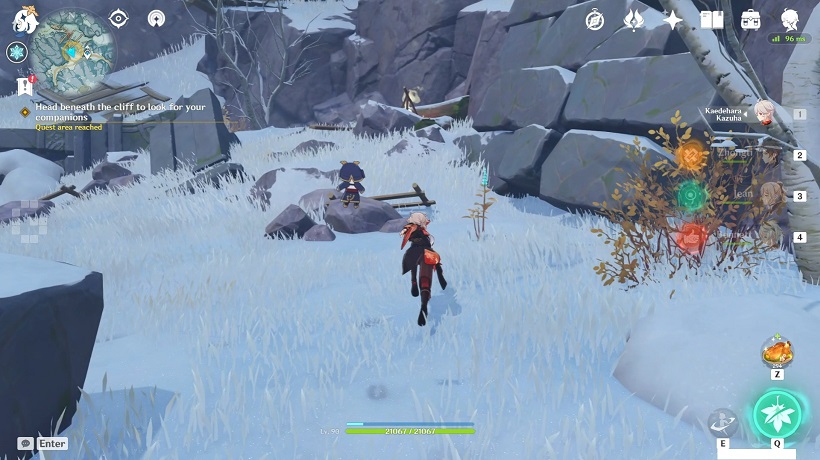 In your search for Albedo, break these conspicuous rocks, and proceed with the cutscenes.
Now, it's time to fight the Fellflower! These Arcane Fruits tend to float above you, so a ranged character will be very useful. You'll need to destroy these Arcane Fruits to bring its shield down faster. The Fellflower is not immune to Cyro.
Fellflower Arcane Essence needs to be manually picked up. Hit that F (or whatever button you've rebound it to)!
When fighting the Fellflower, Cyro Slime might spawn as additional enemies. Killing them is one of the challenge missions.
Stay tuned for the rest of the Shadows Amidst Snowstorms updates.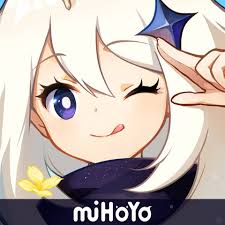 Genshin Impact
Android, iOS, PlayStation 4
Step into Teyvat, a vast world teeming with life and flowing with elemental energy. You and your sibling arrived here from another world. Separated by an unknown god, stripped of your powers, and cast into a deep slumber, you now awake to a world very different from when you first arrived.