Gudetama: An Eggcellent Adventure featuring the lazy egg Gudetama and the newly hatched chick Shakipiyo in their quest to find their mother is set to premiere on Netflix on December 13th, 2022
A little bit of trivia, Gudetama is a character created by Sanrio designer Amy, whose real name is Nagashima Emi in 2013. It came in second when it was first introduced in a competition but now it has garnered so much popularity that it even got its own Netflix series.
The show will air for 10 episodes with each lasting for 10 minutes making it the perfect series to watch while you're in a public transport or having lunch.
The Adventures of an Egg
Gudetama: An Eggcellent Adventure stars Gudetama, an egg and Shakipiyo, a newly hatched chick with a part of an eggshell attached to her. Gudetama is one lazy egg yet nevertheless, he reluctantly sets off on an adventure with Shakipiyo to find their mother.
The show starts off with Gudetama being confronted by Shakipiyo who keeps on insisting that they must find their mother since they are siblings. Shakipiyo declares the two as chickens, yet Gudetama calls them as eggs. In the end, Gudetama relents and the two set off to enter the wide world outside their fridge.
A show is not without its conflict, even for a light-hearted one such as this. In Gudetama: An Eggcelent Adventure, Gudetama is in fact, nearing his expiry date and nobody knows what being a rotten egg entails. They need to find their mother before that happens, even if Gudetama is too lazy to care about it.
I mentioned earlier how the two have set off into the wide world outside their fridge. They are a duo of an egg and a chick running around in a human-populated world, their journey won't be easy. They will find themselves thrown into lots of dangerous situations, from rotating sushi bars, train rides and to hungry customers.
Amidst their journey, the two would meet up with all sorts of eggs, from hard-boiled eggs, Tamagoyaki to Chawanmushi and even learn how each of them are made. It is from here that Gudetama will start to think about his own path and what he must do before he becomes rotten.
Gudetama: An Eggcelent Adventure overall has a pretty straightforward plot. If you squint hard enough, you can already see where the plot is going. However, that's not where the show shines the most. It is the interaction between Gudetama and Shakipiyo that brings this show to life and is sure to win your heart.
The Presentation of the Egg
The animation production for the series is handled by OLM with assistance from L'ESPACE FILM. I will be honest, amazingly enough Gudetama still retains the same cartoonish aspect of his 2D counterpart despite looking very realistic. You can tell that they are very respectful to the original art style of Gudetama.
It would not be a surprise to find people skeptical seeing how 2D does not always translate into 3D very well, but I assure you that the first few minutes will definitely clear any doubts you have on the animation.
OLM has always been an amazing studio with how they have delivered Pokemon, Komi-san and Odd Taxi. Sure, the examples are all 2D but it is amazing that they could still deliver the same number of skills into 3D.
There was not even a single point where Gudetama and Shakipiyo felt out of place when they travelled about the real world. With how amazing the visuals are, it is very clear that this series is made with lots of love and care for the source material.
With this level of visuals, I could confidently say that even those who never knew about Gudetama will definitely become a fan of him when they watch this series.
Gudetama and All The Eggs
Shunsuke Takeuchi, the voice of 24 characters in the series including Gudetama himself, plays out his role amazingly in this silly cartoon series. When it comes to Gudetama, his portrayal of the egg's laziness as he stumbles around the world is simply amusing.
Gudetama as a character himself is also adorable. Even more so with how he plays out his laziness and simply flat out zero motivation with his droopy appearance.
A little bit of trivia here, his name, Gudetama, actually comes from the combination of the Japanese phrase for lazy (Gude gude) and egg (Tamago). True to his name, he has absolutely no interest in anything and he makes it plainly obvious as well.
I find myself relating to Gudetama's personality because in a way, he reflects a lot of how I feel most of the time coming back home from work and have the laziness up to max.
I mentioned earlier how Shunsuke Takeuchi is voicing over 24 characters for the series, well all of them are different types of egg dishes such as "Rock", a fried egg obsessed with rock music, "Ikura", a Salmon Roe that questions his individuality and their own existence, and "Ganguro", a burnt egg that loves to wear makeup.
It is both crazy and amazing how much Shunsuke Takeuchi can do. He mixes in just enough personalities for each character to make them all individually unique and entertaining to watch.  
Let's not forget Shakipiyo who is voiced by Seiran Fukushima. She is the driving force behind this series since without her, we'll only have shots of Gudetama lazing around in the fridge. She is the straight man of the duo and the banter between the two of them is just too hilarious.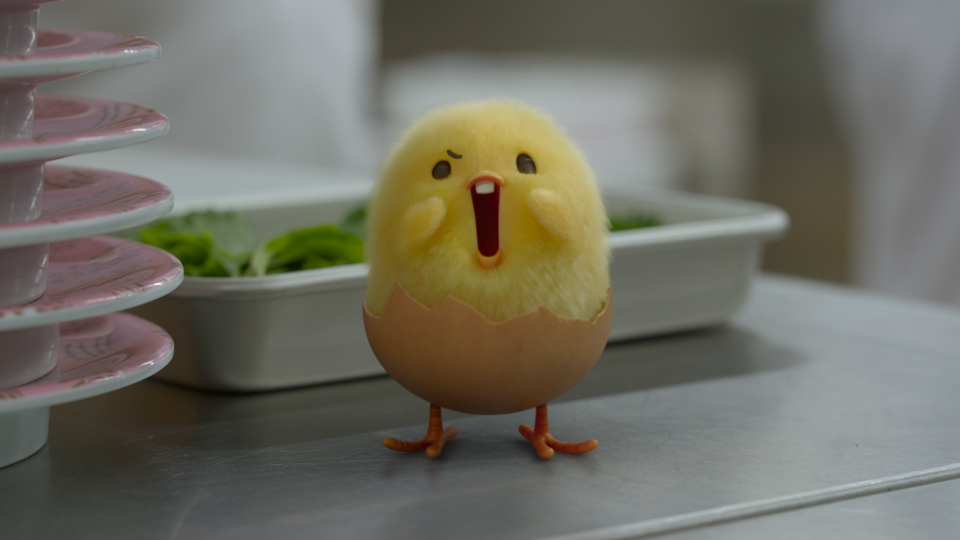 We also have a villain played by Akiyoshi Nakao who for some reason is dedicated to capturing Gudetama. The motive alone is questionable enough but he does bring out some comedy to the series with his appearance.
Egging Thoughts
In an eggshell, Gudetama: An Eggcellent Adventure is a very wholesome comedy series that you can watch alone or together with your friends or family. While it is mainly comedy, the series does touch on adult topics like personal individuality and motivation, something that I myself can relate to a bit.
The 3D CGI is just simply top notch. None of the 3D characters look out of place and the interactions between the characters are all so funny and lifelike, making the series feel much more enjoyable.
Gudetama: An Eggcellent Adventure is an adorable adventure series that everyone should watch and it doesn't even take much time for one episode. It's perfect to fill your time with some light humour when you're tight on the schedule.
| | |
| --- | --- |
| Pros | Cons |
| Characters are awesome and funny | The length for an episode feels too short |
| Animations are top notch | Story is a bit too predictable |