Chaos has plagued Gotham City now that Batman is gone, and in our review of Gotham Knights an open world action RPG, we take up the mantle of the Dark Knight as we get to pick between members of the bat-family to forge our path to Knighthood.
The Premise of Gotham Knights
The events of Gotham Knights is set on the stage of a new neo-noir Gotham City. And with Batman kicking the bucket, it's up to Nightwing, Red Hood, Robin and Batgirl to clean up the mess and maintain the peace.
Batman has also left a message saying that he left something undone behind and it's up to the bat-family to finish the case. Throughout your time in Gotham Knights, you'll be able to meet up with some of the iconic and famous (or infamous in this case) villains in the Batman franchise like Harley Quinn. The Penguin, Clayface, Mr. Freeze and of course, the Court of Owls.
The story of Gotham Knights seems to be independent from the source materials as a lot of the characters like the Joker, Ra's al Ghul and Jim Gordon not being present in the game. And one of the biggest giveaway that this story doesn't follow the comics is that with the Joker being gone, Barbara (Batgirl) isn't paralysed from the waist down, not needing to change her Vigilante status from Batgirl to Oracle.
A Family That Solves Crimes Together, Stays Together
Before we get into the beef of the review, here's a quick introductions of the characters if you're unfamiliar with them:
Dick Grayson or Nightwing is the first Robin. He is an acrobat and plays the role of a leader as well as a caring big brother. Bruce Wayne had adopted him ever since both his parents died in an acrobat performance. Dick is a little too responsible at times where he always weigh everything on his shoulders.
The second Robin was Jason Todd, but now goes by Red Hood. Jason initially tried to steal one of the tires of the bat-mobile and then gets adopted by Bruce later on. Jason met his unfortunate demise at the hands of the Joker as Robin but was then resurrected by the Lazarus Pit. Although because of the pit, it altered Jason's personality making him violet and easily irritable.
The current role of Robin is now taken up by Tim Drake. Tim was the neighbour of Bruce Wayne when he was a kid and after his parents died, he joins the Wayne family. While his body frame is small, he excels at using a bo staff and a sharp mind. He is also considered to be the most "Batman-like" person as he's titled to be the "second greatest detective in the DC Universe".
Last but not least is Barbara Gordon as Batgirl. She is the daughter of Jim Gordon who is the commissioner of the Gotham City Police Department (GCPD) and is famous for being an associate besides Batman for a long time. Barbara shares her father's sense of "doing the right thing" , which makes her an expert planner and a very decisive person. She is also proficient in coding, hacking and all sorts of technology.
With all is said and done, I really adore the dynamic between this slightly dysfunctional family and how they managed to capture the complicated relationships between one another of the bat-family in Gotham Knights. This complicated relationship was most likely due to how Bruce Wayne is bad at expressing his feelings, tied it up with the traumatic experiences that the bat-family members have gone through in the past.
And while the relationship between them might seem sour, they definitely care for one another based on the conversations they have with each other as well as during the cut scenes.
Dancing with the Devil in the Pale Moonlight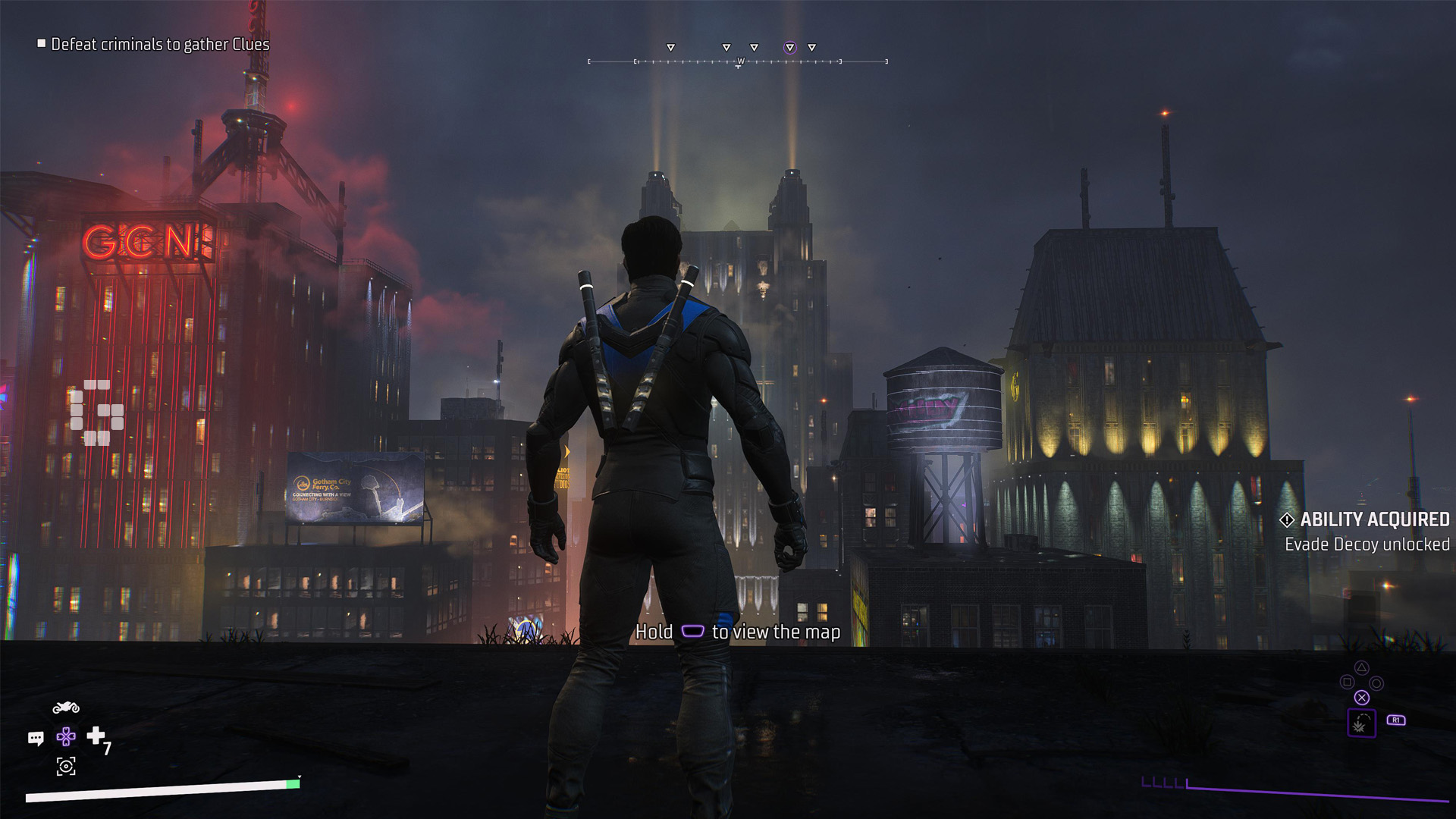 The chunk of gameplay in Gotham Knights is split into two parts, combat and detective skills. Players out on a patrol will need you to participate in combat as the map will show crimes that are happening in Gotham City and you're given the freedom to choose whether they want to stop it or not.
All of these crime activities are essentially like small mini games, each of them having their own objectives and with each bonus task you complete, you'll get extra experience points. But fret not, it's not compulsory to stop all of the crimes and you can just stick to the main story but if you find that you're lacking some experience points, you can always go back and stop crimes.
Combat
The combat in Gotham Knights is a skill based system where you'll need to level up to acquire action points (AP) which can be traded in to unlock Knighthood skills and expand a character's fighting style. Each of the characters of the bat-family have very distinct characteristics which also reflects on their playstyles. One example being with Robin and how he uses his small stature to his advantage and focuses on stealth to silently take down his enemies one by one.
There are two different combat mechanics in Knighthood Skills and Momentum Abilities. The Knighthood skills are the ones that you use normally in combat without costing anything while the Momentum Abilities have you use abilities only when your momentum bar is filled up, which can be done by hitting enemies.
My one gripe with those is that the process of unlocking those skills and abilities are a huge time sink. As the game progress, the scaling of leveling up takes longer and the deeper you are into a skill tree, the more AP it takes to unlock it. The Knighthood skills and Momentum abilities also needs you to finish up specific tasks or challenges to unlock and most of these can't be completed in one shot or in a short time frame.
Although, there is a silver lining with the level up system. The experience points and resources are shared between the 4 characters, so you don't have to raise another character from the ground up if you were to swap out and play as someone else.
Other than experience points, you can also gather resources to craft better and stronger suits, melee weapons and even ranged weapons where some of them even having their own elemental effects. You can also check an enemies' element in your database, like when fighting Mr. Freeze, it's better to use fire elemental weapons.
You're able to change or craft the equipment when you're out for a patrol but you're unable to equip the ones you crafted on the spot, as you'll need to go back to your base to do so. But at the same time, going back to your base will end the night and all of the unresolved crime will be removed from the map, so it's key to prepare everything you need before heading out.
Detective Skills
All members of the bat-family have access to detective skills which is an AR scan mechanic that indicates important information in different colours. It can also be used to find clues and analyse for the right answer. But in my opinion, the indicator isn't as useful as the ones in the Batman Arkham series.
Some of the colours and what they indicate during the AR Scan:
Red – Enemies
Purple – Items that can be scanned to read information from or be interacted with
Yellow – Key item in a scene
When it comes to the enemies, the red scan only highlights them in red and the visual style is a bit difficult for me to see clearly which direction the enemy is facing currently. I bring this up because I'm the type of players who prefers going with the stealth route and take down enemies silently, and sometimes it's hard to figure out the direction of the enemy.
The AR Scanning also only lasts for a few seconds before it fades away, so if you need to span repeatedly, you'll need to hold down the scan button and not let go.
Strength in Numbers
The multiplayer in Gotham Knights lets you play with your friends online where you can fight crimes together, glide over the skyline of Gotham City or ride the bat-cycle together and also being able to perform combo actions during combat.
To active the combo action, one player will need to grab an enemy and press A (I'm using an Xbox controller) while the other player has to be close enough to you and press A as well to perform it. There's also a limited time frame for the players to perform the combo action so they gotta act quick.
The enemy will try and break free from your grab if you don't do anything, and getting hit by other will also interrupt the grab action, so it be a bit difficult at times to perform the combo action. The good thing about the combo actions is that if you use different characters to perform it, it'll have different take down styles and not all of them are the same, which makes things a bit fresh without it being too repetitive.
Take a Stroll in Gotham City
The map of Gotham Knights is huge, and the one neat thing about it is that traveling around the city, there's no loading sessions unless when you go into a building, so you're able to explore Gotham anyway you like without any interruptions. There are also various of ways to travel around, you can hop on the bat-cycle and take a cruise, glide your way with the grapple or using each of the bat-family's abilities.
I really enjoy taking in the environment of Gotham City as it gives off the vibes of "Not your average New York City filled with bad guys", it's a city that breed and spread crimes as if it were the plague, making the city feel like crime itself. I think they did a great job at emphasising the overall darker tones with the city buildings having a gothic style to them, as well as have the roads be constantly wet and be surrounding in mist. Pairing those up with bright neon lights making it truly a neo-noir aesthetic which I can definitely appreciate.
While Gotham Knights doesn't have the same feelings of darkness from what you'd normally see in the Arkham series, I feel like these two games are different from one another so it's not exactly fair to compare the both of them.
Gotham Knights also pays a lot of attention to the smaller details, like one of the examples being like with the Financial District where the conditions of the streets are more well off, with only some rubbish on the floor as compared to Crime Alley.
There are also a lot of neat instances between the NPCs and the playable characters as you stroll along Gotham. When playing as Robin, the NPCs will greet him nicely and all as it seems that they like Robin a lot. But on the other hand, when playing as Red Hood, the citizens will be a lot more weary around him, given his title of the lord of crime in the original comics. There was also one situation where a citizen blurted out "Is that Deathstroke?" which was pretty funny to me.
Performances
I played through Gotham Knights with a Razer laptop with these specs:
10th Gen Intel Core i7 (8 cores)
32 GB DDR4 RAM + 1TB SSD
GeForce RTX 3080
8GB GDDR6 VRAM GPU
Bare in mind that this is a media version of the game, so take these with a grain of salt.
Throughout my time playing Gotham Knights on the PC (I had also tried the game on the PlayStation 5), I had encountered several crashes, which mostly happens during the loading scenes, but only on the PC. The preset settings that I had were on "High" and most of the features were turned on, except for Ray Tracing.
I had also encountered a few bugs here and there but it wasn't game breaking. One instance being in cut-scenes where the clothing on the characters always felt there were "vibrating". There were also some scenarios where the cloth physics were a bit wonky, especially for heroes with a cape.
On my time on the PC, the FPS averages around 70-80 frames, and there weren't many frame drops during combat which was really nice. Although the rates will drop down to 30-40 sometimes when using the grapple.
While people say that the FPS for Gotham Knights is capped at 30 on the PS5, I personally felt like it was still smooth and that the visuals are clearer and prettier compared to the PC.
Verdict
It's a relief to see that the efforts put into Gotham Knights where the dev team trying to make a good game that caters to both new comers as well as long time Batman fans. I especially like what they designed with for the combat system where each of the characters play off differently from one another based on their personalities. The big open map of Gotham City is also fun to explore while you stop crime.
Things like characters, conversations between characters and the multiplayer, they did try their best to stick to the original, which is always a welcomed thing. Though my one main gripe is with the graphics on the PC, especially with the hair textures for the characters. But on the PS5, it was fine though.
| | |
| --- | --- |
| Pros | Cons |
| Character personalities are fleshed out | Some crashes and bugs here and there |
| Combat is fresh for the different characters | AR Scan Feature can be worked on more |
| Environmental Design is beautiful | Graphics on PC aren't ideal |
---
Gotham Knights releases on 21st October and is available on Xbox Series X and Series S, PlayStation 5 and Microsoft Windows.
---
Check This Out Next
---