Over at Gamescom Asia 2022, we had the chance to talk with professional Street Fighter player – Kun "Xian" Xian Ho under Team Razer in an interview about the Street Fighter 6 Beta, Fighting Games in general and the community.
[This interview is edited for clarity]
What do you think about the Street Fighter 6 Beta now that it has ended?
Xian: The Street Fighter (SF) 6 beta is actually really good. It not only has a lot of positive feedback from all the players as compared to the SF 5 beta, everyone also really likes it. I really like the better launch, the rematch system where it's really fast and how the game mechanics actually cater to the previous SF 3, 4, and 5 games.
Street Fighter 6 is going to attract all the different SF players, where I felt like Street Fighter IV and V only managed to get a certain kind of fan base where the players from the 2nd and 3rd games stuck with it. So overall, I would say it's very positive.
Do you have any favourite characters from the beta?
Xian: I really like Jamie. I've been playing him a lot and he's very interesting because he's kind of deep. The character has a lot of different stuff and I haven't enjoyed a game like this in a very long time. And I have to say those three days of beta really made my week.
This year's EVO was a huge step for fighting games with almost all of the games either launching with rollback, or getting rollback retrofitted and whoever already had rollback is getting crossplay. What do you think is next for the genre?
Xian: I personally feel like rollback is something that should have been done long ago. Because in the regions like Singapore and SEA in general, online play isn't the greatest and we rely a lot on online to play. Rollback is something that I felt should have already been implemented, which is really great now that every game has it.
What I'm really looking forward to right now is seeing the offline tournaments coming back because I feel like even though online tournaments are great, tournaments like EVO made a lot of people come back to the game. Because of COVID, a lot of people dropped the game since they were just playing online.
There wasn't any incentive or motivation because of that, because what I personally feel like, it's not about winning, it's about hanging out with other people at the offline tournament. It's what fighting games are about, you talk to people, you discuss, you play games and have fun.
So what I'm really looking forward to is everything coming back offline and I hope that EVO in Japan will be the one to bring back all of this.
It's funny you mentioned the social element of offline tournaments because when I was in Japan last month, there were people running a mini Guilty Gear tournament on the top floors of one of the arcades. I saw people in business suits competing in the tournament and thought to myself "you don't get this online"
Xian: The best thing about it is that you get all sorts of people from students, to business owners, to people who are very successful in life and you get to befriend them because of a game.
It's something that you will never get outside in the real world, which is really great because you get to learn a lot of different things and that's what I really like about tournaments being offline.
You used to have your own offline event before COVID happened. Now that people are feeling better about going outside, will you still run tournaments and events?
Xian: Even after COVID, we have been running online tournaments like the Versus Asia series. The last offline event that I made was at Singtel Comcentre with the support of Singtel at the time, which was a great venue.
I do really wish to get back to organising offline events, but this is going to take a lot more planning because there's a lot of unpredictable situations that can restrict the numbers and everything could be a problem. With that being said, I'm not planning anything offline so far until the whole situation is stabilised.
But it's something that you want to get back eventually ?
Xian: Yes, I really want to get this back. I know all the different fighting games communities and I just really want everyone to come in again.
I know everyone is excitingly waiting for me to do it where they would always send me messages and stuff on Discord and WhatsApp, and I will look forward to it as well as trying my best with it.
There's been some discussion within the fighting game community mainly around controllers lately on how certain types of controllers give certain advantages. Do you think that's true?
Xian: From my personal experience, I've actually tried out all the controllers, even a pad, the HitBox, since I use the Panthera. I found out that the advantage for HitBox is very heavily catered for Street Fighter, especially Street Fighter V.
While it does have an advantage in other games, there are also disadvantages that people aren't talking about because of how fast paced the amount of inputs that are required in other games, making it not as viable. There are also situations where the stick will actually do better.
So at this moment I don't have any intentions to play with a different equipment just for a different game that comes out or being in a tournament where I have to bring multiple equipment. But for people who are just playing one game, I feel like it might be good for them to get that little edge.
But at the end of the day, I feel like 97% of it still comes down to the player's individual skill more than the equipment itself.
Expanding on that topic, with the HitBox the frames you save on the Sonic Boom for example, the amount of players who are going to need the advantage is very small. To the casual players, they won't notice it.
Xian: For certain characters like Guile who has a huge advantage when it comes to HitBox, they generally have a clear advantage than the 3% right there, which is why some players are switching on [to it].
But for learning characters like dive kick characters,  there are certain things that are really hard to do on the HitBox. I tried Seth on the HitBox and the dive kick is really difficult, so it really depends of the characters.
I feel like this may be the future meta where your main character will determine what controller you're using. I definitely didn't like what's going on now because I'm pretty old school even though I'm still young.
I played with an arcade stick when I was young, and I do wish that this can be consolidated into just one controller, which would never happen because there's a pad, a stick at minimum. But I don't like the situation as far as I see.
It's funny that you mention some characters not being good for HitBox, because Goldlewis from Guilty Gear has a bunch of 360 inputs.
Xian: Zangief's not too good for HitBox either, some characters just doesn't work that way.
What do you think about Capcom standarising the rules of what you can and can't put on a custom stick for tournaments?
Xian: I feel like right now, Capcom's decision for standardising tournments isn't catered community wise but more of a business decision. I'm not too sure what the right approach is because I'm not in a business or in Capcom.
But it's actually really tough for them to decide how do you make the SOCD (Simultaneous Opposing Cardinal Directions) and how to determine what controls are legal. The line is so gray and so thin that I feel like it's very difficult to cater to everyone.
At the end of the day, people will always be complaining, so it's just a very unfortunate situation to be in right now for anyone who is getting the job to write the guidelines for the rules.
What do you think about Drive Impact? Do you think it's broken?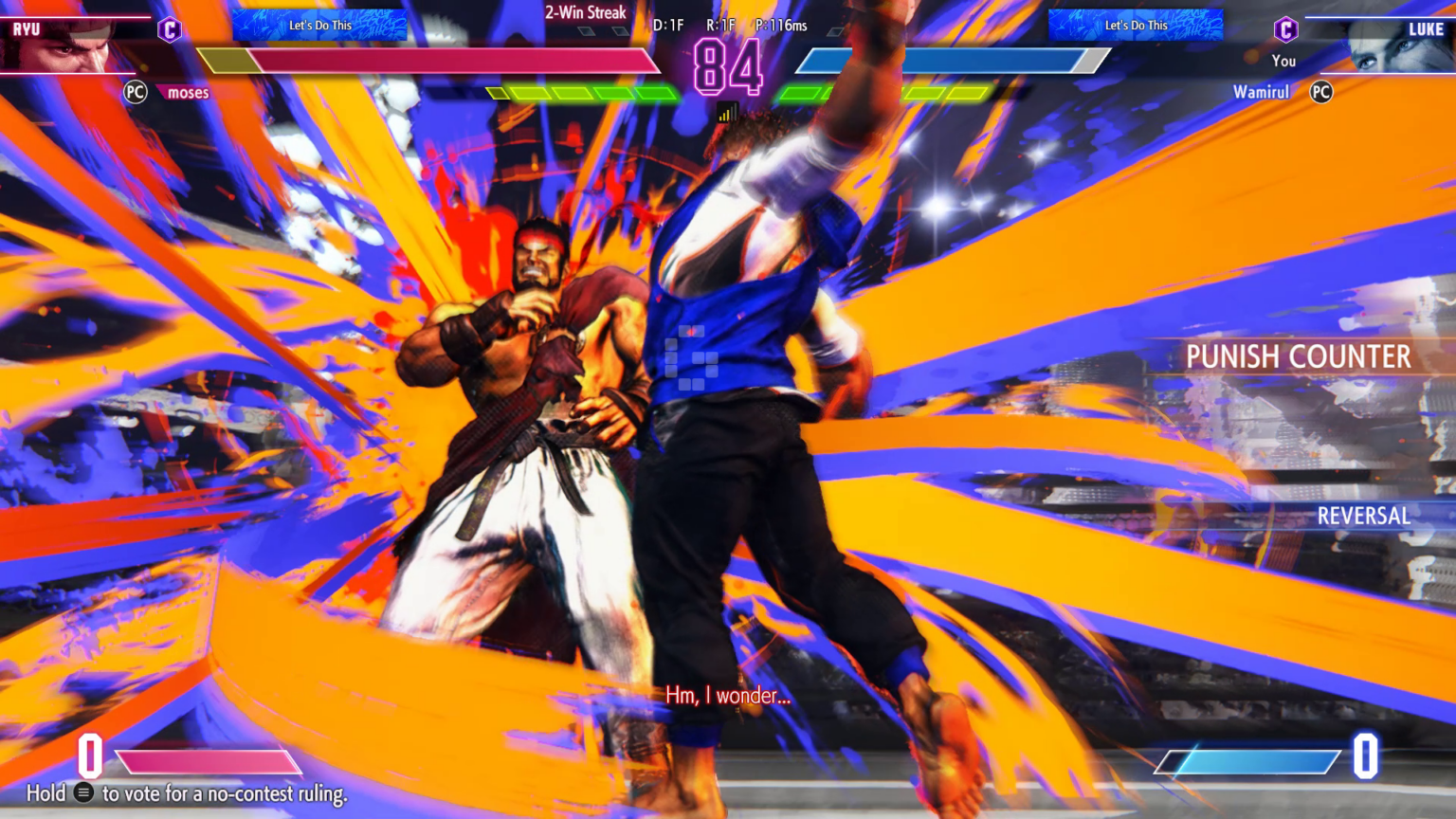 Xian:  No. Drive Impact is something that didn't even work out on the third day of the beta in high level play. Across 90% of the players who were playing, Drive Impact was really annoying. But over the time, this is something that will be countered.
I'm not too sure if they're going to increase the meter usage drive usage for it, but it's not going to be good if they try to increase it. Because I think it won't be that strong if it takes more than 1 meter. So it's very hard to balance it for now.
It's like wake up DP, once you know it's coming then it'll be easy to predict.
Xian: People can react better on the third day, but perfect parry is still something that people haven't figured out how to do. It's going to take time and we're going to be figuring out how it'll go.
Is there anything you want to say to all the SF fans out there?
Xian: SF6 is going to be really successful from the beta that I played with Mike. I have never seen Mike enjoy a game so much and I personally wasn't planning to stream 10 hours each day for the beta. But I ended up doing it because I just really like it.
I played about 60 hours from the 72 hour beta, and if it weren't for me forcing myself to sleep for those 12 hours, I would've continued playing it. I haven't enjoyed a game so much and I'm very sure that this game will drive a lot of new players as well as having old players coming back. I'm really looking forward to when the game fully launches.
---
We would like to thank Xian for answering our questions! To those who are interested, you can follow him on Twitter as well as on Twitch where he streams Street Fighter.
---
Check This Out Next
---